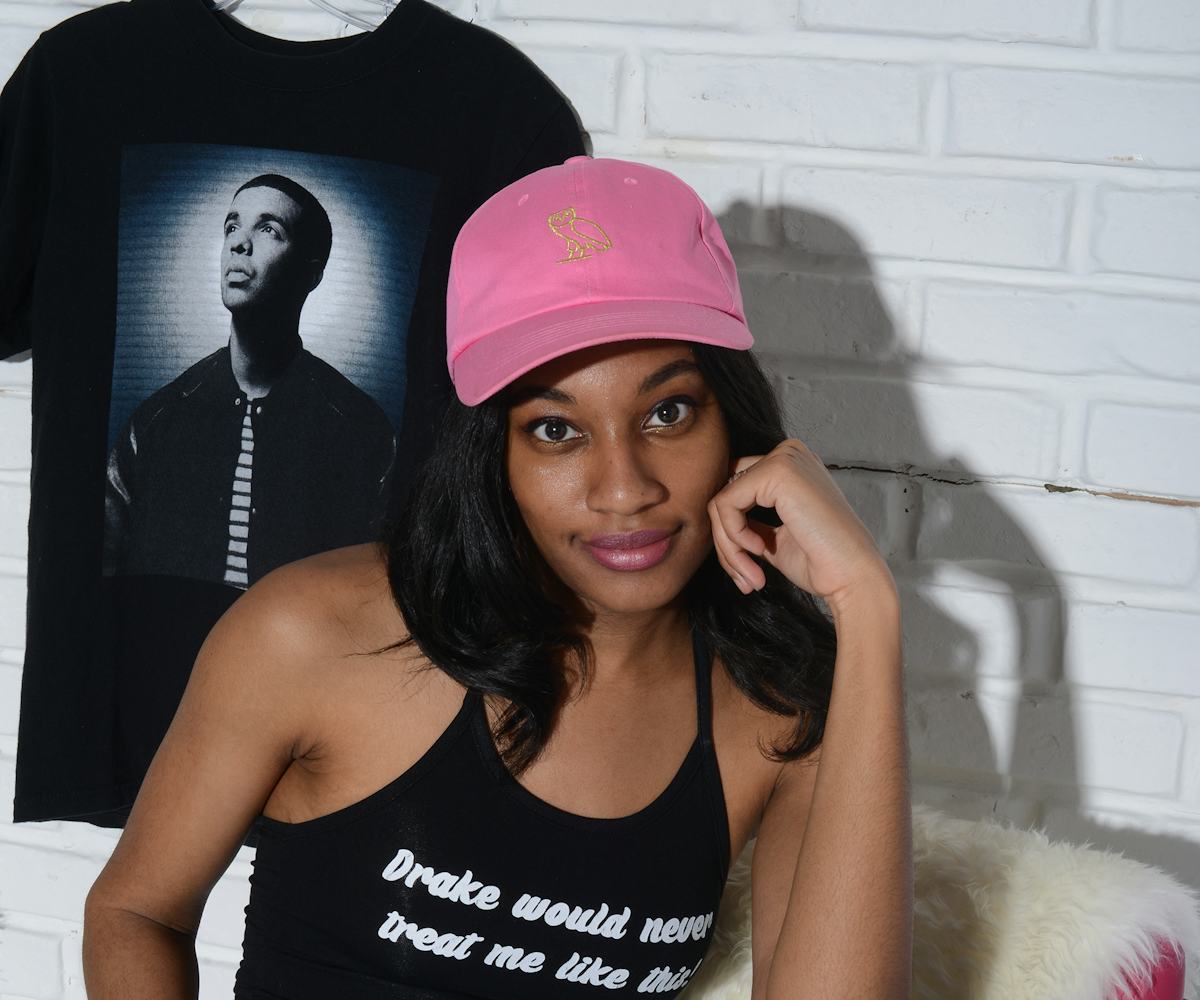 Photographed by Ricky Michiels.
Here's One Way To Show Off Your Drake Obsession
Our digital editorial assistant sings the praises of the 6 God
The following feature appears in the June/July 2016 issue of NYLON.
As a teen, I was a Degrassi devotee, so when I found out that the guy playing Jimmy Brooks moonlighted as a rapper, I was intrigued. It only took a few weeks of nonstop listening to Drake's Comeback Season and Room for Improvement mixtapes for me to become full-blown obsessed; by the time So Far Gone dropped, I was practically at stan status. The best part was that no one at my high school seemed to care about Drake at all, which made being a fan feel all the more special.
Click through the gallery to read the rest of the feature. 
In 2010, I had the opportunity to see Drake perform live at Bamboozle Festival at the Meadowlands Sports Complex in East Rutherford, New Jersey. It was here where I purchased my first Drake T-shirt from the merchandise tent. I have only worn it a handful of times for fear of marring its mint condition, but any time I have it on I always feel so proud. As my love for Drake continues to grow, so has my collection of gear, from pins, hats, and shirts to posters, signs, and lighters. 
While a good portion of my items come from independent artists on the internet—such as a "woes" cap from Meme Culture or a "Drake tears" enamel pin from Pintrill—others are from the October's Very Own store. (I once even made my mom stop at the L.A. flagship for me—she's on board with the cause.) Every piece has a story, which makes each of them all the more meaningful to me. For example, my first OVO item was a beanie that I got from a pop-up shop in London when I studied abroad. Drake actually showed up for the event, and he waved at me after we made eye contact through the glass display window. (Of everything that I have amassed, though, I think that my "Worst Behavior" glitter banner that hangs high on my window might be my best buy.)
Someday, I'll turn all of this into one gigantic shrine. There's no telling what my next piece of Drake gear will be, but I'm sure that it will further cement the love that I have for a man whose music has touched my soul in a way that no other has before. I carry a little piece of Drake with me wherever I go, and when I say that I mean it figuratively and literally.