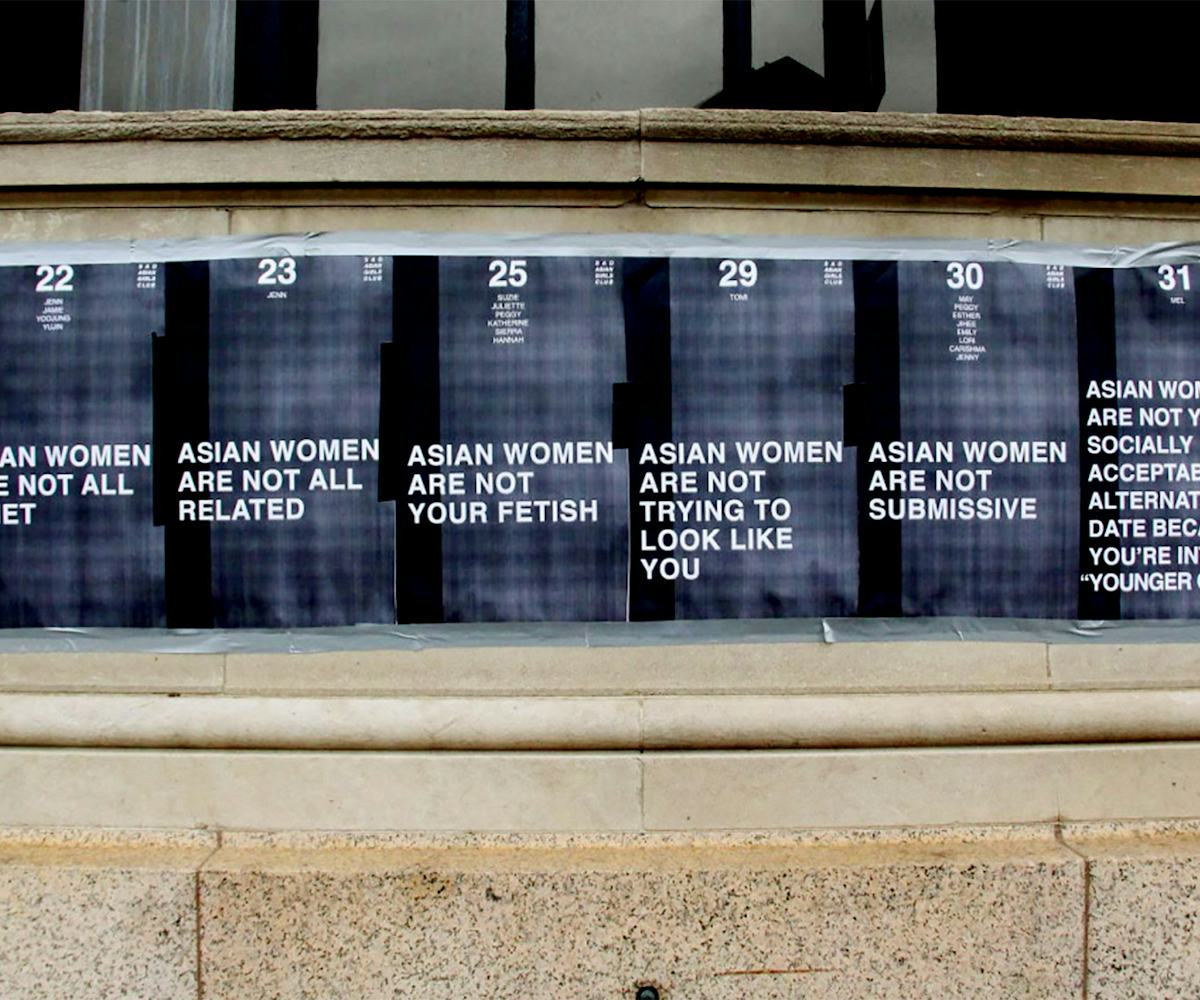 Why Sad Asian Girls Club Is The Answer To Our Tears
ASIAN WOMEN ARE NOT YOUR FETISH
Plastered along the streets of downtown Providence, Rhode Island, are signs with bold, white block letters, loudly proclaiming "ASIAN WOMEN ARE NOT ALL QUIET. ASIAN WOMEN ARE NOT YOUR FETISH. ASIAN WOMEN ARE NOT SUBMISSIVE." These are just a few of the pieces from an installation created by the two women currently known as Sad Asian Girls Club. Founded by Esther Fan and Olivia Park, Sad Asian Girls Club is a self-funded and self-managed collective by and for Asian-American women, who aim to break the culture of passiveness and silence among Asian-American women living in a white male-dominated society. The Rhode Island School of Design students decided to start the "club" after navigating the struggles of growing up in Western and Asian cultures simultaneously.
Their first project, "Have You Eaten," although minimal in its presentation, is a powerful explanation of the box that Asian women are forced to put themselves in—often even, by their own families. The project explores and exposes the idea that Asian women have to be a certain weight, have light skin, eat only small amounts of food, and present themselves a certain way, all in an effort to be "correct." While all of the factors may seem minor on their own, it's the little things—the microaggressions and comments—that speak of a larger narrative of racism that SAGC is looking to stop. Thus, the group's manifesto dives deeper into their mission of not only empowering Asian women to speak up but also creating a community of women who have had enough and are ready to do something about it—specifically through mixing activism and art. 
Although SAGC's first two projects revolve mostly around East Asian experiences, the third one focuses around a larger variety of voices. In the three-part Model Minority Series, Asian women of different cultures speak about how the "model minority" stereotype—i.e. the myth that Asians are more studious, better students, and more successful—is harmful. The implication that Asian-Americans always excel and therefore transcend the struggles of other people of color denies the very real prejudices and bigotry that Asian-Americans face. (It also pits minority communities against each other, which is beneficial to nobody but those in power.) As Part 1 of SAGC's Model Minority project points out, this stereotype also forces Asian-Americans to deny their individual identities to fit into what they feel is acceptable by society's standards. This, in turn, perpetuates the stereotype and culture of passiveness that says that Asians and Asian-Americans don't do anything but read and study. And while a positive stereotype might not seem like something to get that upset about, it's still very harmful; after all, it's another set of standards to live up to, another confining box.
For Part 2 of the series, SAGC tackles how this stereotype affects Asian-American women specifically, including how expectations to take every AP and honors class offered in high school are damaging. Similarly, if an Asian-American is not pursuing a studious career, they are not considered "Asian"; they're thought to be "white-washed."
Part 3 addresses how one can dispel these stereotypes. One of the most important ways to do this is through increased representation. Hollywood has long been resistant to casting Asian and other minority actors in starring roles in mainstream movies—even when it comes to playing Asian characters. Unless, that is, Hollywood needs to cast Asian-American women in stereotypical roles, like a sweet, submissive, and passive "Lotus Blossom," or an angry, mysterious and sensual "Dragon Lady." Actors like Aziz Ansari and Constance Wu, who have both been very vocal about their anger with Hollywood, are helping to change the game, but it's not enough. Acknowledging this inherent racism at an individual level is important—particularly when that individual has a prominent platform like Ansari and Wu—it's society as a whole that will need to force this change to happen.
That said, while it's important for non-Asians to speak out about the racism they see, it's also important for marginalized people to be allowed to speak for themselves. "Advice for allies is usually to raise awareness within your own social circles or around those who are not in the group mentioned in conversation; when you are in the presence of an oppressed group or individual of that group, ask them questions and have them speak for themselves rather than speak for or over them," say Fan and Park. Using a medium that's available to you to help facilitate a conversation is important, but so is making sure that you're letting those who need the opportunity to speak to do just that.
Although the group's first few projects work solely with Asian identities, that's not all that's in the books for the women. "We hope to promote our solidarity with other identities that we have not integrated into our work yet such as the LGBT community or Black Lives Matter as well as address issues like anti-blackness and homophobia in the context of Asians living in western environments. We hope to do this through collaboration with other creative artists of those identities in the future," say Fan and Park.
Sad Asian Girls Club has also curated three separate art books, all created by young Asian women artists. The first issue of their book focuses on photography and illustration, the second on poetry, journal entries, and essays, and the third on film and mixed media. And although the process of creating these books was challenging, both Fan and Park say that it was incredibly rewarding to see how many Asian artists are mixing art with activism and awareness. By further promoting the work and art submitted, the women hope to develop a community of Asian artist and writers to inspire and support each other.
The response from different Asian communities has been, for the most part, positive, though the reaction from the duo's parents has been a little bit different. Fan and Park say that Esther's family has been pretty indifferent and unsupportive about what they've been doing. "This is likely because of generation gaps as well as its influence on the young people; those who have grown up with their parents' cultures and remained uninfluenced by their western environments tend to find it tougher to understand the social issues we try to address," they say. Olivia's side, meanwhile, is generally supportive of the work despite the lack of comprehension of the messages within the work. "We don't expect our parents to fully advocate for our work. At times, it can be disheartening, but it only encourages us to be stronger and do something about it; in our case, we put that into our creative work," they say.
While the group is currently on hiatus, Sad Asian Girls Club isn't going anywhere anytime soon. Although the group was born in an institution, the goal is to expand outside the confines of RISD's walls. The duo is currently rebranding their work, including their name, in hopes of developing more content and creating something both Fan and Park wish they had growing up. While it's unclear exactly what form that will take, one thing's for sure—it's going to be golden.
Visit the Sad Asian Girls Club site here, and buy their books here.