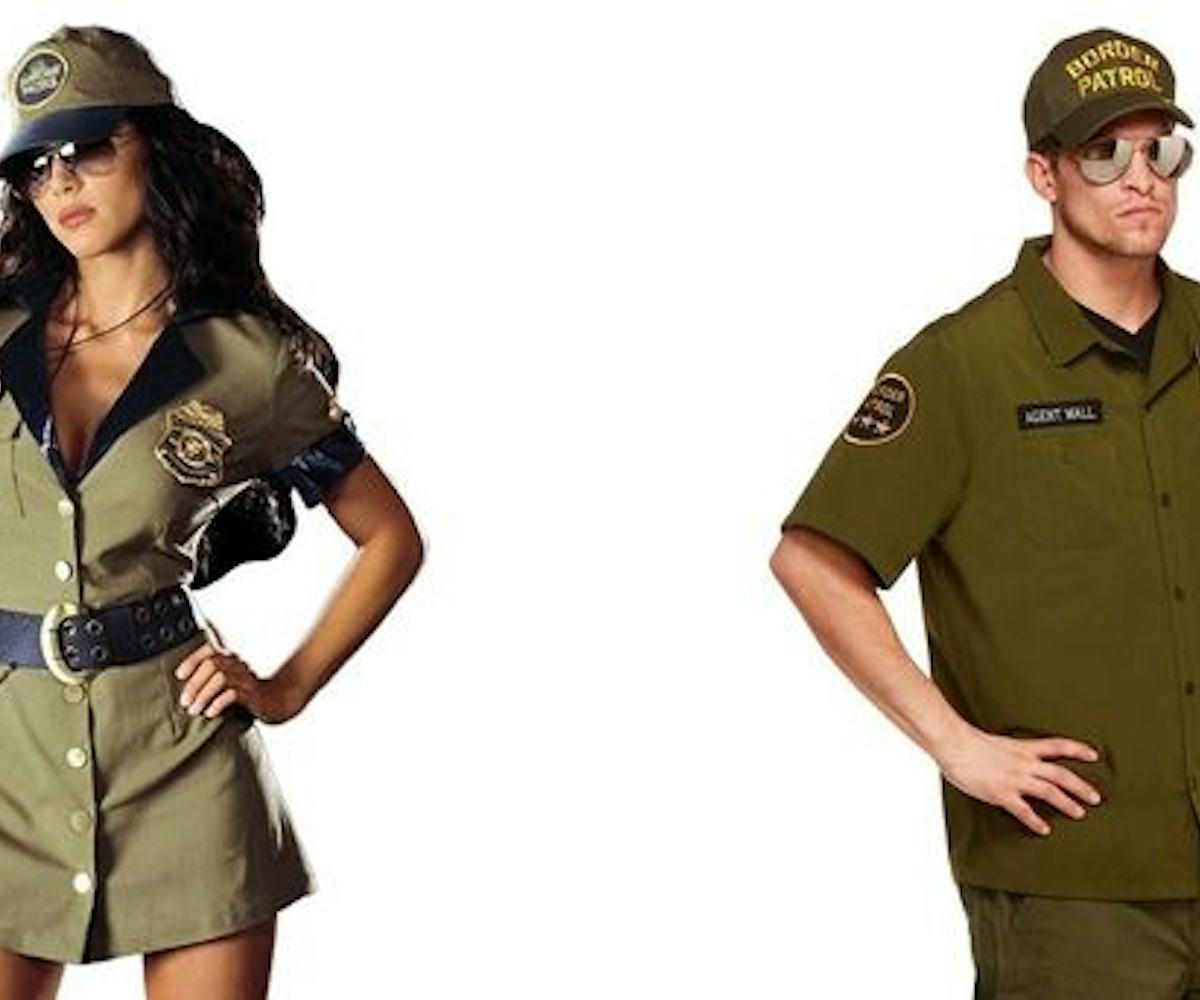 photo via spirithalloween.com
This Is The Worst Costume Of 2017
What Halloween looks like under Trump
Because this is the age that we are living in, Spirit Halloween stores in New York City has been selling "Agent Wall" and "Border Babe" costumes, that resemble the uniforms of ICE agents, ahead of the Halloween season. Gothamist reports that for roughly $40, you can purchase the full "Agent Wall" cap and shirt package. The "Border Babe" costume has already—shockingly—sold out.
Sure, Halloween has always been a holiday people use as an excuse to promote blackface or cultural appropriation, but these costumes are more than just offensive—they're threatening. 
In a statement to Gothamist, Spirit Halloween claims that their company offers a "full range of Halloween costumes that celebrate and appreciate all cultures, occupations, and figures," calling the costume similar to that of a police officer, doctor, or firefighter. Hmm. 
Spirit Halloween offers a full range of Halloween costumes that celebrate and appreciate all cultures, occupations and figures, both real and imaginary. With that, we playfully acknowledge topical themes - and building the wall is certainly a trending conversation in today's political climate. We believe this costume carries similar sentiments akin to that of a police officer, military costumes, firefighter, doctor and more. As the president continues to drive the headlines and hashtags, we have costumes for everyone to join in on the fun, including: piggybacking on Mr. President, a host of masks that illustrate Trump's many personas and a presidential BFF Putin mask. We've respectfully developed these costumes knowing that Halloween is a time for humor and fun, and due to the overwhelming popularity of these items last year, we think it'll be a huge hit with our shoppers again!
Let's get a few things straight: There's nothing "humorous" or "playful" about plainclothes ICE agents harassing Latinx citizens, or the surge in hate crimes in NYC against people of color, Muslims, Jews, or those of the LGBTQIA community. To make a mockery off of the fears that millions of minorities, myself included, face every single day is not and will never be a joke. Immigration agents who are increasingly using more force and violence are not the same as doctors or firefighters, and should never be treated as such.
So, instead of giving your money to Spirit Halloween this season, donate to one of these incredible immigration organizations working to support DACA recipients.