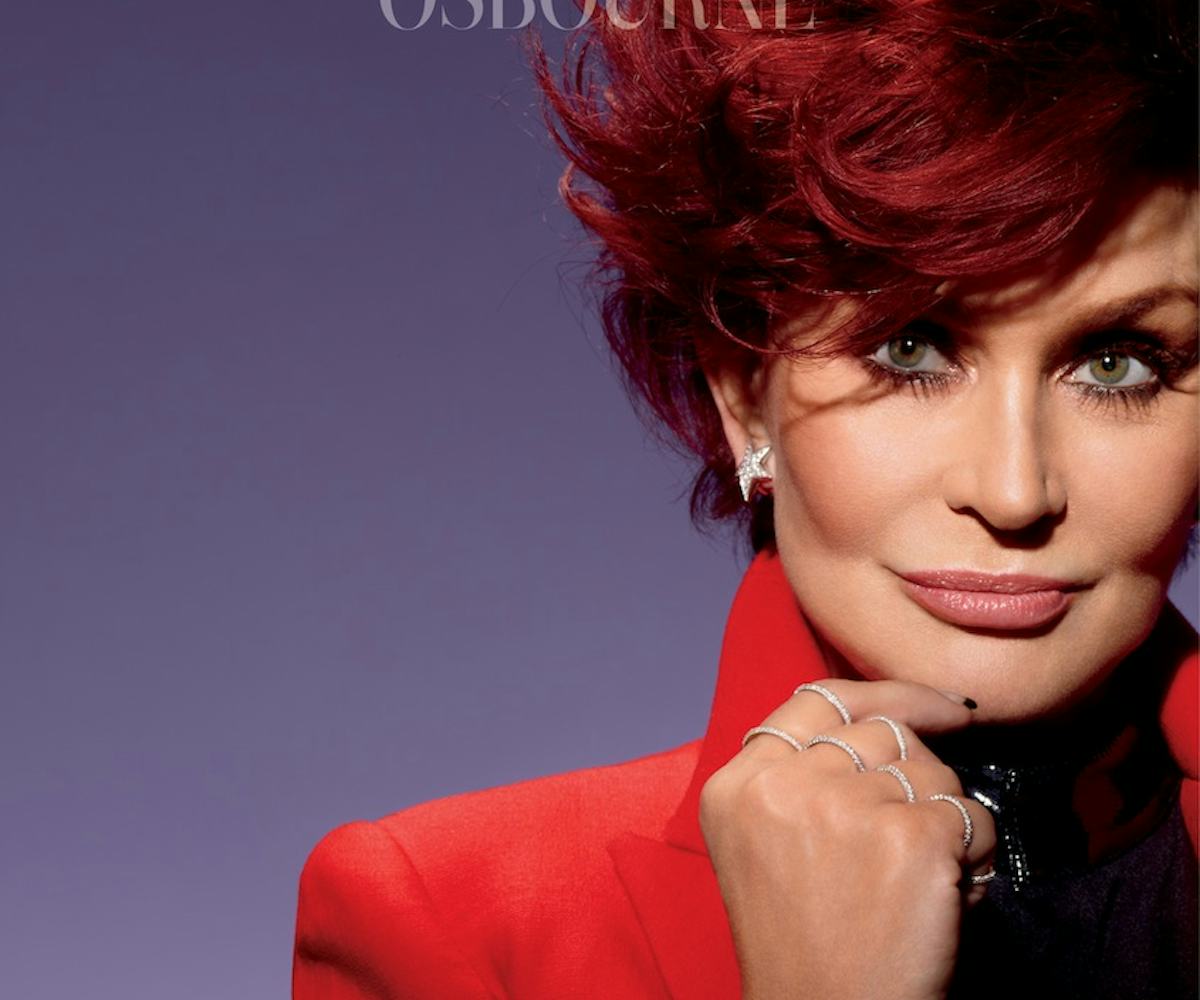 the insider: sharon osbourne
everyone's favorite foul-mouthed brit spills on her makeup collab, the importance of sunscreen, and ozzy!
If you read my full interview with Kelly Osbourne yesterday on the site about her new beauty venture with M.A.C Cosmetics, you'd know that there's a part two to the collection (and the interview) with her mom, Sharon Osbourne. That's right, I chatted with everyone's favorite foul-mouthed Brit herself, and in typical mom-fashion, she had a ton of sage beauty wisdom to pass along. Read the full interview below and don't forget to tweet us (@nylonmag) and let us know what your favorite product from the collection is!
How did this collaboration with M.A.C come about?
It started many years ago; it took about ten years to actually get it to happen because of illness and then nobody reached out to each other again, and then eventually it happened! M.A.C approached Kelly and I, and we thought it was something different that a mother and daughter do makeup together, but [in] different palettes. We just thought it was a great combination.
What were some of the things that inspired the colors and names in your collection? 
The colors were colors that I chose for brunettes and redheads. I wanted it to be for people with my coloring--and the names, I just wanted it to be fun!
I noticed there weren't any lipsticks in your collection but Patent Polish Lip Pencils. Why did you choose those over lipsticks?
Because that's what I use! I much prefer to do the pencil, I find it so much easier.
If you had to choose, what's your favorite product in your collection and what's your favorite in Kelly's collection?
The favorite in my collection are my eye shadows, I really love them because I use them every day. And in Kelly's, I like her brushes—it would be very hard for me to use a purple lipstick, it's just not appropriate for me. I'd look like I'm going out for Halloween.
Obviously the packaging for yours is red and Kelly's is purple, based on your hair colors. Would you ever "Freaky Friday" swap hair colors?
The thing is, in England, elder woman used to—when their hair went white—dye their hair lavender. It was just something that people did in my generation. So me being older, if I did my hair that color, I would look like an old-age pensioner.
Do you think you would ever change your red hair?
Yes, I will definitely change it; I tried it a few years ago. I wanted it to be a honey color and the person I went to messed up my hair and it all fell out.
Shut up!
No, I swear to you it's true! But I would like to change it. I'm thinking maybe later on in the year to go that honey color again.
What is the best and worst piece of beauty advice you've ever given Kelly?
The best beauty advice is don't pluck your eyebrows. Okay, now what was the worst? I think I waxed some hair on her face and burned her face.
And what is the best and worst piece of beauty advice you've ever received from anybody?
Oh my lord. It probably was to pluck my eyebrows and put an arch in your eyebrows. And that's the worst advice you can give anyone, because we all know now that if you constantly pluck your eyebrows, they'll never grow back. And the best advice that I've ever had is don't use anything with alcohol on your face.
Who are some of your all-time favorite beauty icons?
Oh my lord, who do I love? I think Elizabeth Taylor was the most stunning and I love Ava Gardner, and I love Dita Von Teese. I love what she does with her makeup. And I always think that J.Lo's makeup looks good too--because meeting her, her skin is so beautiful. And I'll tell you who else has got amazing skin is Jennifer Hudson. Oh my lord, her skin is just perfection,  there's not a pore-- she's so beautiful in person.
So what is your holy grail M.A.C product that isn't in your collection?
I don't know what I would do without their blushes and their eye shadows. I mean, everything I use is theirs.
Do you stick to a certain color category with the shadows and blushes?
I don't because it depends on what I'm wearing, whether it's day or evening, and so I'm constantly mixing and changing. And that's what I love about their eye shadows, they just have it down because to blend their shadows is the best. There's no other shadow that you could blend like theirs.
Does Ozzy use any M.A.C products, like does he use M.A.C eyeliner?
[Laughs] Of course he does–on stage of course he does!
Does he use anything else besides the eyeliner?
Sometimes he uses foundation. It depends if his skin is very red–he tends to get red in his face–so sometimes we'll put foundation on. When he's on stage, there are 50-foot screens behind him and his image is put up there, so of course you don't want to look like you've just run a marathon.
What's the best beauty advice you can pass along to our NYLON readers?
You know what the best beauty advice is for me, is sunscreen and moisturizer. You can't go wrong with that. I wish I was told about sunscreen when I was younger. You think you're fearless when you're young and you go out and you don't take it in your purse, and you'll be sat outside at a restaurant. The sun will be beating down on you for an hour and you do that day after day and then your skin is just like leather. I hate that fake leather look that people get when they're in the sun too long, I can't stand it. I'm not big on sun tans at all, and you know when people have those spray tans? I can't stand them.
Is there anything else you want to add about your collection?
Just that the collection means so much because we've waited so long to do it. I just wanted it to be as natural as possible so that you can have the option to have a lighter, more natural look and then go heavier with it. I couldn't be happier with it.
M.A.C Cosmetics x Sharon Osbourne Powder Blush in Peaches & Cream
M.A.C Cosmetics x Sharon Osbourne 275SE Medium Angled Shading Brush
M.A.C Cosmetics x Sharon Osbourne 167SE Face Blender Brush
M.A.C Cosmetics x Sharon Osbourne Powerpoint Eye Pencil in Bountiful Brown
M.A.C Cosmetics x Sharon Osbourne Duchess: Eye Shadow x4
M.A.C Cosmetics x Sharon Osbourne Lip Pencil in Cranberry
M.A.C Cosmetics x Sharon Osbourne Patentpolish Pencil in French Kiss
M.A.C Cosmetics x Sharon Osbourne Patentpolish Pencil in Innocent
M.A.C Cosmetics x Sharon Osbourne in Patentpink
M.A.C Cosmetics x Sharon Osbourne Patentpolish Pencil in Ruby
M.A.C Cosmetics x Sharon Osbourne Tinted Lipglass in Bijou
M.A.C Cosmetics x Sharon Osbourne Tinted Lipglass in Pussywillow
M.A.C Cosmetics x Sharon Osbourne Mineralize Skinfinish Duo in Refresh