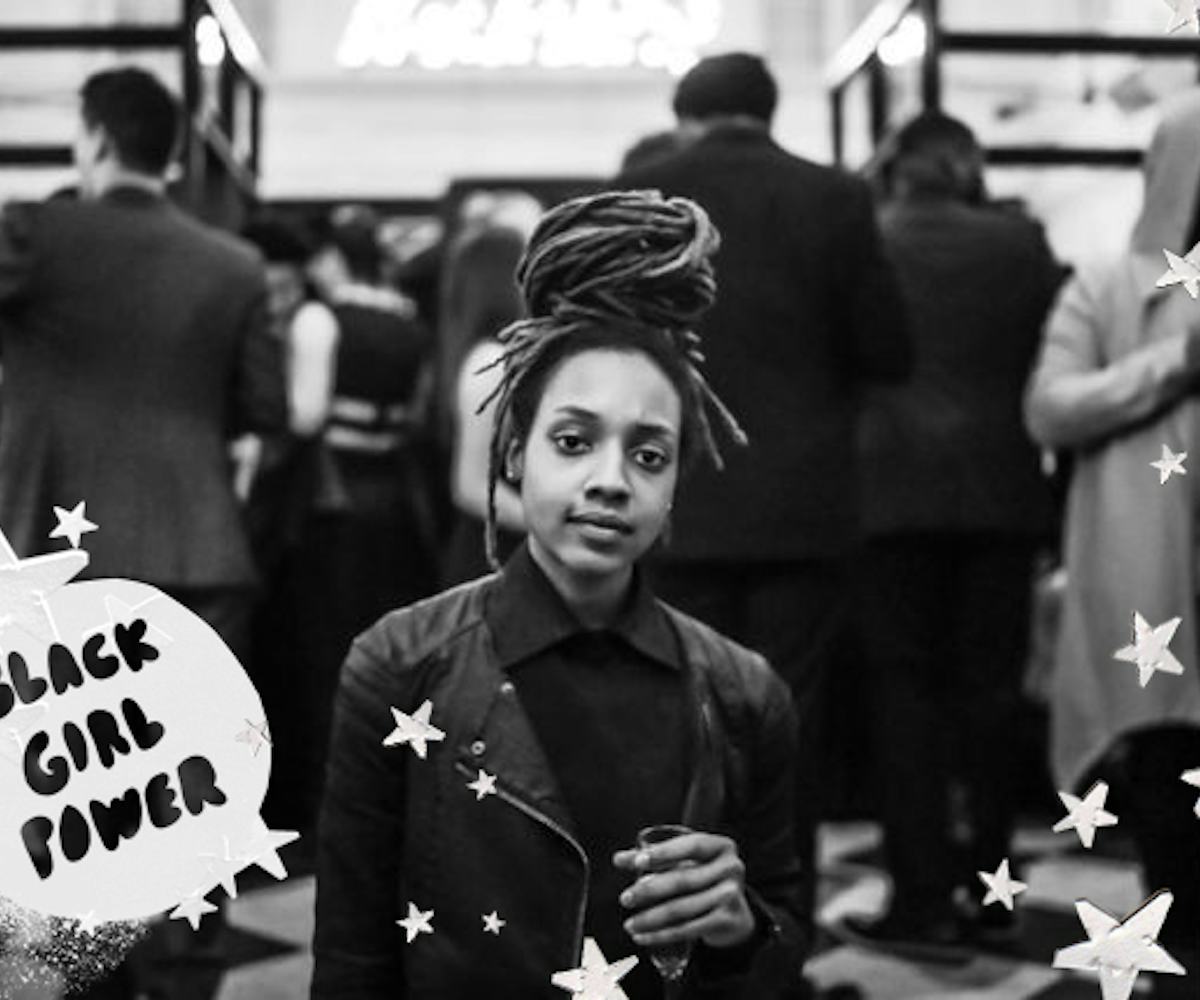 Photo courtesy of Sheila Rashid.
Sheila Rashid Designs Androgynous Clothing For Every Body
where femininity + masculinity coexist
In celebration of Black History Month, NYLON is running a spotlight series called Black Girl Power... The Future Is Bright. Every day, phenomenal black women from different industries will be featured to tell their stories—revealing how they became who they are, showing what they have accomplished, and pinpointing how they navigated their careers. Black women deserve to be celebrated 365 days of the year, and we hope that this series will inspire everyone to believe in the power of #blackgirlmagic. 
Sheila Rashid is a fashion designer based in Chicago, Illinois. The 27-year-old is the founder of her own clothing brand that caters toward androgynous style. Her signature is a drop crotch pant—"a new way of design that brings an edge to the classic approach of the harem pant"—that comes off as both feminine and masculine. While her designs are simple and sleek, none of them are ever boring or ordinary.
Nearly two years ago, one of Rashid's pieces was worn by none other than Zendaya Coleman. Rashid designs and produces every piece by herself with no extra help—every stitch, cut, and pattern is handmade with love. She's a woman ahead of her time with a mind solely focused on the future.
Get a better idea of Rashid's vision by reading her interview, below!
How did you get started in fashion and design? 
I started painting on shirts in high school. I would hand-draw and paint different characters and sell them to my peers. I was inspired by brands like Bape and ICECREAM. I wanted to make clothes from scratch, so I learned the skills—mostly self-taught—and took fashion design classes. I am inspired by geometric aesthetics and detail. I wanted to make a brand that is timeless. Every piece is making art. I draw out a sketch, make the pattern, and sew a good quality garment with attention. 
How do you maneuver your respective industry as a black woman?
In the industry of fashion design, I maneuver by displaying what is great style. Being black or a woman has nothing to do with how great something looks.  
Could you describe a moment where you felt like you defied the odds or broke a barrier?
I feel like I'm breaking a barrier when I'm mastering my craft and making an undeniably beautiful product.
Where do you find inspiration?
I get inspiration from everything, from vintage clothing to the Asian culture. I love a play on geometric shapes reflected on garment pieces, so details with lines and seams I always found attractive. I'm motivated by my own passion to reinvent the new wave of fashion and style. My peers inspire me; people I've met such as Coco and Breezy, Law Roach, Dex Rob, Shawn Outen, Sham Shirley, Marquis Phifer, and others.