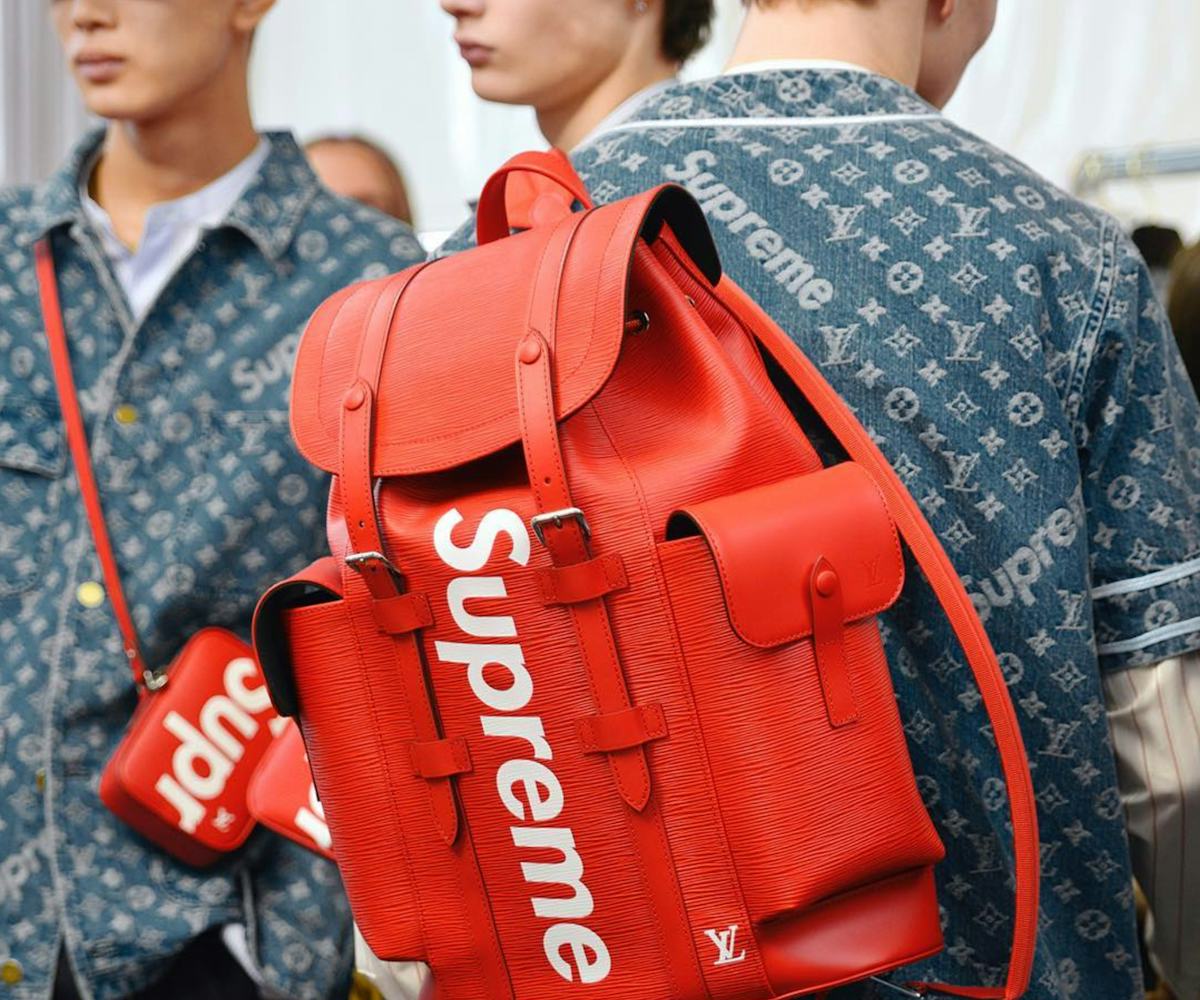 Photo Via @louisvuitton/Instagram
15 Of The Most Random Supreme Collaborations
Not everything can be made cool with branding, but that hasn't stopped Supreme from trying
Skateboarding shop and clothing brand Supreme has never shied away from a collaboration. The brand is well-known for plastering its font-type logo across basically anything, and their collabs are no exception. From simply adding the name to your average folding chair to sewing a tag to a regular umbrella, there is no stopping Supreme from leaving its mark in an attempt to separate the basic from the cool. Hypebeasts reached a new level of bougie fuccboi-dom when Louis Vuitton revealed its long-rumored collaboration during their Fall/Winter 2017 show. The egos must be yuge! 
Many brands have held tight to their creative ties with the hypebeast brand for more than one season. Vans has stuck around since 1996 with their co-branded line of Old Skools. Similarly, Nike has released a line with Supreme almost yearly since 2002, keeping sneakerheads well-satisfied. Many other lines still have us shrugging, though. Click through the gallery below to see 15 of Supreme's best and most random collaborations.
Metropolitan Transportation Authority
This limited-edition Metrocard was available for only a few moments at select subway stations in NYC and Supreme stores. Hypebeasts were quick to make New Yorkers' commutes all the more difficult, crowding to purchase all of the cards to mark up and resell. As of Wednesday, all of the cards had been released into machines around the city. 
The North Face
Supreme has taken on the outdoors since 2007 with The North Face. Much of this particular line is eerily reminiscent of hunting gear, except totally isn't worn by a person who has a taxidermy deer head hanging in their living room.
Playboy
This collab makes perfect aesthetic sense, as the bunny silhouette has long held similar status to many other streetwear logos. The collection was geared toward the lazier hypebeast, boasting short-sleeve sweatshirts, matching sweat shorts, and silky five-panel hats.
Braun
If you've never rolled your eyes at shameless branding, here's your chance. Supreme stuck its logo onto a sleek white calculator and portable alarm clock for a collab with Braun, perhaps emphasizing that school is cool.
Brooks Brothers
Fuccbois can rock seersucker, too. This was probably aimed at the dude who had a wedding to attend at 3pm but had to be to the skate park by 4:30.
Dr. Martens
This collab is almost like looking at a spot-the-difference puzzle. Supreme radically changed the classic shoe by removing the usual pull-tab from the back and adding their logo to the inside sole.
Hanes
A small logo added to the bottom of various Hanes products completed this collaboration. Unsurprisingly, Supreme fans ate it up, but we're still pretty confused as to why.
White Castle
Supreme made the biggest reach of the century when it tried to make hangover food a fashion staple. As if this shirt wasn't enough, the line also included work jackets and various Vans styles.
Levi's
Supreme has long collaborated with Levi's for denim staples, usually with bolder prints attached to the classic Supreme logo. For Spring/Summer 2017, Supreme was clearly inspired by Forever 21 nonsense and threw cliche floral patterns over everything. 
Joe Cool
Much like his pseudonym, Darryl Daniels' contribution to the brand was pretty dope. The iconic album cover artist, known for creating the art for his cousin Snoop Dogg's hit DoggyStyle, added his flair to four T-shirts back in 2007.
Timberland
Timberland boots were no stranger to the hype fashion scene before collaborating with Supreme. These designs are nowhere close to the classic tan suede hiking boot but are probably better suited for appearing in an Instagram post than on the trails.
Vans
Aside from joining in on the White Castle collab, Vans' continued work with Supreme doesn't have us complaining. While this sick camo pair has been gone since 1996, you can still snag yourself a similar pair. You'll just have to settle for the missing Supreme tag.
Nike
Unlike Vans, Nike has not just collaborated with a single style of sneaker. Each season has offered a cool new twist on the sports brand's shoes, with funky prints and luxe fabrics.
Jeff Koons
What hasn't Jeff Koons done? The artist stayed in line with the skate brand's roots with artsy collectible boards.
Comme des Garçons
High end met skater in the coolest way with this collection. Comme des Garçons brought along mismatched plaid and baggy silhouettes while staying true to its punk aesthetic.