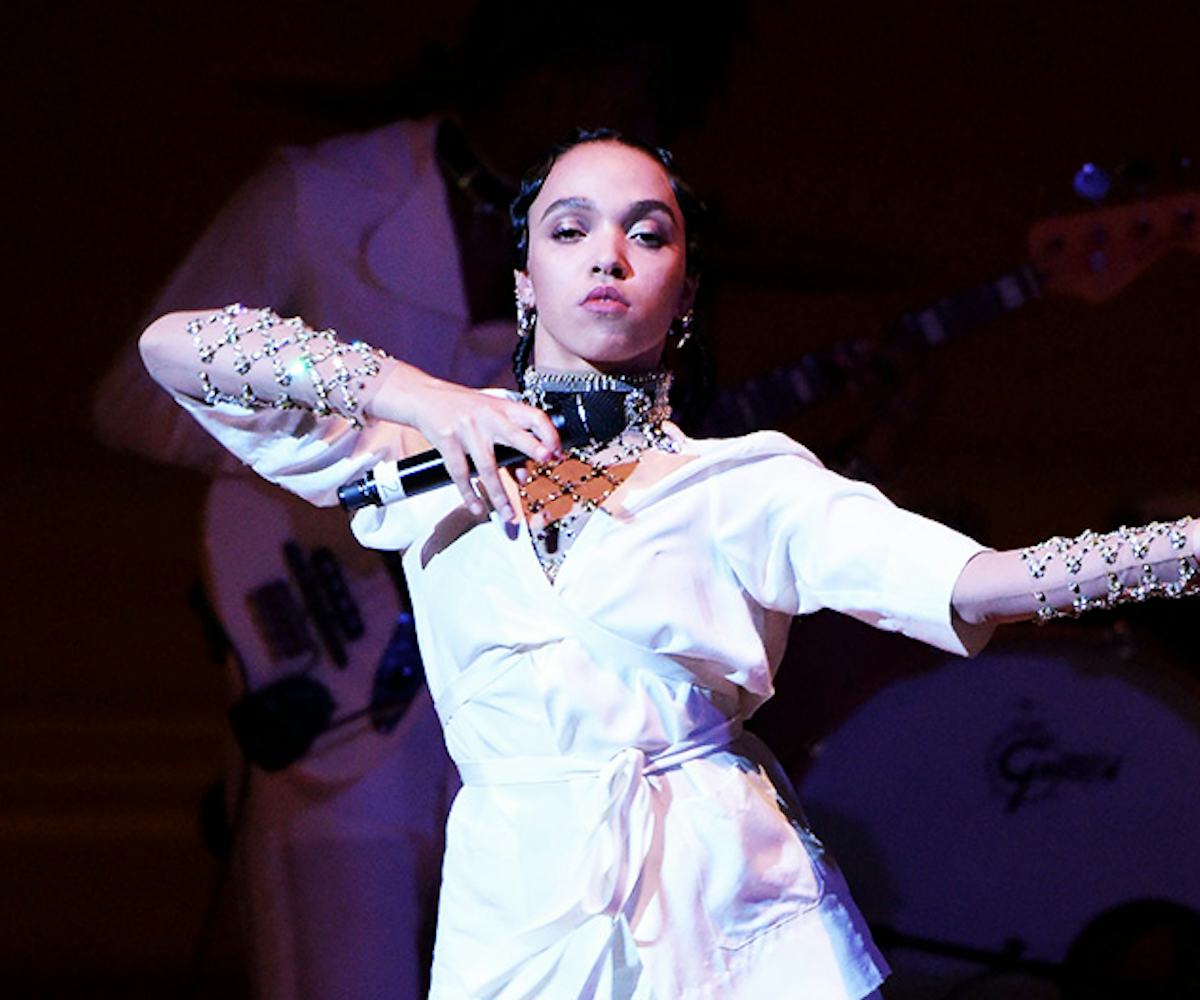 Photo by Getty Images for Tibet House.
Carnegie Hall is one of those New York institutions you hear about all the time, but never quite know how or when you're actually going to set foot inside of it. My first time was in 2010, for my best friend's brother's opera recital. It was stunning. I remember thinking on my way out that this could very well be my last time inside the building. Thankfully, Carnegie Hall seems to have a way to call you back when you least expect it.
Last night, FKA twigs graced its stage for the first time. How odd, I thought, that she would be one of the reasons I was sitting in that historic theater. How appropriate, too, for her. Carnegie Hall has hosted greats—like Judy Garland, Nina Simone, and The Rolling Stones—and twigs will, most definitely, rank among them. We were there for the 26th annual Tibet House US benefit concert. With Philip Glass as the night's artistic director, icons like Iggy Pop and Sharon Jones shared the stage with twigs, and Canadian songstress Basia Bulat. The mix of folk, classical, Tibetan music, rock 'n' roll, and spoken word poetry made for a night that, for once, demanded everyone's absolute attention. Perhaps it's because of the Hall's history and respect for performance, but no one was on their phones during any of the performances. Sure, FKA twigs was the fastest rising star on the stage, but equal attention and adoration was paid to all performers. Her two-song set brought an element of avant-garde edge to the night. She transitioned from "Hide" to her newest single, "Good to Love" seamlessly, shedding her white robe to reveal a shimmering bodysuit. And her choreography? Captivating. We've written about her live performances before, but this one was intimate but in no way less powerful. It set the stage for Gogol Bordello's rambunctious performance and Iggy Pop's Bowie-laden finale. 
Throughout its history, Tibet House has always invited innovative artists to participate. One year Antony Hegarty and Laurie Anderson shared the stage while James Blake performed later. Last night's ceremony honored the rich history of both Carnegie Hall and Tibet House US. It exposed those who were probably there for twigs to legends, while solidifying twigs' own legendary status. Like twigs said in her final song, it's good to love. It's also good to stop and listen for a moment.