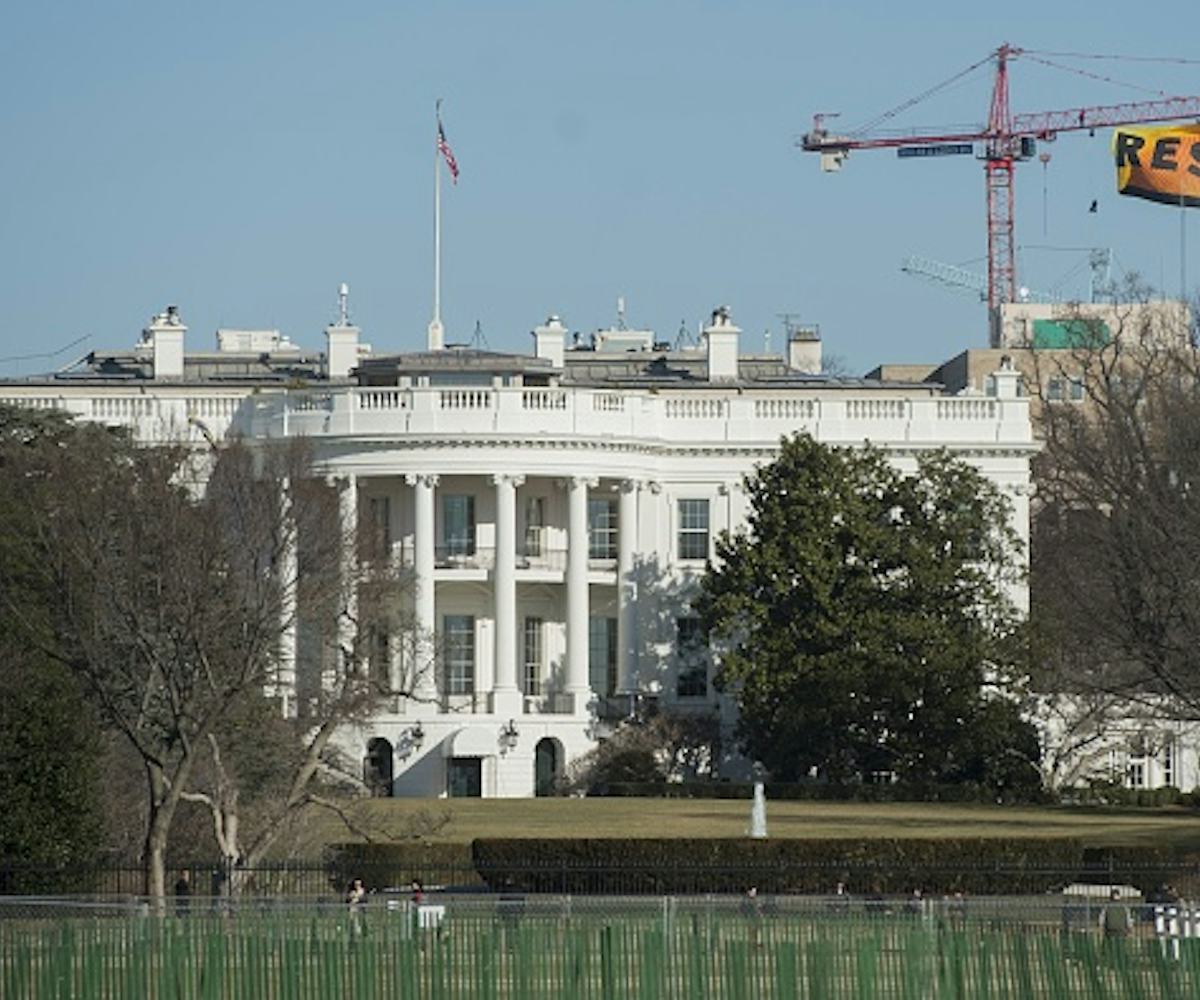 Photo via SAUL LOEB / AFP / Getty Images
Trump Admin Might Let The White House Council On Women And Girls Die A Quiet, Slow Death
Just one day after Donald Trump attacked a female journalist on Twitter, calling her "crazy" and commenting on her plastic surgery, and two days after he sexually harassed a reporter in the Oval Office, Politico released a report that shows the Trump administration is debating whether or not to keep the White House Council on Women and Girls. The office was created under former President Barack Obama to focus on gender equality.
In other words: Things are not looking good for women in the U.S. right now. Established in 2009, the Council reviewed policy proposals in order to protect gender equality and met with women's groups and federal agencies in order to encourage gender equality concerning things like pay and healthcare. Former President Bill Clinton also had his own version of the group, the Office for Women's Initiatives and Outreach, but George W. Bush later absorbed the group into a larger office.
At this point, it's unclear whether the Trump White House will keep the Council in some form or get rid of it completely. But if we had to guess, we'd go with the latter. "We want the input of the various agencies to understand the assets they have so that we make this office additive, not redundant," White House spokesperson Hope Hicks told Politico. She said the administration is "evaluating the best positioning of this office going forward (and other legacy Obama offices)." 
Former director of Obama's White House Council on Women and Girls Tina Tchen explained that the office served as a sign to staff that they needed to consider equality gaps. "It shows the priority you place on the issues surrounding women and girls," she said. "They have business councils, and other councils. That's how you demonstrate to everyone in the agencies where their efforts should be focused."
National Organization for Women President Terry O'Neill, whose organization has partnerships with over 200 women's groups, said she and others haven't had a point person in the White House. "I see no evidence, zero, that Donald Trump has anyone in his orbit to advocate for women and girls," O'Neill told Politico. "We need a real office that would really advocate."
Trump's administration was originally going to keep the Council and Kellyanne Conway was expected to oversee it. In April, Ivanka and aides launched an internal review of the office, saying that it would be completed in May. There's been no indication that the review is complete or if the White House has made a decision about the organization's fate. This could be due to the fact that Ivanka is now staying out of politics. 
This might be the administration hoping the White House Council on Women and Girls dies a slow and quiet death that no one notices, or maybe Trump will shock the world and strengthen and rebuild the council. But if you asked any of the 15 women he assaulted, I bet they'd say that's not very likely.