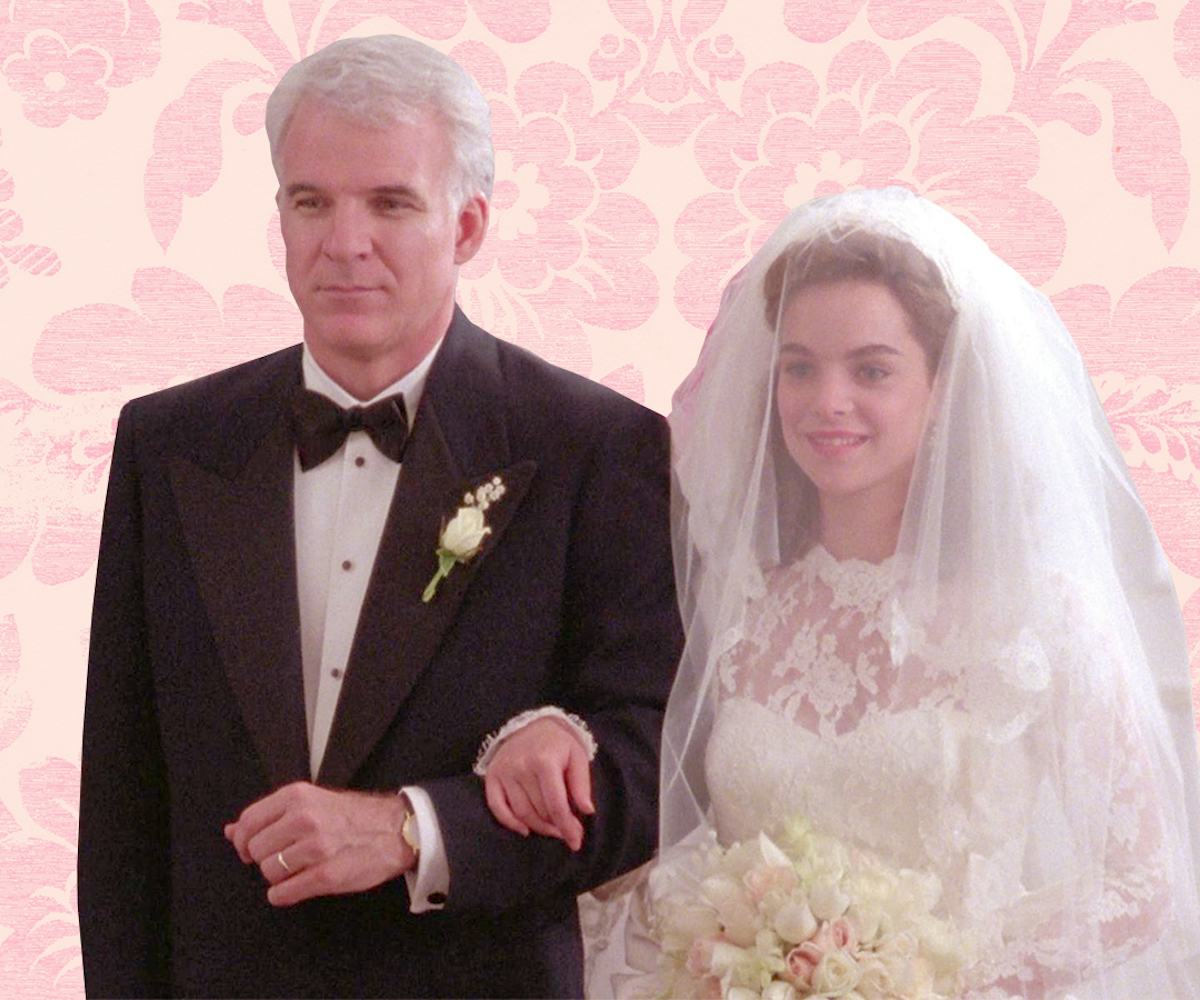 Photo via Touchstone Pictures
Take A Walk Down The Aisle: The Evolution Of The Wedding Movie
From 'Father of the Bride' to 'Rough Night'
While there have been many think pieces about the evolution of the rom-com, one always dependable category of the genre sometimes ends up being incorrectly lumped into the "chick flick" list as being indistinguishable from Say Anything, When Harry Met Sally, and Bridget Jones's Diary: the wedding movie. While a humorous story revolving around nuptial events, be it preparation for the big day or bachelor/bachelorettes gone awry, can, of course, be filed under the romantic-comedy category, there's a certain audience whose heartstrings get pulled a little more strongly by a story that ends with a bouquet toss, making the wedding movie an entity unto itself, with its own interesting film history. Because while wedding movies rarely tend to veer away from the happy ending that concludes with a cake cutting, the manner in which the protagonists make it down the aisle has had a few evolutionary twists and turns since the first cinematic weddings created the genre.
The true rise of the contemporary wedding movie starts with 1991 hit Father of the Bride with Steve Martin playing the overprotective title dad who's not ready for his little girl to get married. This remake of the 1950 film starring Spencer Tracy and Elizabeth Taylor is as classic and predictable as wedding movies get, but it's one that set our era's golden standard and laid the path to the altar for all wedding-themed films to follow; it, of course, helped that it was helmed by the legendary Nancy Meyers and starred two of '90s' most popular rom-com stars, Martin and the equally likable Diane Keaton as mother of the bride. Add in some iconic songs, like "My Girl" and "(Today I Met) The Boy I'm Gonna Marry," soundtracking some memorable moments, and Father of the Bride's legacy is still felt today. Think I'm exaggerating? How many over-involved wedding-planning families have you met that jokingly quoted the film's enthusiastic wedding planner Franck or the pronunciation of his name (Fraanck), like they were the first to come up with that inside joke? And how many wedding sneakers were crafted by fashion houses worldwide as an ode to the basketball-loving Annie? Many, and many more.
Around the same time, over on the other side of the pond, came the delightful Four Weddings and a Funeral in 1994. Starring Hugh Grant in the first of many, many, many rom-coms that he would become known for and Andie MacDowell, the indie film went on to surprise everyone by becoming a smash hit, and even receiving award show recognition with an Acadamy Awards nomination for Best Picture and Best Original Screenplay. The film follows a group of friends through the perspective of Charles (Grant), an eternal bachelor, who, over the course of four weddings and a funeral, falls in love with Carrie (MacDowell) who eventually "pins him down." The film's then-revolutionary "twist" is that the two protagonists decide to make a lifelong commitment instead of getting married, a move that set precedent for "unconventional" wedding movie endings to come.
In the late '90s, after a slew of trope-following wedding movies, we witnessed the arrival of wedding films that highlighted women who rebelled against the American traditions and institution of marriage, most notably in the form of Julia Roberts in both 1997's My Best Friend's Wedding, where she plays the best friend of a man (played by Dermot Mulroney) with whom she's secretly in love, and whose hasty wedding she intends on sabotaging, and 1999's Garry Marshall-directed Runaway Bride, which follows the four failed weddings-to-be of the free-spirited protagonist Maggie, played by Roberts.
Both were a departure from the typical wedding sheeple in that they detailed the pressure put on women to get married for the wedding, rather than for the joys of finding happiness with a true life partner, and even oneself. In one of the most telling scenes at the end of Runaway Bride, we see Maggie trying to figure out how she likes her eggs cooked for herself, as opposed to copying what her partner wants, as she always had done in the past. As both women Roberts portrays begin to understand that they were in love with the idea of marriage rather than the people they intended to marry, the happy endings change from centering around the "I do," and instead revolve around learning how to find peace with themselves; sometimes, like in Runaway Bride, that involves finding love with a romantic partner, but other times, like in My Best Friend's Wedding, it involves finding happiness in friendship. These movies laid the groundwork for other, though dissimilar, movies, like 1999's The Bachelor and 1998's The Wedding Singer, in which love comes from unexpected places.
The early aughts saw the continuation of the confident and career-driven women who didn't settle for the first man who proposed marriage to them, putting family life aside for a career and the right partner in very simplistic if cute comedies; 2001's The Wedding Planner followed a workaholic wedding planner, played by an adorably neurotic Jennifer Lopez, who falls for her client, played by the then-go-to leading rom-com man Matthew McConaughey, while 2002's Sweet Home Alabama saw Reese Witherspoon trying her luck at a second wedding only to end up back again with her first husband and in Alabama on her own terms, leaving behind her career as a fashion designer in New York. The "lesson" of these movies? Happiness can't come from a career, but rather from marriage. Hmm.
Around the same time, the wedding spotlight started to shift its focus onto dysfunctional families that made Father of the Bride's George Banks seem mild in comparison. (In actuality, though, was George really that irrational? His 22-year-old daughter was marrying a man she barely knew!!! And he was going to pay $250 a head for a wedding held in his own home!) While 2000 saw Meet the Parents, starring Robert De Niro as an intensely high-strung father, who was a former CIA officer, giving Ben Stiller, a male nurse, hell for even laying eyes on his precious daughter, 2002 introduced us to the raucous, Windex-loving Portokalos family coming to terms with the fact that one of their own members is marrying a (gasp) non-Greek in My Big Fat Greek Wedding. But none of them compared to the "female version" of George Banks: Jane Fonda in 2005's Monster-in-Law. Opposite Jennifer Lopez, Fonda played the spectacularly evil, overprotective mother of Lopez's fiancé, Michael Vartan; Fonda goes to extreme measures to sabotage this union, even adding nuts to her nut allergy-having, soon-to-be daughter-in-law's meal. The movie is not great, and its method of pitting women against each other for the sake of a man is despicable, but it is nonetheless notable for being one of the first attempts in the wedding movie narrative to gender-reverse the role of the patriarch, something that would be seen to greater (if not great) effect in 2008's ABBA-soundtracked musical Mamma Mia!, which highlighted another iconic matriarch, Meryl Streep, to Amanda Seyfried's endearing if naïve Sophie, who's using her wedding day to figure out who of three potential candidates is her father. A year later, The Proposal saw Sandra Bullock force her assistant, played by Ryan Reynolds, to get married to her for immigration purposes to the delight of his family, which was run by bawdy Grandma Annie played by no other than Betty White. 
The last few years of the '00s saw a whole lot of other thankless wedding misses including Katherine Heigl's 27 Dresses, Patrick Dempsey and Michelle Monaghan's Made of Honor, Mandy Moore and John Krasinski's License to Wed, McConaughey's Ghosts of Girlfriends Past, and Cameron Diaz and Ashton Kutcher's What Happens in Vegas. All were flat, not particularly funny, and misleading attempts at putting women in charge of their wedding narratives. And then, of course, there were franchises whose plot lines revolved around weddings like 2003's American Wedding, 2004's The Princess Diaries 2: Royal Engagement, and the long-awaited Sex and the City movie which saw the not-so-fairy-tale first attempt at a wedding between the quintessential TV couple, Carrie Bradshaw and Mr. Big. All of these big studio movies were critical failures, but this didn't mean the end of the wedding movie.
Redemption during this time came by way of indie and independent movies. Rachel Getting Married saw Anne Hathaway at her peak (the Academy Award nomination for Best Actress in this film is proof) as a recovering alcoholic and drug addict who was temporarily let out of rehab to attend the wedding of her semi-estranged sister. Hathaway's blistering portrayal of a woman attempting to pick herself up from her lowest point is incredibly poignant and heart-wrenching and did a favor to the wedding world by demonstrating that sometimes there are bigger problems than rain or wrong centerpieces on your wedding day. The Romantics, a criminally underrated (sue me, I said it!) 2010 indie starring Katie Holmes and Josh Duhamel as former lovers whose passion destroyed their relationship, came a few years later to unerringly show that sometimes love is not enough to sustain a long-term romantic partnership; also, sometimes men just prefer "less-complicated" women to marry. The highlight of indie wedding films came in 2011's Lars von Trier-directed Melancholia, though. The hauntingly beautiful film spotlighted Kirsten Dunst as a depressed bride and the nihilistic nature of promising a lifetime to a single person. The narrative isn't just about the end of the world, but also about the end of happiness when we tie our life to someone else in hopes they will complete us or make the world more meaningful.
The biggest transformation in the direction of the wedding movie narrative began a few years earlier, though, as wedding films entered an era of no holds barred comedy. From Wedding Crashers, depicting the bromance between two committed bachelors who crash weddings to prey on vulnerable female guests, to The Hangover, the raunchy comedy of a bachelor party gone wrong that put Bradley Cooper on the mainstream map, to I Love You, Man, following the hilarious "man date" attempts of Paul Rudd as he searches for a best man in the form of unapologetic serial womanizer Jason Segel, the story lines seemed to promote one thing: Boys just want to have fun. In a misguided attempt to follow the same successful formula by switching the plot to include female characters came 2009's Bride Wars, which pitted Hathaway and Kate Hudson against each other in name of a few laughs. Spoiler alert: It's not funny when two best friends would rather ruin their friendship than give up walking down the aisle of their dream venue.
It would be a few years until the movie depicting women behaving badly in wedding films arrived to screens—when it did though, it swung the movie theater doors wide open with a resounding roar. With 2011's Bridesmaids, women everywhere hollered, "It's about fucking time." The movie not only accurately and hilariously depicted the messiness that surrounds the best of friendships, and jealousies that come up when we feel like we are losing our platonic soul mate to a partner or a new friend, but also made movie stars of lead Kristen Wiig, and put Melissa McCarthy and Rebel Wilson in the spotlight, thanks to the fact that they stole every scene they were in. The Paul Feig-directed comedy became a hit with audiences and critics of both sexes and, more importantly, proved to be financially lucrative, which is not that surprising if you, like, have half a brain and know the gender statistics of our population.
Borrowing from the same formula, 2012's Bachelorette introduced us to a dark clique of girlfriends made up of miserably delightful Dunst, Lizzy Caplan, and Isla Fisher, who come together to "celebrate" (read: continuously mock and seemingly despise) their high school friend, played by an oblivious Wilson. Under the influence of booze and cocaine, they destroy her wedding dress and end up on a dark mission to fix it. While the movie was underwhelming in laughs, somewhat lacking in a rounded-out plot, and a little too strongly focused on the mean girl behavior Wilson has to endure, it was refreshing to see women behave badly and put their male counterparts to shame when it came to knowing how to play hard.
If you think about how our society evolved, it's not surprising to see that over the last three decades the wedding movie narrative shifted focus from traditional patriarchal family narratives to finally explore the people whose "big" day it's supposed to be—particularly the women. The latest in this tradition is this weekend's Rough Night, which, though boasting a stellar cast made up of Scarlett Johansson, Jillian Bell, Zoë Kravitz, Ilana Glazer, and Kate McKinnon, didn't bring as many loud-out-loud moments as I'd hoped. But at least it shows that women still want to see more realistic portrayals of themselves when it comes time to say "I do." And if you don't give women what they want, they will move on to someone else. Just ask Justin Long's character in Literally, Right Before Aaron.