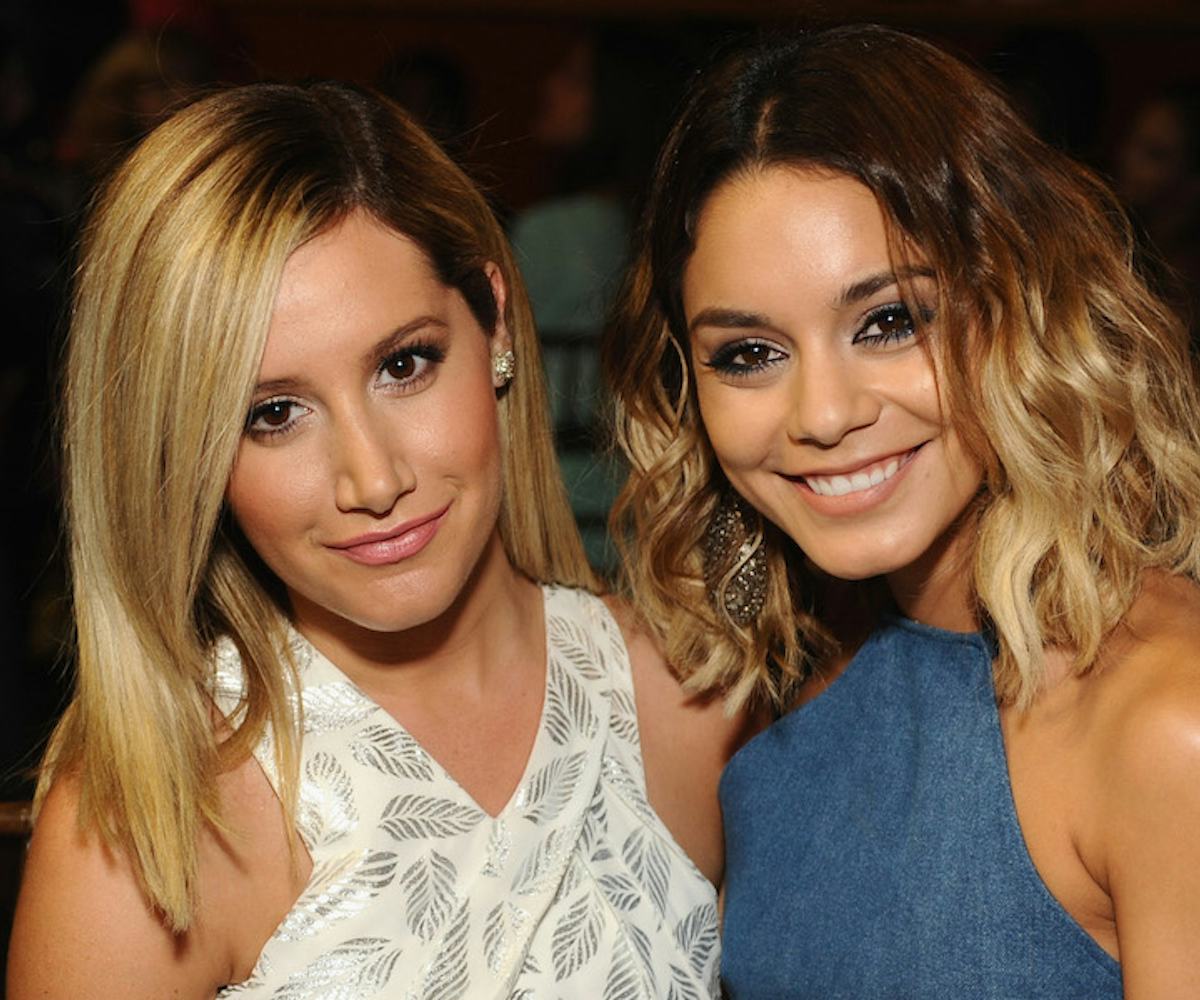 Photo by Alberto E. Rodriguez/Getty Images for Variety
Ashley Tisdale and Vanessa Hudgens' Quarantine Plans Include Revisiting 'We're All In This Together'
The 'High School Musical' actresses both uploaded TikTok videos lip-syncing to the teen hit classic
When I was just a little closeted 12-year-old, I often spent my free time standing in front of the TV, trying to learn the choreography to "We're All In This Together," the uplifting everybody-should-love-everybody anthem that closes out the hit 2006 Disney Channel Original Movie High School Musical. Sure, at the time, I may have just quit the YMCA basketball team my mom pressured me into joining several years prior, but I would be damned if I didn't repurpose that uniform while trying to do my best impersonation of Chad Danforth. Well, turns out I'm not the only one that enjoyed doing this dance in the comfort of my home. Yesterday, stars of the film Ashley Tisdale and Vanessa Hudgens both interpreted the song in their own ways, 14 years after the groundbreaking movie's release.
Yesterday afternoon, Ashley Tisdale, who played the snarky Broadway-obsessed Queen Bee Sharpay Evans, took to Instagram to post a TikTok video of herself doing the familiar choreography — over-the-head claps and all. Dressed in a two-piece tie-dye sweatsuit, the singer/actress cycled through the chorus while boasting a sly smile. In the caption, she noted, "If you need to work out while on #selfquarantine try this 😂 hopefully this will brighten your day a little!"
Then, taking a cue from her scene-stealing character Gabriella Montez, Vanessa Hudgens, never one to be outdone, posted her own TikTok video, which she embedded alongside Tisdale's. But rather than attempt the choreo as Tisdale had, Hudgens simply sat down at a table singing to a bottle of red wine. While Tisdale burned calories, Hudgens (of "Say OK" fame) uncorked her wine bottle, poured some more into her healthy-sized glass, and then proceeded to lift the bottle and the glass both into the air, all while lip syncing the instantly recognizable lyrics. In her caption, the actress/singer joked, "Well. It's come to this. Lol @ashleytisdale maybe I start getting into tik tok? Username is vanessahudgens not vanessahudgens0 okay byeeee."
Sure, that's certainly one way to be all in this together!
Watch Vanessa Hudgens and Ashley Tisdale's individual interpretations of the timeless hit below.