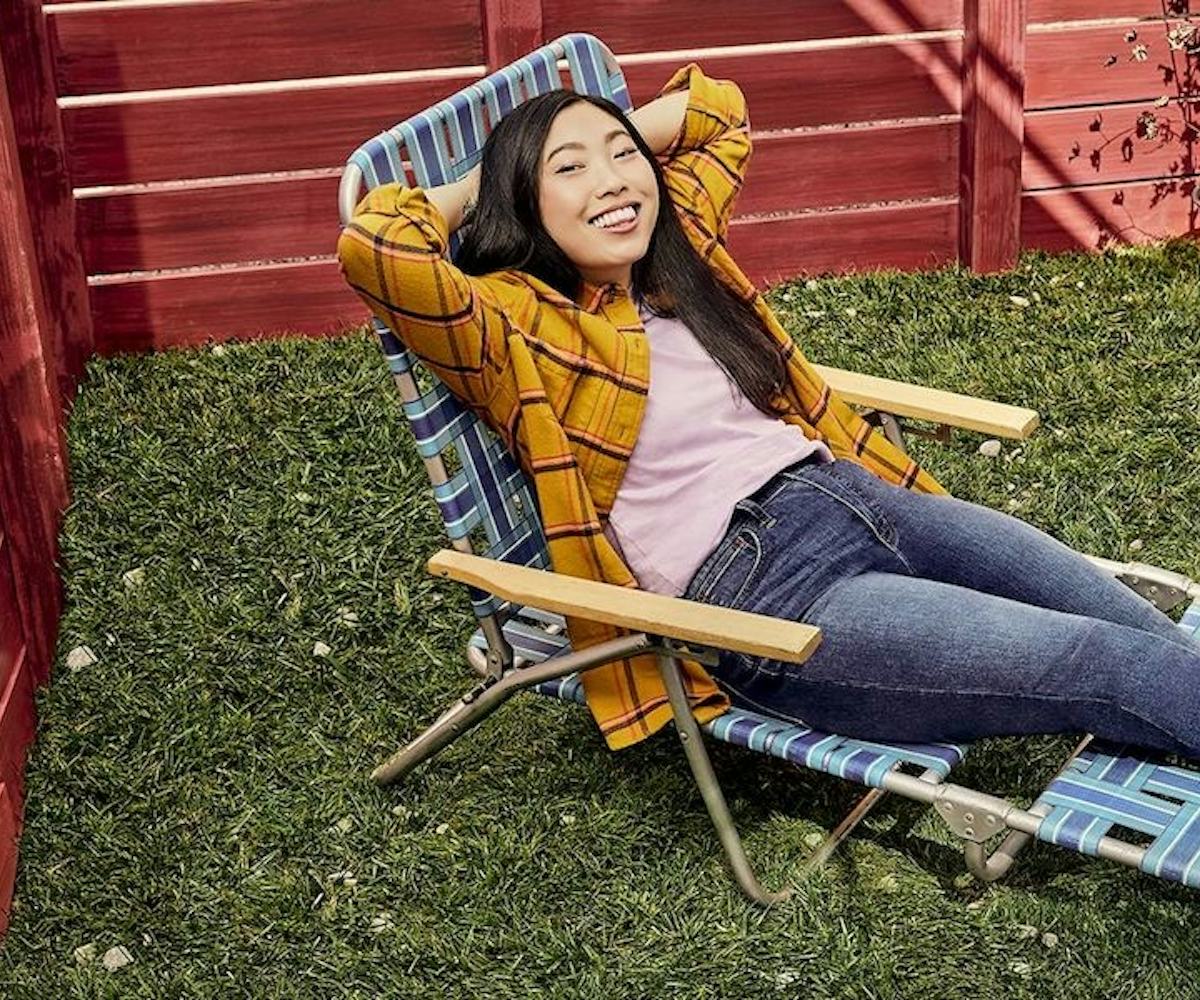 Photo by DANIELLE LEVITT/Comedy Central
Comedy Central's 'Nora From Queens' Marks a True Arrival for Awkwafina
The rapper-turned actress maintains her irreverent origins while elevating her craft
In the second episode of Awkwafina Is Nora From Queens, the titular character gets dragged into accompanying her grandmother (Lori Tan Chinn) to Atlantic City. Though Nora had very special plans to stay at home alone and masturbate, her grandma's sob story about her best friend cancelling their trip after getting hit by a CitiBike effectively guilt-trips the slacker into agreeing to the last minute adventure. As Nora waits for her grandma to leave, she looks underneath her covers, pulls out the two sex toys she had retrieved for the occasion (a pink Rabbit and a purple vibrator, both comically large) and looks at them mournfully while softly whispering, "My sweet baby angels. I'm so sorry."
Unmistakably charming with a dash of deviance, this opening scene is the perfect encapsulation of the type of humor Nora From Queens successfully balances. In no small way, the series often recalls Broad City, Comedy Central's previous female-led stoner comedy, which concluded its five-season run last March. Like Broad City, Nora From Queens also follows an underemployed 20-something New Yorker who spends more time hitting her bong than she does doing any real work. Similarly, each episode finds Nora getting into some kind of antics — whether it's (very unsuccessfully) driving for Lyft, trying to rescue her car from the tow pound, getting addicted to Adderall, or using a multitude of fake IDs to participate in a seemingly endless stream of paid product focus groups — which all, inevitably, end in complete disaster. The stories Nora tells are all very specific to a certain kind of young urbanite, which is why it shouldn't be too surprising to find out that, just like its spiritual sister, Nora From Queens is also roughly based on its creator's real life.
Yet despite these similarities, there are many elements of the show that prevent it from feeling like a retread. By training its focus on an Asian American protagonist, the show's DNA is inherently in contrast to the distinctly Jewish world of Broad City's Brooklyn. Nora still lives at home with her widowed father (Mr Robot's BD Wong) and her wisecracking grandmother in Queens' Forest Hills neighborhood, and the show is refreshingly unafraid to use that premise as a means to explore Asian culture. Look no further than the aforementioned trip to Atlantic City, where Nora finds out that, rather than gambling in the casinos with the $60 voucher they get just for taking the trip, all her grandmother and friends want to do is find a table in the food court to sit at and "watch K [Korean] dramas all day." When it's all said and done, they simply exchange their vouchers for cash and go on their way. (Naturally, Nora has other plans for how she wants to spend her time.)
Before her back-to-back appearances in Ocean's 8 and Crazy Rich Asiansin 2018 pushed Awkwafina through to the mainstream, the actress born Nora Lum was a rapper best known for recording half-joke hits like "NYC Bitche$" and the Mickey Avalon-referencing "My Vag." But thanks to her performances in those blockbuster films, as well as her Golden Globe-winning turn in last year's The Farewell, Awkwafina has since turned into something resembling a bonafide movie star. So much so, in fact, that it has sometimes felt hard to trace a straight line from her joke-rap days to her current existence as an awards-ready celebrity. Awkwafina, the comedian, and Awkwafina, the actress, seemed to be at odds. But with the arrival of Nora, there is finally a midway point. It's not exactly a return to her roots — Awkwafina's rap days were so over-the-top that she was often accused of cultural appropriation — but it's close enough to feel like a natural progression. Nora From Queens is irreverent and silly, taking cues from her origins (she's still obsessed with making jokes about her vagina) while uplifting them to a new level — one that isn't sullied by any problematic cosplay, but rather elevated by its insistence on telling a culturally specific story.
Plus, it actually works. During a time when autobiographical comedy has a tendency to be more dramatic than overtly comedic (think Girls or Transparent), Nora From Queens deserves applause for its willingness to wholeheartedly embrace typical sitcom tropes. It helps that Awkwafina is such an engaging presence herself, switching from stoned detachment to immature glee at the drop of a hat. Even in moments when she doesn't speak, the actress is able to communicate an incredible array of emotions just by contorting her face.
Furthermore, Nora From Queens makes plenty of room for its secondary characters. As Grandma, Orange Is the New Black's Lori Tan Chinn is more than willing to go toe-to-toe with Awkwafina, taking full advantage of the inherent comedic value that comes from watching an older person go full-out slapstick. Wally, Nora's father, serves as a great foil to them both. As the primary breadwinner for their household, he's forced into a much more straitlaced role, which comes in handy when he finally starts to let his guard down after meeting a woman he develops an attraction to in a single parents support group, where he's been pretending that Nora is a toddler. (One of the season's most darkly hilarious moments comes when Wally accidentally slips up and complains about his daughter's tendency to get high. When the other parents look at him in a mix of genuine surprise and abject horror, he has to quickly correct himself, lying that he means his daughter just likes to climb.) And in a scene-stealing role, Saturday Night Live's Bowen Yang plays Edmund, Nora's gay cousin whose perceived success in Silicon Valley is a constant source of crippling anxiety for the comparatively underachieving protagonist.
Elsewhere, there are appearances from perennial funny guy Jaboukie Young-White as the outgoing door guy in Edmund's exorbitantly expensive apartment complex, who eventually becomes a love interest for Nora, as well as Yang's Las Culturistas podcast co-host Matt Rogers, who plays a snotty journalist for a "millennial Forbes" magazine called Furbz.
All in all, Awkwafina Is Nora From Queens is an utter delight, even if it isn't exactly perfect. Like many sitcoms before it (including Broad City), the show suffers from typical first season jitters, focused more on general table-setting for its central characters than it is on addressing any real emotional growth. But it also displays a ton of promise; it's the type of show you can easily imagine leaping to brilliance in a second season, once the writers have truly figured out what makes their characters tick. Luckily, in a true display of trust, Comedy Central renewed the show for a second season a full week before the channel aired its first episode. It's the kind of move that can restore your faith in the increasingly fickle Hollywood system — and thank god, too, because Awkwafina is well on her way to being one of the town's most recognizable faces. Awkwafina Is Nora From Queens is just the beginning.