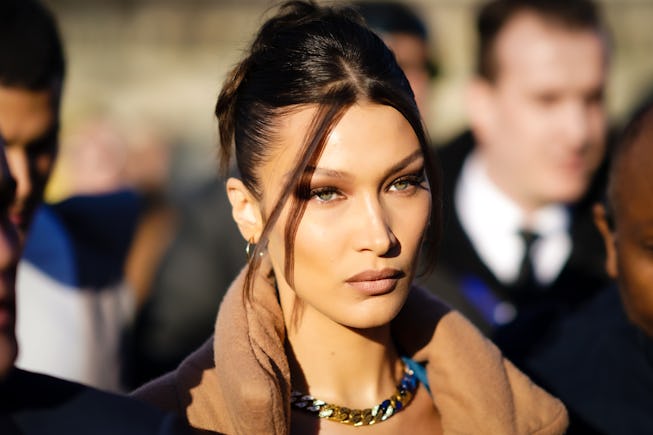 Edward Berthelot/Getty Images Entertainment/Getty Images
Bella Hadid's Clip-less Updo Is Going Viral On TikTok
And confusing people in the process.
Bella Hadid has been more active on her TikTok lately—including a video of the model listening to Ice Spice's Bikini Bottom on January 31—but one of her latest videos has gone viral for causing hair confusion. In the video, posted on Monday, Bella listened to one of Snoop Dogg's affirmation songs for kids while wrapping her long hair (that's currently honey blonde) into a no-clip bun. "Did she just tie her hair with her hair?" asked one fan in the comments in disbelief. "Y'all she's Bella Hadid, she can do anything," wrote another.
After rewatching the video (admittedly multiple times), it's clear that Bella twists her hair around into a bun two times — until the full length is wrapped up. She leaves pieces out for a messy, effortless look and then tucks the remaining hair length underneath the wrapped bun. After twisting her hair tightly (twice), the result is a no-tie, no-clip messy bun that took less time than a Snoop Dogg affirmation.
Naturally, people on the internet are already trying to replicate the look, including celebrity hairstylist, Justine Marjan. Duetting Bella's video and matching her exact poses, the hair stylist was able to replicate the technique, with a different end result. For Marjan, after tucking her hair into the bun, her hair completely twisted out of the hold. "I tried babe," she wrote as the caption. Seems like this tutorial is harder to replicate than one might think.
The viral Bella bun may not work for everyone and that's okay. As one commenter put it: "Only miss Bella Hadid can tie her hair with her own hair. The power!!" Whether it's because her hair has more hold because it's less silky due to her recent bleach job or Snoop Dogg's affirmations worked their magic, leave it to Bella to start a viral hair trend with nothing but her hair itself. Time to stop comparing ourselves to literal supermodels.