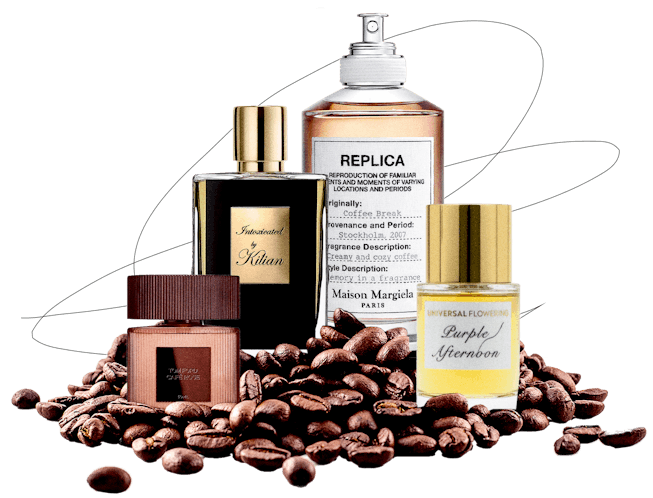 Lindsay Hattrick/Nylon; Shutterstock
Tired Souls, Rejoice — Coffee Perfumes Are Trending
Plus, the eight best ones to shop, from a fragrance expert who's tried them all.
We may receive a portion of sales if you purchase a product through a link in this article.
Let's play a game of unpopular opinions. I'll go first: Coffee is criminally underused in fragrance. I can't understand why, either. Coffee, like any great note, can be pushed and pulled to play with other notes and create something sweet, dark, smoky, sticky — anything you can dream up. It's one of the most rich and versatile notes we have to work with, and yet, it's constantly overlooked.
It may be because coffee is viewed as a mundane, everyday note. But that's not really true, is it? Sure, many of us start our day with a cup of coffee (or three), but it's also used to punctuate a romantic, late night dinner, when the evening is far from over. Or what about an Irish coffee at brunch, that gives way to day drinking with friends? Or when it's folded into a sweet, creamy tiramisu? The point is, there's an untapped category of beautiful coffee scents just waiting to be created.
Well, almost untapped. Tom Ford is remixing and reintroducing one of its signature fragrances that shows just how far you can push coffee and watch it shapeshift into something completely new. Keep scrolling to read all about the buzzy new fragrance, plus seven more of the best coffee perfumes to try.
Tom Ford Café Rose
Tom Ford is reintroducing its iconic scent, Café Rose, in a slightly updated formula reimagined for a new audience. Café Rose really shows how coffee, much like an amber or sandalwood notes, can weave itself into a fragrance to bolster the scent as a whole without taking center stage.
If you like rose, you'll love this. It's a true, fresh rosy scent sitting atop a warm, softly-spicy base. It takes the natural hint of spice found in a fresh-cut rose and mirrors it with the spice found in freshly-ground coffee beans. The scent itself is a blend of multiple rose varietals, with classic notes like cardamom, coriander, patchouli, frankincense, sandalwood, and yes, coffee right up top. The new formula is just a bit fresher and less musky than the original. It's still just heavy enough, with a lot of throw and longevity so it will last you through the day, but made for a new era of perfume lover.
Purple Afternoon by Universal Flowering
You know when certain perfumes just really get it right? When they overdeliver? The ones where, the second you first smell it, you're like "oh sh*t…" This is one of those. It's a heatwave of cardamom coffee, carrot seed, earthy orris, tobacco, and oud, and my god, it is every bit as good as it sounds.
All of those notes are usually warm, inviting, and comforting. Purple Afternoon, however, completely rethinks the attitude of these notes and blends them in a way that feels dark, sexy, aggressive, and almost dangerous. It's a spice cabinet engulfed in flames, a pair of dark eyes squinting at you, or a mouth that's either licking its lips or snarling, you can't really be sure. But of course, it has a softer side, too. Because after all, softness is its own sort of strength.
Intoxicated by Kilian
I remember exactly where I was when I first smelled this fragrance. It's basically a case study in why coffee should be used more frequently in perfume. It's a deep blend of coffee, cardamom, cinnamon, and nutmeg, but it puts them together in a way that's almost sweet and chocolatey.
Just how good this fragrance is cannot be overstated. A lot of fragrances take coffee to a very literal place — which is great! Coffee is beautiful in all of its forms. But here, we have an example of just how much of a chameleon can be. Like all great notes such as rose, patchouli, or vanilla, it can be pushed and pulled in a million directions — and this might just be the best one.
Coffee Break by Replica
Replica's ethos is creating scents that evoke memories, bringing us back to a time and place through instant olfactory time travel. The cult-favorite scents are recreations of scenes from our collective memories, like a walk on the beach, lounging by the fireplace, and the air after rain, to name a few.
Coffee Break doesn't interest itself in smelling like a cup of coffee, not exclusively at least. Instead, it conjures a cozy café on a cold winter day, the air warmed by steam shot out of the espresso machine and fragranced by buttery croissants fresh from the oven. Coffee, lavender, milk mousse, and sandalwood are folded together to create a sense of ambient warmth and the comfort of clutching a warm cup of coffee on a chilly morning.
Prerogative by Britney Spears
If you turn your nose up at celebrity scents, here's a secret: they're all developed by the exact same perfumers who are behind your favorite luxury and niche perfumes. And this is BRITNEY SPEARS we're talking about. We have to put a little respect on her name.
Prerogative is a fragrance that's sweet, juicy, creamy, and extremely delicious. It opens with apricot and pink pepper, works its way down to a heart of coffee and saffron, with sandalwood and a woody amber holding it down at the base.
If you're a Britney stan, the coffee note is a fun little wink to how iced coffee has been a part of almost every Britney paparazzi photo from the last 20 years (as was her scent Private Show, which was, more specifically, inspired by the Frappuccino).
There was a long time when it didn't feel right to cover Britney's perfumes when she was under the conservatorship, because she wasn't seeing a dime of her own money. Now that Britney is free, we can all have a little fun again.
Coffee & Whiskey by Bath & Body Works
Coffee and whiskey are a dangerous combination, but this fragrance from Bath & Body Works brings them together in a way that's pleasant, surprising, and extremely wearable. Maybe smelling like whiskey isn't exactly ideal for some, but this scent, despite the name, doesn't really smell like literal whiskey. Instead, it tempers that note with coffee and vanilla, for a blend that's bright like citrus and chewy like caramel, with a dash of whiskey's spice.
It's a scent that is simple as it is surprising. The minute you think you've got it figured out, it offers you something else to come back for. Sometimes — especially when fragrance is trending and everyone wants to find that one scent that no one else has — it's easy to turn up our noses (sorry) at fragrances that are available in our local malls, right under our noses (SORRY). But sometimes, really great scents are hiding in plain sight, like this Bath & Body Works gem.
Awake by Akro
Akro is a perfume collection based around our vices. Awake, inspired by coffee, as you may have guessed by now, is a standout. Developed by Olivier Cresp — one of today's most influential perfumers who has created many iconic scents, including Thierry Mugler's Angel — Akro is not to be slept on.
Awake is a dark, silky, smoky take on coffee, accented by cardamom, vetiver, and lemon. This one feels indulgent and sexy, like the coffee after a meal, drunk late enough that you know it's going to ruin your sleep, but you don't really plan on sleeping anyway, now do you?
A vice is what you make it, and maybe coffee isn't really a vice at all. But Akro has a way of taking any everyday object that's harmless and completely mundane, and making it feel contraband in the best way.
Mumbai Noise by Byredo
Of all of the fragrances on this list, Mumbai Noise is the biggest outlier — but make no mistake, it is still filled to the brim with coffee, just not in the way you'd expect. Sharp, herbaceous davana all but disappears into a heart of bitter coffee and tonka, with a base of incense, oud, and ambery labdanum. All of these notes melt together to create a heady, magnetic, sticky scent that hangs in the air like a humid summer afternoon. The coffee is equal parts rich and bitter, but its edges are softened by all of the honeyed notes that surround it, which are then lacquered with heavy spice, smoke, and woods.
This is truly not for the faint of heart, but neither is a strong cup of coffee. It's a hedonistic exploration of depth, heat, and fire, that you might have to approach with caution, but will keep you coming back for more.