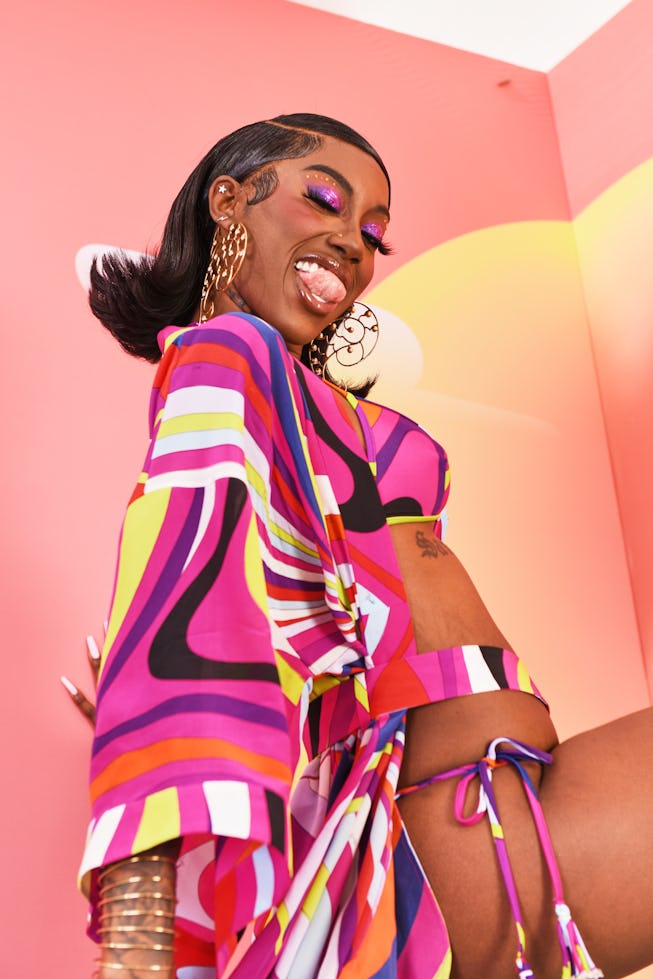 Irvin Rivera/Getty Images Entertainment/Getty Images
Celebrities At Coachella 2023 Embraced Spring's Hottest Beauty Trends
Your annual dose of festival glam.
The second weekend of Coachella has already wrapped up and—for those of us who didn't attend—now is the time for the annual tradition of checking out the latest style and beauty from the new festival season. Thankfully, our favorite celebrities are keeping our social media feeds packed with their head-to-toe Coachella looks— often featuring multiple outfit and hair and makeup changes throughout the day, to take them from the bright desert days to cool party nights.
The mood that ruled Coachella in April 2022 was an air of casualness to the concert scene (hello Hailey Bieber and Kylie Jenner who opted for simple t-shirts and jeans over festival "traditional" neon hair extensions and crochet bodysuits). This year, festival beauty has gotten a cooler (albeit more understated) upgrade, taking some of the biggest beauty trends of the moment and bringing them to the concert grounds with a California desert twist. We've officially been served some major hair and makeup inspiration to pull from for summer 2023.
Whether you were watching the show from the Coachella 2023 live stream, or just staying up to date on the looks via Instagram, we kept track of the best celebrity beauty looks of Coachella 2023 so that you didn't have to.
Alessandra Ambrosio
Alessandra Ambrósio must have heard that traditional festival beauty was dying out and decided to single-handedly keep it alive. From the soft pink baby braids to the round, retro glasses, everything about this screams classic Coachella and we're here for it.
Rosalía
Rosalía's on-stage hair was a masterpiece, paired with oversized glasses and eyebrow slits.
Flo Milli
Leave it to Flo Milli to not only understand the assignment but to overdeliver. Her bright purple flicked-out bob with colorful graphic eyeliner (makeup created in partnership with NYX Professional Makeup) will live on festival mood boards.
Lil Nas X
We didn't know that we needed to see Lil Nas X with a long low ponytail but now that we have, we want to see more.
Hailey Bieber
Hailey Bieber kept her hair, makeup, and outfit super understated this year, but her yellow eyeliner and lime green nails added some edge to her look.
Emma Chamberlain
We're obsessed with Emma's messy bob and chic red lip combo, bringing party girl beauty to festival season.
Amelia Gray
Amelia Grey's wet hair look was a lesson in effortless "I don't care" cool-girl hairstyles.
Willow Smith
Willow Smith's on-stage beauty brought goth beauty to Coachella, combining thick black eyeliner with long black hair.
Teyana Taylor
Teyana Taylor took face jewelry to the next level this season with futuristic head and chin accents.
Saweetie
The only thing as iconic as Sweetie's beaded Coachella bra was her ultra-long and dangerous-looking red manicure.
Ashnikko
Singer Ashnikko was already known for her blue hair, but for Coachella 2023 they also bleached their brows, added long braided strands, and completed the new look with abstract brown eyeshadow designs and metallic face jewelry.
Christinna Kuan
Christinna Kuan's eye gems and metallic pigtail braids were giving woodland fairy meets Euphoria High.
Stella Maxwell
Model Stella Maxwell kept it sleek and chic with a slicked-back half up-do and thick black winged eyeliner.
Blackpink's Lisa
The entirety of Blackpink nailed Coachella style, but Lisa's messy updo with baby braids was the perfect blend of party girl beauty and festival hair.
This article was originally published on