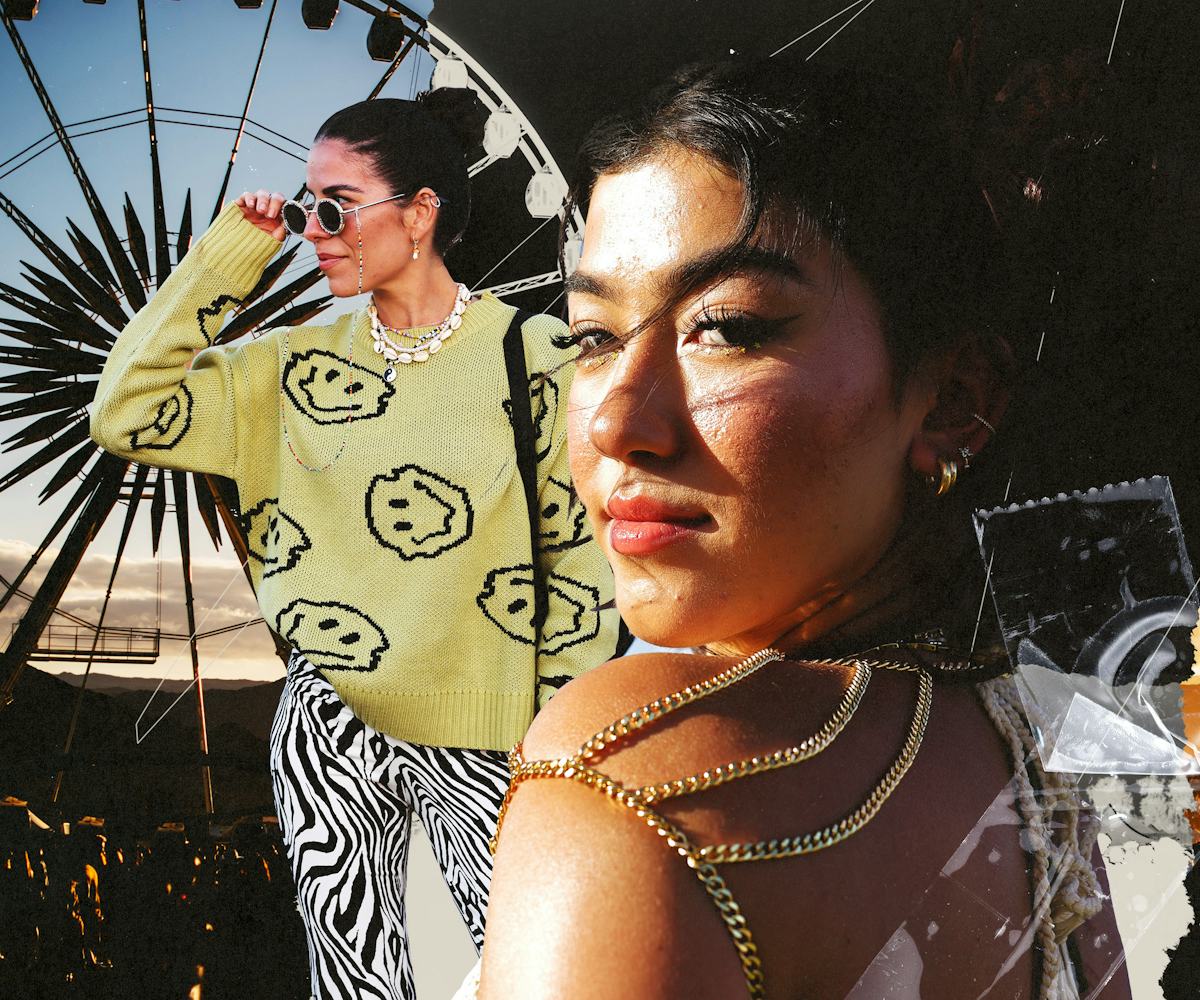 NYLON/ Getty Images
Festival Beauty Is Getting a Major Make-Under
Breaking away from the maximalism that defined it in the 2010s, the new festival beauty aesthetic blends current trends with functionality.
One might have expected Coachella 2022 to be an explosion of wild fashion and beauty pent up over the two previous years of the festival's cancellation. However, what was observed last April was a concert scene with an air of casualness. Both Hailey Bieber and Kylie Jenner traded in neon hair extensions and crochet bodysuits for simple t-shirts and jeans, leaving us all wondering if we were watching the demise of festival dressing in real time. The most viral celebrity hair and makeup looks coming out of festival season were also more understated. On TikTok, hundreds of creators posted tutorials for how to recreate Hailey's marine blue under-liner eye makeup. While her face-framing baby braids hinted at the remnants of hippie-inspired festival beauty and the Y2K trend revival, nothing about the look couldn't easily be worn outside of the summer concert series circuit. Now, the most popular looks of festival season could be appropriate at nearly any party or event. So, does this mean we're really ready to say goodbye to face scapes of stick-on gems, metallic tattoos, chunky glitter, and feather clip-ins?
Biz Sherbert, Culture Editor at The Digital Fairy, says that there's a growing interest in "festival-functional" makeup now. "Think of the fairly bare faces of Kate Moss and Alexa Chung at Glastonbury in the 2000s," she offers as inspiration. This rise of this trend fits neatly into the current resurgence of indie sleaze and '00s party girl beauty—where thick black eyeliner is encouraged and brushing your hair is optional—as much as it breaks free from what we had come to know as quintessential Coachella hair and makeup as it was known in the 2010s. "That era was quite maximalist," explains Sherbert. The identifying features of the aesthetic were such that it would cause sidelong glances under any other circumstance, but the festival setting provided the opportunity to go all out. "It was kind of the Boho equivalent of birthday makeup," adds Sherbet— a look for a once-a-year occasion.
Hailey Bieber, Coachella 2022
Kate Moss, 2005MJ Kim/Getty Images Entertainment/Getty Images
Sky Ferreira, 2011Donato Sardella/WireImage/Getty Images
This emphasis on functionality is something that Jeanne Chavez, co-founder and chief innovation officer of About Face, says is leading customers to look for makeup that can really stand up to the long and often sweaty musical festival experience. A lot of cosmetics from even just a few years ago couldn't necessarily be expected to deliver the dramatic, last-all-day looks festival goers desired, which is, in part, why the looks relied more on "eye and face decals, butterfly hair clips, and accessories than they did actual makeup," Chavez explains. "Today, the technology in makeup formulations have unreal staying power with strong pigments," offering a variety of long-lasting options that were previously unavailable.
Chavez also attributes the shift towards festival beauty minimalism to the obvious interruption in the festival circuit of the past few years due to Covid. After all, no festivals meant no festival beauty trends for two seasons. Overall, people were more focused on understated (and mask-friendly) looks in general at this time. As of 2023, "the freedom and desire to express feels stronger than ever, as people can finally play with makeup again," she says, predicting the surge in "ethereal futuristic looks" this year, which somewhat marry minimalism with bold colors and thoughtful design.
Storm Reid, 2023Steve Granitz/FilmMagic/Getty Images
Kim Petras, 2023JMEnternational/Getty Images Entertainment/Getty Images
It's unlikely that Coachella beauty (and fashion) will be more casual this year—unless celebrities decide to show up in pajamas. As people begin to start imagining and creating their 2023 festival beauty looks, the emphasis will shift away from the tropes of haphazard glitter, full-forehead stick-on face jewels, Bohemian references, and a full rainbow color palette and towards looks that fit into the current viral trends. "There haven't been many outstanding trends that stray away from the classic festival tropes, let alone viral [festival specific beauty] looks that audiences have been eager to recreate," says Rachel Lee, insights & cultural analyst at The Digital Fairy. The idea of a makeup look being "festival themed" alone is no longer enough to draw the influential Gen Z audience.
Considering that Gen Z was crowned the generation to "kill the music festival", a willingness to veer away from festival attire and traditions could be seen as a desire to shake up festival culture altogether. This, Lee says, makes way for trends that young people are already invested in to thrive in the festival setting. "The past year's explosion of trend 'cores', like Barbiecore, the y2k aesthetic, and now indie sleaze, will impact the stylistic inspirations of festival-goers this year," she says. "Maybe we'll see an all-pink makeup look in homage to Barbiecore, or messy hair reminiscent of an American Apparel ad." Needless to say, the inspiration now spans far wider than previous Coachella Pinterest boards.
Those that are still fans of 2010s festival beauty will be pleased to know that Lee sees that moment living on—but only semi-ironically. "I can see people emulating the festival looks, now considered a bit basic or outdated like metallic face tattoos," she says. For the rest of the major trends, it appears mainstream festival beauty has finally merged with the rest of the trend cycle, making room for new hybrid aesthetics. "Festival beauty sleaze" or even "gothchella-core" might just be up next.