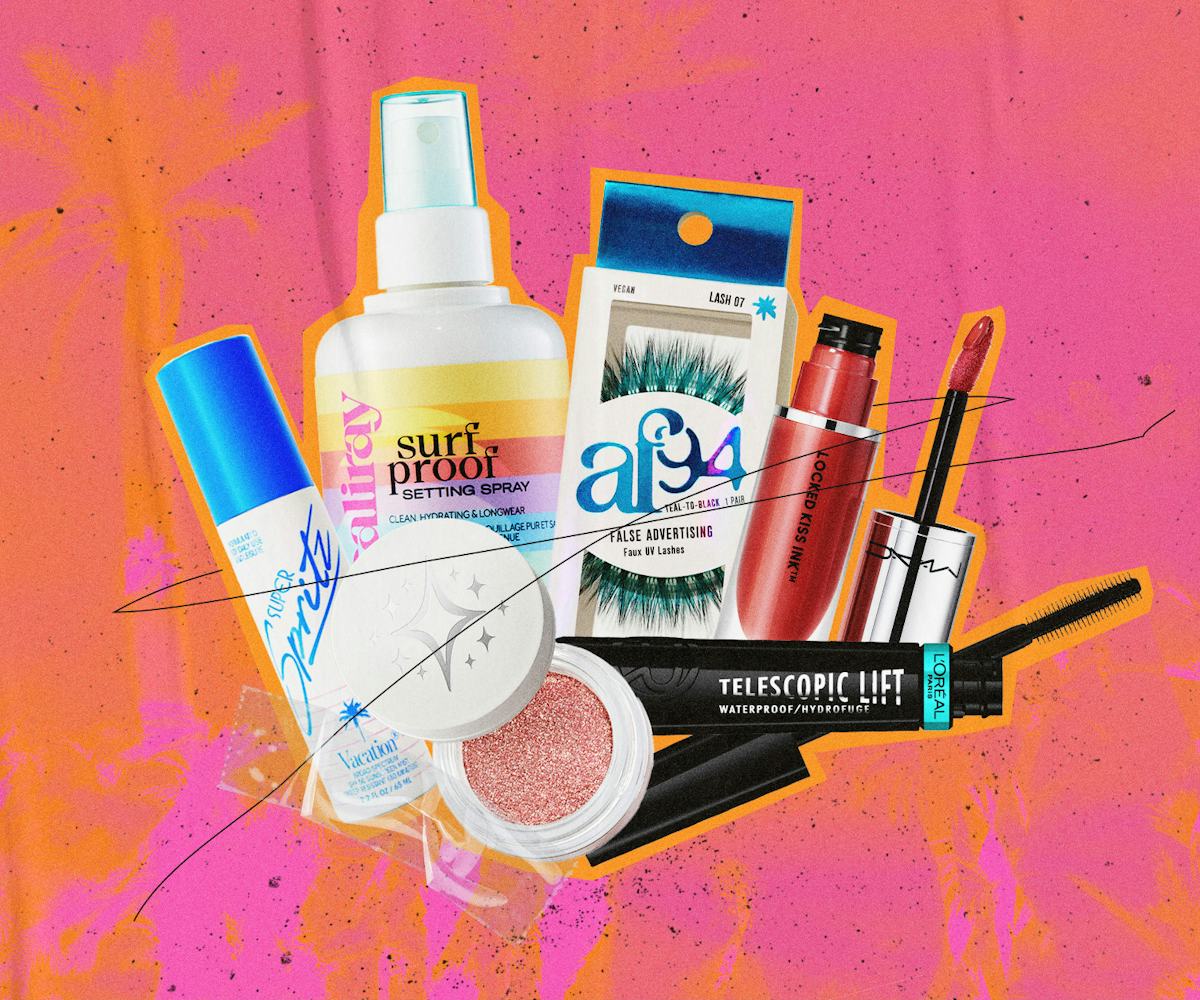 Lindsay Hattrick/Nylon; Getty Images
25 Beauty Products That Will Help You Survive & Thrive This Festival Season
Makeup, skin care, and hair care that will keep you on trend and beat the heat.
We may receive a portion of sales if you purchase a product through a link in this article.
Festival season is back, baby! With Coachella rapidly approaching and a bevy of niche music festivals for every type of music lover following throughout the spring and summer, there are opportunities galore to both enjoy your favorite performers and to show off some bold and eye-catching concert styles after a long and dreary winter.
This year, festival season style is leaning away from the famously everything-but-the-kitchen-sink approach (feather hair extensions, elaborate braids, fishnets, neons and glitter overload) to beauty and fashion, and more towards a casually cool vibe of mid-aughts indie sleaze. Of course, it wouldn't be festival beauty without some Instagram-able element, but think instead about focusing on one focal point to your makeup or hair look. It's not just on-trend, but also a singular statement eye look, lipstick, or hairstyle is also is much less susceptible to melting down and looking a mess in the all-day sun and is easier to fix on the fly.
Below, a packing list of colorful, fun, and practical makeup, hair care, and skin care picks that will make your look pop at whichever festival you attend— and stand up to a sweaty, tent-hopping escapade.
These bold colored pencils glide on for easy application before setting to a smudge-proof and waterproof finish. Either blend out the color for a long-wear eyeshadow, or draw a precise graphic eyeliner look — your imagination is the limit.
Consider this pressed glitter a more mature approach to sparkle. The champagne and peachy glitter flatters every skin tone for an extra glimmer on the eyes, face, and body.
L'Oréal's iconic super lengthening Telescopic Mascara formula comes in a waterproof version — an absolute must for a full day in unrelenting heat.
Long-wearing makeup starts at the base. This mattefying primer will help keep oil at bay, so the rest of your makeup stands a fighting chance.
Tarte Marcuja Juicy Glow Tint is hydrating, weightless, and has 16-hour waterproof staying power, so your skin will stay moisturized without caking, settling, or sliding throughout the day.
A few spritzes of setting spray go far towards securing your makeup in place and standing up to the elements. This one also is alcohol-free and contains niacinamide to keep your skin happy.
Not only do faux freckles convey a sun-kissed vibe without any of the sun damage, they're also a favorite look of the Coachella queen herself, Vanessa Hudgens.
This micro mini palette is teeny tiny, but it packs a serious punch when it comes to delivering creative festival glam in seconds, using just your fingers.
If it's good enough for Rihanna performing at the Super Bowl, this blotting powder is a must-have for quick touch ups during festival season.
Hand sanitizer is an essential for your festival go bag, and Touchland's bottles look like they're dressed up just for the event. They also smell amazing, not medicinal or astringent.
Reapplying face sunscreen without disturbing your makeup can be a challenge, but an SPF in a refreshing face mist makes it possible — even a bit addictive.
About-face Matte Fluid Eye Paints are a cult-favorite among makeup obsessives for creating bold eye looks. Now they come in adorable minis, so you don't need to choose between shades when stuffing your makeup bag.
This, lightweight, matte, and long-wearing liquid lipstick is transfer-proof enough to stand up to beer cans, greasy concert food, and hours of dancing.
Or, you can opt for a lip-tinting oil to leave a comfortable wash of color that also stays all day.
You won't have to worry about chipping nail polish all weekend if you swap your usual polish for fun nail art press-ons.
Prevent an oily scalp from bringing down your hairstyle with a dry shampoo powder. No giant aerosol cans necessary, this little tube can slip into any size bag.
Swipe on Freck Precision Sculpting Bronzer stick and blend it out for a summery touch of warmth to your face without any mess or brushes.
Colorful lashes are having a major moment, so get in on the trend with neon strip lashes. It's a more unexpected take on colorful eye makeup than using liner or shadow.
Glossier's You Roller Ball is back in stock, just in time to grab one to stash in your bag for a sweet, but not cloying, hit of fragrance, when you want it.
Róen Eyeline Define gel pencil is dark and smudgy in exactly the right 2007-inspired way.
You can try an unconventional hair color just for a weekend with temporary wash-in-and-wash-out hair makeup.
Take all of the guess work (and necessary precise fine motor skills) out of applying and wearing face gems with a pre-made, self-stick design.
Sunscreen (and reapplying it!) is a non-negotiable in all-day sun to avoid sunburn and the discomfort that comes with it. This one pulls double duty with sun protection and delivering a cooling effect on your skin for a mid-day refresh.
Frizz and flyaways won't be able to ruin sleek braids if you prep first with K18's seriously strengthening and smoothing hair oil.
Your lips are just as exposed to UV rays as the rest of your face and skin, so they require sunscreen, too. Supergoop Play Lip Balm has the necessary 30 SPF to prevent burning and chapping.