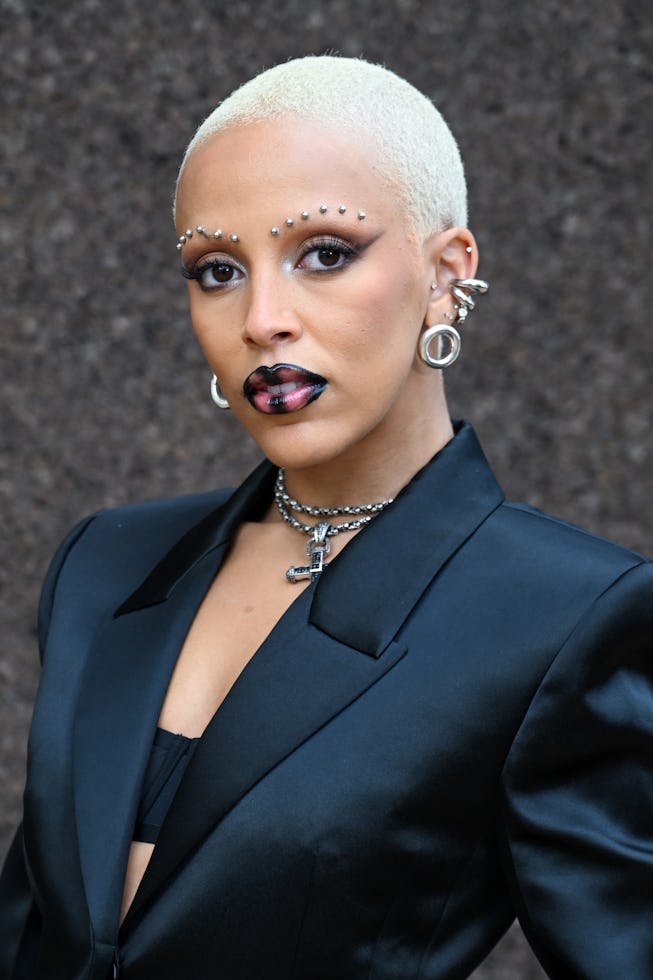 Stephane Cardinale - Corbis/Corbis Entertainment/Getty Images
Doja Cat Wore Over 30,000 Crystals To Schiaparelli's Couture Show
Makeup artist Pat McGrath decked out Doja Cat in head-to-toe crystals for Schiaparelli Couture.
Doja Cat's appearances at fashion shows are always just as noteworthy (if not more) than the shows themselves. Whether she is painted completely gold looking like a walking trophy dressed in a plaid suit, creating new and inventive ways to draw on eyebrows, or painting an anarchy symbol into her buzzcut, she's always setting the bar when it comes to delivering head-turning avant-garde looks. Schiaparelli's FW23 fashion show was no exception. Doja collaborated with Schiaperelli creative director Daniel Roseberry and legendary editorial makeup artist Pat McGrath on a red hot, over-the-top, crystal-incrusted makeup look.
Inspired by the creative direction of Roseberry, Pat Mcgrath and her team created a look she calls "Doja's Inferno", completely covering the singer in sparkling red crystals. McGrath shared on Instagram that it took four hours and 58 minutes to hand apply and cover Doja's entire head, face, décolleté, arms, and hands in over 30,000 red Swarovski crystals. She also called the resulting beauty look, "The final product was a magical, mesmerizing masterpiece and a tribute to Doja Cat's hard work and dedication."
Imagining the discomfort of having crystal adhered to your eyelids, lips, and ears (among many other places), we have to agree that this spectacular beauty moment took dedication from Doja. But the effort was well made worth while by this show-stopping look, that will no doubt be remembered by Doja Cat and Pat McGrath fans for years to come. With a few days still left in Haute Couture fashion week, we can't wait to see what she'll wear next.
Check out Doja's Inferno look from every angle:
Jacopo Raule/Getty Images Entertainment/Getty Images
Jacopo Raule/Getty Images Entertainment/Getty Images
Jacopo Raule/Getty Images Entertainment/Getty Images