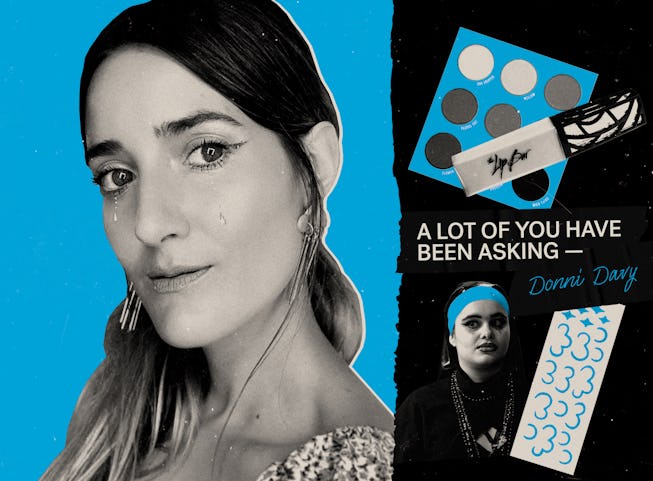 "Euphoria" Makeup Artist Donni Davy Talks Season Two And Her Career Journey
It all started with some help from Craigslist.
Donni Davy helped forever change the world of makeup. As one of the makeup artists on the hit HBO series, Euphoria, Davy's colorful, intricate, gemstone-filled work became a sensation, helping to spawn TikTok trends and an entire beauty movement. With the show officially set to begin filming on Season 2, Davy joined NYLON for a chat on her past work, what the future holds for Euphoria, and how she got started in the world of makeup.
Davy's work on Euphoria is synonymous with explosive uses of color and touches of glitter, but as she shared with NYLON, her own makeup routines weren't always as experimental. In fact, it was only within the last year that she started to try out more looks on herself and share them with social media.
Ahead, Davy chats her use of color, the surprise direction Euphoria beauty routines will head in Season 2, and more.
What was your relationship like with makeup when you were growing up?
I was never a big makeup wearer growing up. I was shy, and I was not a girl wearing expressive makeup, which is kind of funny to me, because I got to do some unrequited looks for Euphoria, and sort of do a redo. I was able to have this second opportunity to really get down with fun makeup.
Then during quarantine, I started putting [makeup] on myself and I was like, 'Oh, this is great. Why haven't I been doing this forever?' I'm making up for lost time now. Growing up, I was trying to blend in and be feminine. I'm really pleased to be able to go against the grain a bit now.
As someone who didn't play with makeup growing up, how then did you end up coming up with such creative looks?
My background is in painting, drawing, and photography — visual arts in general — so I always had this relationship to color, painting, brushes, and canvases. That's really informed a lot of what I do now.
My makeup, that I first started doing and getting more known for in the film industry, was really gritty. My work on Moonlight and a couple other projects was about gritty, realistic stuff. I wanted to do projects that I would be able to express more color and textures, but I had like no contacts in the fashion world.
I wasn't doing any editorial work or anything like that, but I was able to connect with some people on Craigslist. I would get together with some photographers who would be able to grab models from agencies who needed test shoots. I did makeup out of the back of my car to beef up my portfolio with more colorful looks. If you want to get more of a certain style of work into your portfolio, sometimes you just gotta do it yourself and not wait to be hired.
Do you plan out the looks in advance, or do you just go for it?
Both, and I love being able to do both. On Euphoria last season, that was my first TV show and it was a big cast, so I planned a lot in advance. But working with that many main characters, and then the schedule changing, all your plans can kind of go out the window sometimes. I loved that Euphoria was a combination of looks that I really planned, and I sort of got a little bit of opportunity to test on actors.
Was there a look that you created for yourself, or even for a character, that you remember seeing and feeling really proud of?
I'm still really proud of the looks for Euphoria that the team and I created. I think my favorite is Kat's Halloween makeup. Seeing that finished look was really fun, with the black lip liner, red lip, and the sparkly upside down crosses. For me, that was a real satisfying one to see it all done.
Are there any products that you use on Euphoria, or outside of the show, that you really love?
I always go back to the ColourPop palettes. They're affordable, colorful, and easy to use. I buy loads of them. They're so fun, and that's the number one thing I recommend to people who ask, 'How do I get colorful makeup?'
I've been mixing a lot of my own glitters lately and experimenting with glitter gels and products. There's also The Lip Bar (TLB), which makes killer long-wear lip colors.
When it comes to Euphoria, are there any clues you give us as to what to expect as far as makeup in Season 2?
It's going to be really different, and in terms of stuff I want to explore, I am excited to take that excitement surrounding the Euphoria makeup, and play with a little bit of minimalism. I want to even go a little bit in the opposite direction, too, for the sake of reimagining what we can do with neutral colors, textures, and finer glitter.
I'm at one end of the spectrum now, right? It's exciting to think about the other end of the spectrum, and how to go back there, but make it feel exciting, fresh, and experiment with more minimalism.
What advice would you give to people that have seen your work, and wish to start embracing a more colorful makeup routine?
There are so many fun pops of color out there that feel more safe. Use colorful mascara, or put a colorful eyeliner on your waterline. Once you start, it's hard to go back. Once you take those baby steps, the I don't know, the serotonin and the endorphins kick in with that feeling of putting bright, fun color on your face, and walking out the door with it, will open up the possibility of a world of fun color. It's definitely hard to go back to neutrals after that.
This interview has been edited and condensed.