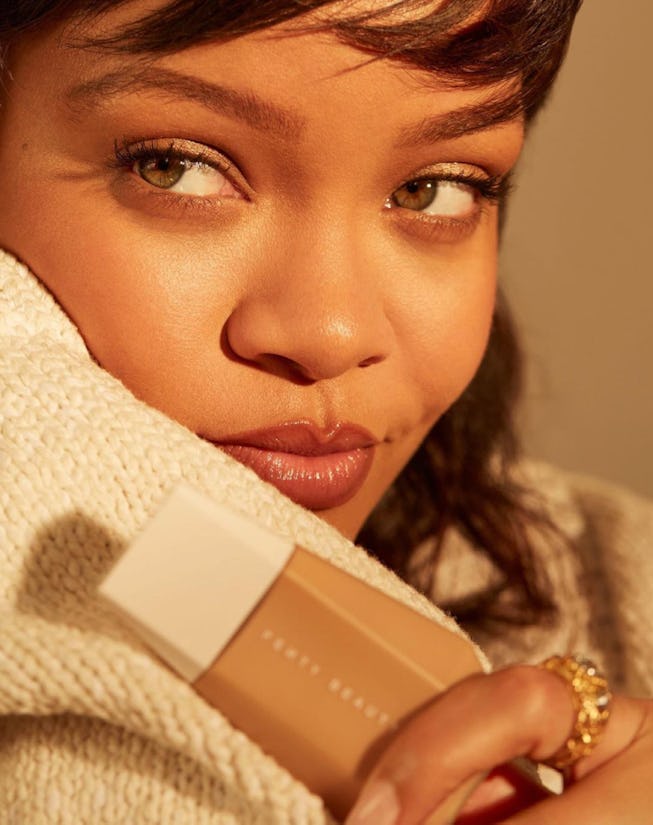 Courtesy of Fenty Beauty
Fenty Beauty's Skin Tint Has Your Summer Foundation Routine Covered
Meet the newest member of the Fenty Beauty fam.
Fenty Beauty has created a product for nearly every step in your summer beauty routine. Just weeks after announcing the launch of its Body Sauce Body Luminizing Tint, Rihanna's beauty brand has returned with more newness. Following in the footsteps of its much celebrated Pro Filt'r Soft Matte Longwear Foundation comes the Fenty Beauty Eaze Drop Blurring Skin Tint.
Now available for $29.50, the tint is intended to be a lightweight counterpart to the brand's collection of more than 40 foundation shades. The Skin Tint comes in 25 colors, and Fenty Beauty did the work for you, offering a helpful graphic of which shades correspond with your current Fenty foundation color.
Rihanna created Eaze Drop for those in need of an effortless makeup routine, Fenty Beauty explained of the product. Instead of wearing a full face of foundation, the tint is lightweight and easy to apply. It's intended to give you a more minimal makeup look, and when applied, you should notice a more even-looking complexion. As an added summer beauty bonus, the product is supposed to be resistant to both humidity and sweat.
The tint can be applied with fingers, a brush, or makeup sponge, and Rihanna even shared her preferred application method in a tutorial. Speaking in the clip, she explained her intentions for the launch, saying, "I want to make sure there's a foundation for all types of people, and all different types of lifestyles."
Let Rihanna serve as your makeup guide in a Fenty Beauty tutorial, below.