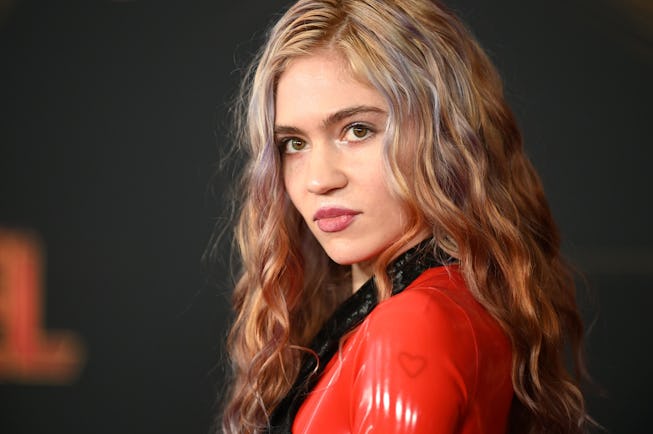 ROBYN BECK/AFP/Getty Images
Grimes Got A Giant Back Tattoo Inspired By Aliens
See the massive piece of artwork for yourself.
Content warning: This post contains images that may be triggering to those who have experienced self-harm.
Grimes is adding to her already massive tattoo collection. Taking inspiration from the beings possibly living above, Grimes revealed the alien back tattoo she's currently in the process of healing from.
Crediting @tweakt with the artwork, Grimes shared that much of her back is now covered in white ink. "Don't have a good pic cuz it hurts too much and I need to sleep haha, and it'll be red for a few wks , but gna be beautiful alien scars," she wrote.
Collaborating with @nusi_quero on the design, Quero shared a bit more behind the artwork and process. According to a few Instagram Story posts, the tattoo started out as shapes on an iPad created by @tweakt. From there, Quero created 3D geometry of the pattern, and then it was sent back to the artist for tattooing.
The work, which was completed in one session, features interlacing lines that run the length of Grimes's back. The tattoo begins around the shoulder blade area, and then loops downward, creating shapes of all sorts and sizes.
Fans will have to wait and see whether the performer shares a post-healing picture of the tattoo, but this likely isn't the last of her experiments in body art. Previously, she used eyeliner to add temporary flowers to her forehead, and she's always experimenting with her beauty routine, creating more otherworldly looks.
See the back tattoo for yourself, below.