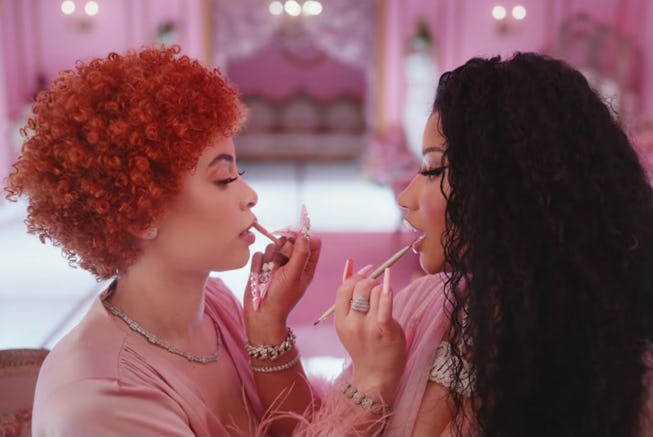 YouTube
Ice Spice & Nicki Minaj's Barbie Manicures Are The Nail Colors Of The Summer
The "Princess Diana" music video is a Barbie beauty dreamland.
Last night Nicki Minaj and Ice Spice released the remix to Ice's "Princess Diana," following up with the music video release this afternoon. With Nicki being crowned the "queen of rap" and Ice being called the "people's princess" by her fans, the highly anticipated music video was destined to be iconic. Set in a pink rendition of the 2001 Space Odyssey Room, the video was a lesson on Barbie beauty at its best. MTV even called the video a "cultural reset" in the comments of Ice's post.
Ahead of the music video release, Minaj posted a sneak peek at her and Ice's manicures and pedicures, which were both Barbie pink, with hers featuring a brighter pink shade with silver accents and gems, while Ice went with long baby pink nails. The rapper duo confirmed that pink will be the nail shade of the Summer season. Both artists also had baby pink pedicures showing in their open-toed pink heels to cement the deal.
While Greta Gerwigs's Barbie movie is set to be one of the biggest movie releases of the summer, the "Princess Diana" music video reminded us why Minaj has long called herself a "Barbie;" she released her track "Barbie Dreams" in 2018, has had a long-running alter ego named "Harajuku Barbie," and famously refers to her devoted fans as "Barbz." The ultra-feminine was spread throughout the video, from the duo's all-pink outfits to Minaj's fluro pink hair (Ice Spice kept her signature red shade, of course) to pink sparkly eyeshadow and face gems. Needless to say, the video is already a hit and Ice has even changed her Instagram profile pic to a selfie of her and Minaj.
Minaj recently confirmed that Ice Spice was now signed to a partnership under her new label, meaning this (thankfully) won't be the last time we see Ice and Minaj living, laughing, and loving in an all-pink world. The video will surely tide over fans until the official release Barbie, and it's clear today was a big day for Barbie fans, Barbz, and members of the spice cabinet everywhere. Now prepare to see Barbie pink nails, hair, and eyeshadow take off — approved by the queen and princess themselves.