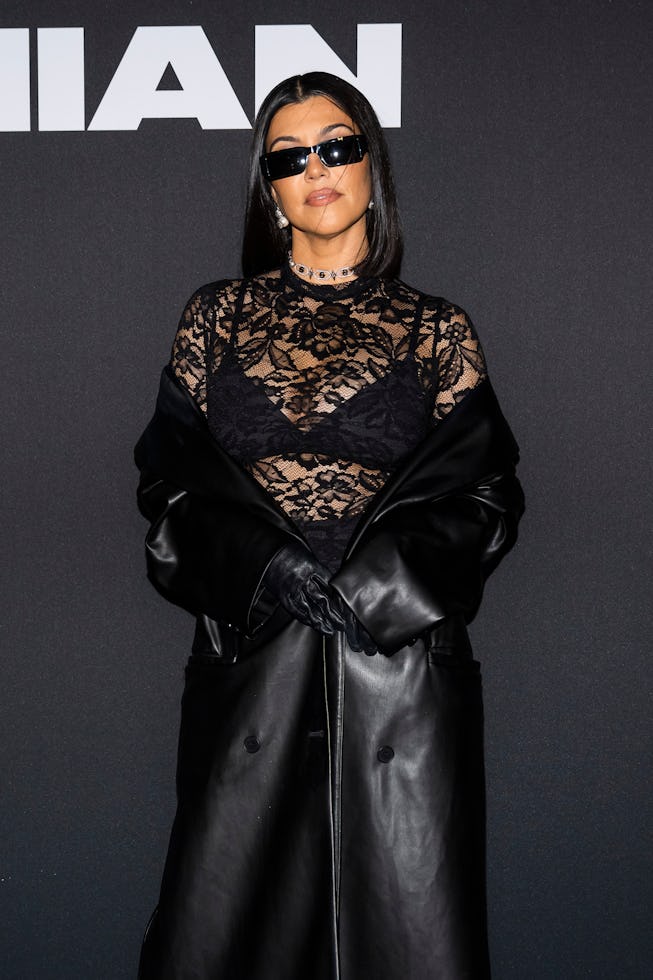 Gotham/WireImage/Getty Images
Kourtney Kardashian Went Rockstar Bleach Blonde
A new look for the Blink-182 tour, perhaps?
For long time, Kourtney Kardashian Barker had a signature look that she barely ever deviated from. While Kim and Khloe cut and bleached their hair frequently, Kourtney kept her hair (mostly) long and raven dark. However, since the eldest Kardashian sister made it official with the punk-rock drummer Travis Barker in January 2021, she's been more inclined to switch up her look. First, she debuted a short bob cut in October 2021, and as of Sunday, March 5, she's bleached her hair icy platinum blonde.
Kourtney posted a first look at her bleached bob on her Instagram yesterday with no caption (a power move). In the series of photos, she's wearing a black leather corset and black leather jacket in Vegas, with her hair in a middle part. She then posted a second set of photos of her new hair, where she's sitting apparently playing casino games in an oversized tee-shirt and dark sunglasses. She captioned the post with a quote from Hunter S. Thompson's Fear and Loathing in Las Vegas: "Every now and then when your life gets complicated and the weasels start closing in, the only cure is to load up on heinous chemicals and then drive like a bastard from Hollywood to Las Vegas ... with the music at top volume and at least a pint of ether."
Kourtney has previously teased her drastic hair change on her Instagram stories, posting a throwback photo from 1995 and writing "bored during my finals, convinced someone to dye my hair blonde to procrastinate". She also posted a photo of Drew Barrymore from the '90s and called it her "hair inspo".
Kourtney's colorist Cassondra Kaeding also shared the hair change on her Instagram, with the caption "hellooo blondie" and it appears Kourtney already has the approval from her sisters. Kylie Jenner posted "loveeeeee" on Kourtney's post and Khloe wrote "I have no idea what this caption means, but I love your hair with a side flip." (Apparently Khlo is not a Hunter S. Thompson fan.)
Kim just went back to dark hair after a stint as a platinum blonde following the 2022 Met Gala (and then caramel blonde) last year, making it time for Kourtney's turn in the blonde spotlight. In this case, we hope that what happens in Vegas doesn't stay in Vegas, and that we'll be seeing Kourtney continue to style her new hair color once she returns.