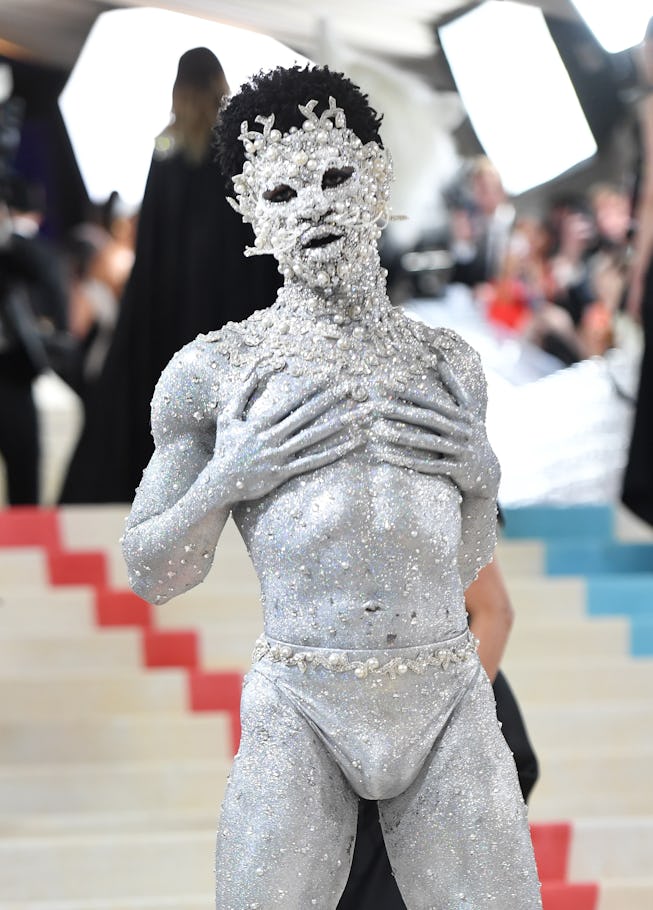 Noam Galai/GA/The Hollywood Reporter/Getty Images
Lil Nas X Wore Only Body Paint and Pearls To The Met Gala
The singer dazzled on red carpet wearing just pearls, sparkles, and vibes.
When attending the Met Gala, one of the expectations is that you need to wear some form of clothing to make a statement—an elaborate gown or suit, perhaps. However, Lil Nas X just switched the game up completely by technically turning up in little more than his underwear and body paint. The singer had bedazzled his entire body before the event, complete with silver sparkles, pearls, and diamonte gems.
Lil Nas X's Met Gala "outfit" is technically full body makeup, covering his entire body down to his nail cuticles. For his manicure, he kept the theme going with multiple tiny pearls, diamonte pieces, and long cat-like nails. His face was also entirely covered with glitter, pearls, and gems, taking the form of a cat with bedazzled whiskers. Of course, the artist and architect of this ambitious bejeweled look is none other than legendary makeup artist Dame Pat McGrath, working with Dior Men. The artist's hair was done by Coree Moreno, nails by Temeka Jackson, and makeup was provided by YSL Beauty.
Mike Coppola/Getty Images Entertainment/Getty Images
Lil Nas X isn't the first celebrity to channel Karl Lagerfeld's beloved white cat, Choupette, for this year's Met Gala. In fact, Doja Cat also arrived in a sparkly catsuit and elaborate makeup. He is, however, the first celebrity to arrive technically only in a jeweled thong (so far).
Completing the look with platform sparkling silver boots, Lil Nas X is forever committed to the bit at every event ceremony he attends and we love to see it.