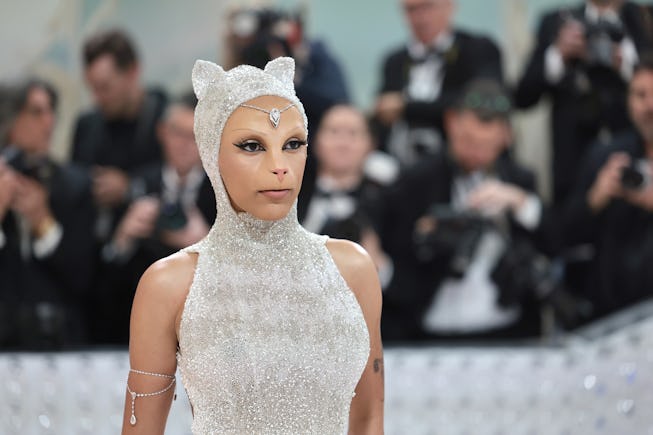 Jamie McCarthy/Getty Images Entertainment/Getty Images
Doja Cat Channels Choupette At The 2023 Met Gala
Doja Cat took a cue from Karl Lagerfeld's beloved cat Choupette for the 2023 Met Gala.
Doja Cat's first-ever Met Gala look did not disappoint — the singer arrived to the event dress as none other than Karl Lagerfeld's beloved white Burmese cat, Choupette.
The theme of the 2023 Met Gala, "Karl Lagerfeld: A Line of Beauty," celebrated the late German designer, and the accompanying exhibit showcases around 150 of Lagerfeld's greatest outfits across his six-decade career — featuring designs he made during his tenures at Balmain, Patou, Chloé, Fendi, Chanel, and his own eponymous label.
As the fashion world's most stylish living feline, Choupette set a high bar for any imitators, but Doja Cat's penchant for elaborate, risk-taking looks made her a perfect candidate to bring the homage to life. The rapper's backless Oscar de la Renta gown paid tribute Choupette's long, white coat, culminating in a train of snow white feathers in lieu of a tail. The dress also featured a hood embellishment for the ultimate accessory: a pair of pointy cat ears.
Cat eye makeup was an obvious choice, but Doja Cat's use of uncanny prosthetics — like an impossibly pink nose — accentuated her feline Met Gala moment. The rapper's beauty look was created by Ernesto Casillas using all Charlotte Tilbury products, including lip products in the viral Pillow Talk shade, the occasion-appropriate Feline Flick in Panther, and the new Hollywood Beauty Light Wand in Pinkgasm Sunset. Considering this was fashion's biggest night, she also opted for striking diamond headpiece and diamond arm cuff; Choupette has probably never worn a collar in her life, but likely knows a thing or two about fine jewelry.
Doja Cat took her Choupette duties seriously, even speaking exclusively in coquettish meows during an interview with Vogue correspondent and YouTube superstar, Emma Chamberlain.
See more photos of Doja Cat at the 2023 Met Gala, below.
This article was originally published on