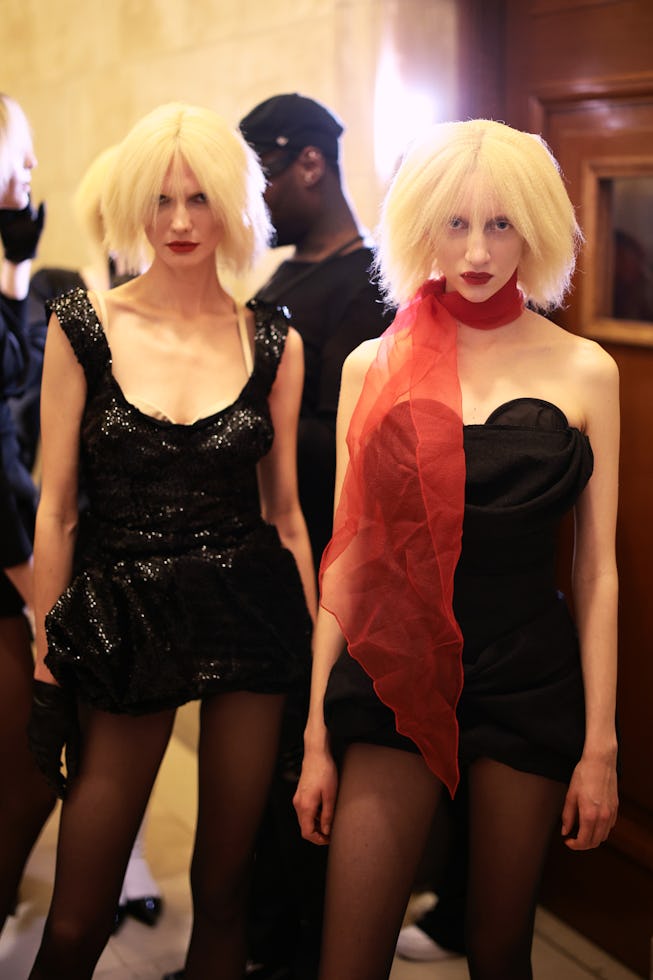 Dimitrios Kambouris/Getty Images Entertainment/Getty Images
Models Walked The Marc Jacobs Fall Runway With Punk Rocker Shags
The Fall 2023 show featured models in crimped blonde, red, and black wigs and bright red lipstick.
During a fashion show, you can usually expect the hair stylists to have curated a selection of hairstyles for the models following a similar theme or technique for cohesion. But at the Marc Jacobs Fall 2023 show—shown June 26 at the New York Public Library— every model walked down the runway with the same punk rocker hair look, with the help of multicolored wigs. The short, shaggy bowl cut was styled frizzy at the top with choppy, spiky ends, and long jagged bangs hanging over the model's eyes. The result was a bizarre twinning moment across the board with a strong '80s vibe, from the crimped hair to the bright red lips.
The hairstylist for the Marc Jacobs show was Duffy, a frequent collaborator with the designer, who has previously given Bella and Gigi Hadid micro-bangs and mullets for the Marc Jacobs Fall 2022 show last year. While each model had a different color wig of the near-shoulder-length choppy cut (in shades of black, red, bleach blonde, and variations with dark roots), they were all styled to give off the messy straight-out-of-bed-after-a-long-night-out look.
Dimitrios Kambouris/Getty Images Entertainment/Getty Images
Courtesy of Marc Jacobs
The show itself was incredibly speedy, reflecting a "sped-up world" and had a run time of under three minutes. "The Marc Jacobs fashion show mesmerized its audience with an awe-inspiring fusion of masculine tailoring and feminine elegance," read the show notes, that were written by ChatGPT.
While the short and snappy runway show barely gave the audience any time to notice the matching bowl cuts, the entire show was themed around drawing attention to the rush and high-speed nature of modern living. Perhaps the brand didn't have time to write its own show notes or style the hair of each model, but it does mean the humble bowl-shaped shag cut got its very own high fashion moment—along with intentional frizz.