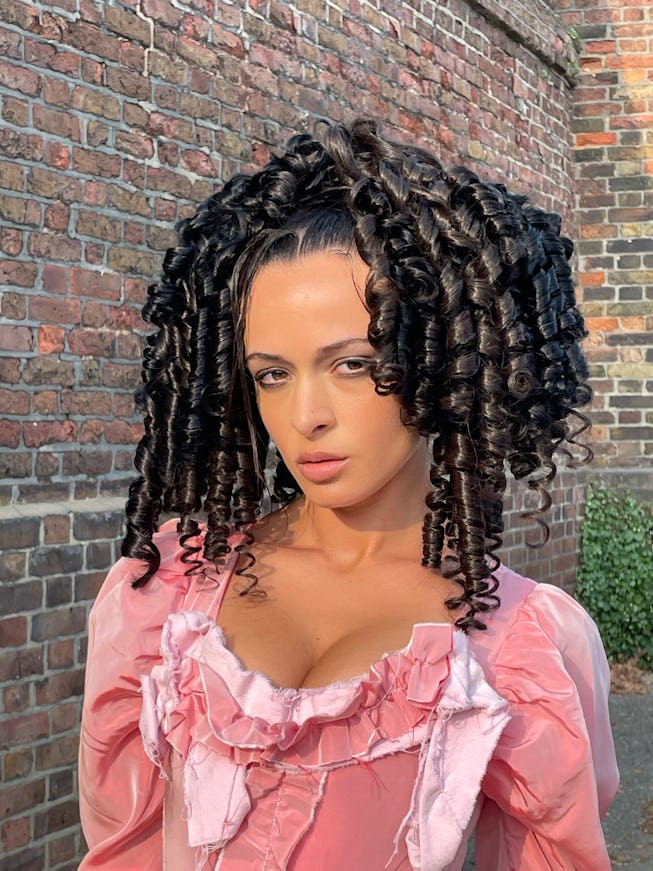 Courtesy of Louis Souvestre
Marie Antoinette-Era Courtier Curls Are Making A Comeback
"If a '90s LA girl time traveled to the 18th century."
At this point, it's well established that fashion and beauty runs on a trend cycle. As we currently bear witness the Y2K aesthetic come back into style (and eventually go out, again), it will only be a matter of years before we can expect younger generations to rediscover low-rise jeans and side bangs. It's rare, however, for such trends to reach much further back than the 20th century. But with the rise of cottagecore and the recent popularity of Sofia Coppola's archive bringing a reinvigorated obsession with Marie Antoinette, tightly spiraled sausage curls à la French nobility are making an unexpected comeback.
Louis Souvestre is the hairstylist in London and Paris who is behind FKA Twigs' recent regal hair moments. After working with fashion designer Fraser Kenneth on looks that combined Souvestre's passion for mid-18th century hair with "the appeal of an LA party girl", the hairstylist caught the attention of FKA Twigs when she saw some behind-the-scenes snaps. "Since then, I've been working and creating hair looks along her side," explains Souvestre. "We often mention doing those tight tube curls but it's always a matter of finding the right event, outfit, and moment to be able to tell a story with it."
One of these events included FKA Twigs's appearance at Mert Alas private birthday party in Paris last month, performing a cover of "Fever" by Peggy Lee. "When I do FKA Twigs's hair, I always love imagining her living in this otherworldly beautiful magical golden egg and only appearing for performance to tell and show a beautiful story and visual," says Souvestre of the visual inspiration.
Souvestre says he's always loved the courtier-inspired "sausage" curls of the 18th century, but he's not trying to exactly replicate the periodic hairstyle. "I love imagining what a person could look like if the first part of their life was in the past, skipping through time into a far future, and then adding some personality traits," Souvestre imagines. He compares the process to a kid in school making a collage from old clippings until it's something new.
For those looking to try their own courtier-meets-LA-party-girl remix at home, Souvestre says there are multiple ways to create sausage curls. For FKA Twigs's performance at Mert Alas' birthday, Souvestre used synthetic that he had previously styled around rollers. The rest of the hair was a mix of the singer's own hair and extensions that were sculpted with gel and hairspray. For a more wearable version, creating curls using a traditional iron with a clip and then spraying them with hairspray rather than separating them can give a similar vibe.
While most of us didn't have the return of Marie Antoinette-era hair in our trend predictions for this year, Souvestre says the comeback is less random than it may seem. It's related to the comeback of gothic style and beauty that's similarly making way for hair trend. "The mid-19th century is famous for the revival of the gothic style in art and architecture from the 12th century," he says. In modern times, "I think we will slowly enter a new era of everything getting more detailed, structured, and refined—and away from the silly, messy hair." With that, the return of queen-like sausage curls is already well underway.