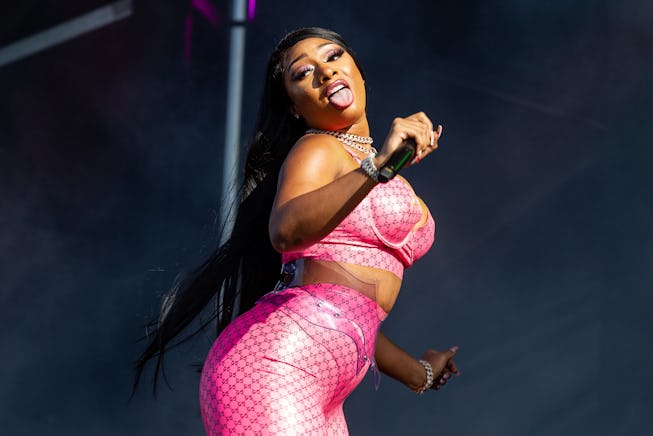 Miikka Skaffari/WireImage/Getty Images
Megan Thee Stallion Just Got Barbie Pink Bangs
She also shared that the bright new look was actually inspired by the Japanese manga series, Jujutsu Kaisen.
The highly-anticipated Barbie movie will land in US theaters on Friday July 21 and it could not come a moment sooner. Between being inundated with endless Barbie collaborations and the countless iconic red carpet moments from the cast, it seems everyone is in the mood for a Barbie Girl Summer. Naturally, this includes ramping up the amount of pink in your wardrobe and beauty routine. For Megan Thee Stallion (who's long proven herself to be a major fan of the color pink), this includes a brand new bouncy lob with hot pink bangs and face-framing highlights.
The musician posted her new hair color on Instagram and TikTok, filming while getting her hair styled. "Ima learn how how to edit one day but eff it lol I'm watching jujitsu kaisen lol and sakuna my bihh," she said, referencing her anime-style makeup inspired by the Japanese manga series Jujutsu Kaisen. Her go-to hair stylist Kellon Deryck can be seen in the background, putting the finishing touches on her new look with a large curling iron. While her face was serving Sukuna-inspired eyeshadow, chin markings, and even red contact lenses, her hair channeled Sukuna's signature pink hair— but can also pass as everyone's recent obsession with Barbie-core.
Megan's new 'do features voluminous bright pink bangs and thick face-framing highlights and a darker red-brown color towards the back of her head. The look was styled in a chic fresh shoulder-length summer cut. Megan has been feeling a full-bang moment as of late having worn long, pin-straight hair and full, eyelash-skimming bangs to sit front row at Pharrell Williams' highly anticipated Louis Vuitton runway show paired with a makeup look she coined as "blueberry lips".
Megan's loyal hotties and anime fans alike seem to be losing it over her Sakuna makeup and new pink hair, with one fan commenting "SUKUNA THEE STALLION YASSSSS" on TikTok. Another fan wrote "I'm in love with the wig🥰 love the cosplay". While Megan may not have deliberately got pink hair right before Barbie debuts (Sukuna also has claim to pink with his signature hair color, after all), the timing is impeccable.