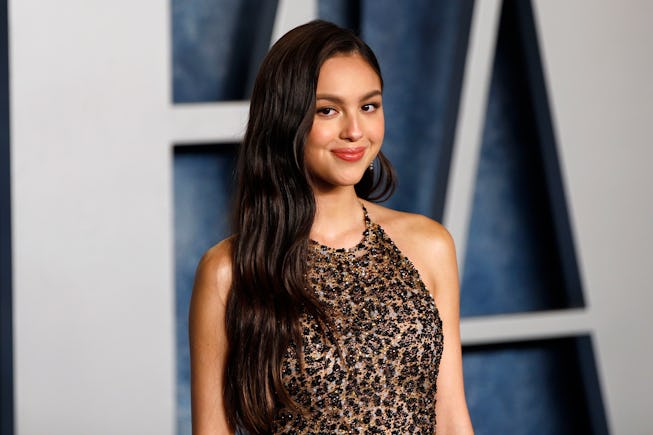 Robert Smith/Patrick McMullan/Getty Images
Olivia Rodrigo Enters Her Vampire Era With Blood Red Lipstick & Nails
In anticipation of her new single, "Vampire", the singer tries out a moody makeup look.
Olivia Rodrigo is not only the master of the Gen Z heart-wrenching (and car-themed) pop song, but she's also perfected the art of the mirror selfie. The most recent example is her June 14 Instagram, displaying a photo of her reflection in a lipstick-smudged mirror. In the selfie Olivia wears a classic striped button-down shirt, accessorized with matching deep red lipstick and nail polish and several silver rings with black stones. The result was, as one fan put it in the comments: "the moment Olivia turns to a vampire".
It's unsurprising that Olivia has chosen this very moment to go from pop Y2K style icon to Twilight character, considering that her new song "Vampire" comes out June 30. She dropped the cover art on Instagram on June 13, a black and white photo, showing off a an edgy makeup look including dark lipstick, thick cat-eye eyeliner, and two Band-Aids forming a "x" on her neck—standing out from the rest of the image, highlighted in lavender purple.
While Olivia's vampiric manicure and lipstick selfie is more subtle, posting it with the caption "bang bang kiss kiss" has some fans thinking that a Lana Del Rey collab is on the way. "Is this hinting at something with lana or am i just delulu," wrote one fan in the comments. While Olivia hasn't announced this herself, we can be sure that she's coordinating her manicures and makeup with her album releases.
Olivia hopped on the short natural nail trend for her latest selfie and is inspiring us all to get more matchy-matchy when it comes to our nail and lip colors, especially with this unexpected and unseasonal dark red shade. She's fully in her Twilight era, with no doubt more vampire-themed beauty to come, and we're here for it.