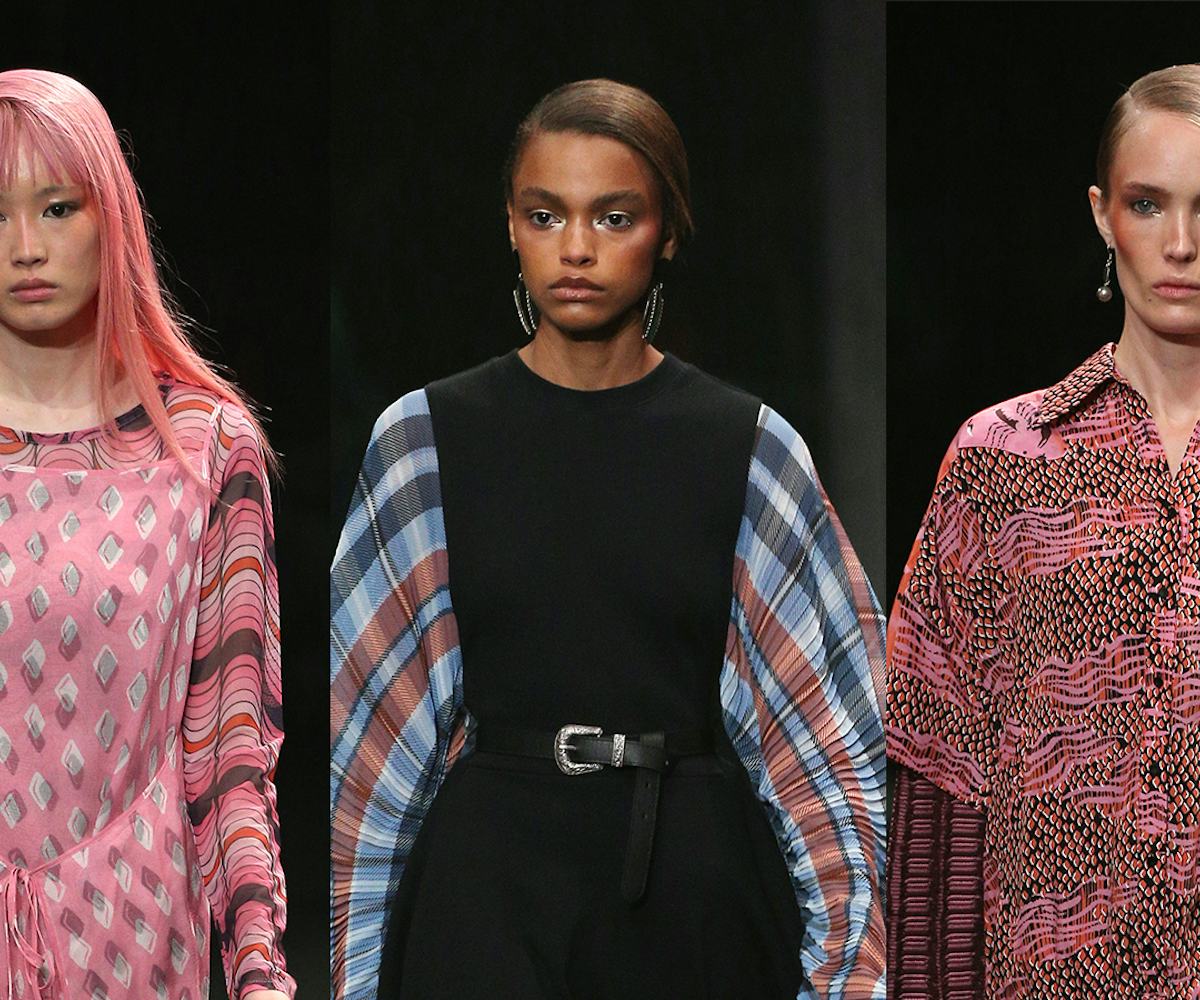 Tap Into Your Inner Warrior With This New Way Of Highlighting
Our go-to summer look courtesy of Opening Ceremony
If the West was won with gunfights and machismo, then today's resistance will be charged by a fearless brigade of women who deliver sweeping roundhouse kicks with laser focus and windburned cheeks. This was the utopian lay of the land, as imagined by Opening Ceremony at its Fall 2017 show (dubbed "a modern Western") in Los Angeles on Friday. Models marched between oversize wooden cacti wearing flowy, ruched dresses, gaucho pants, and color-saturated tracksuits that encapsulated both femininity and total freedom of movement. Hair was tucked back into no-frills ponytails at the nape of the neck. And Maybelline makeup artist Yadim used the Sante Fe desert and works by Georgia O'Keeffe as reference points to create the next frontier in cool-girl complexions: dewy skin made fierce with fiery draping that bounces light like visible heat waves on a desert horizon.
The look is an of-the-moment update that puts the bronzed Laguna Beach- and The Hills-influenced faces that dominated aughts makeup, and more recently glittery mermaid highlight and strobing that overpopulate our Instagram feeds, in our rearview mirrors. "It's very earthy, very natural, and more subdued," Yadim notes. Given our love affair with pinks and oranges in makeup as of late (see: sunset eyes, hot orange underliner, and that covetable palette full of scorched earth shades), this latest take on glowy skin feels right on point for women who are leading the resistance. This is the tough girl's flush: a look that's less about unicorns and rainbows and more about sweating it out while being exposed to the elements. 
To elicit the beautiful-meets-brave balance, Yadim skipped a full face of makeup for touches of Maybelline Fit Me! Concealer and Maybelline Dream Cushion Fresh Face Liquid Foundation used only where needed, to help balance tone and create a dewy finish. He didn't stamp out redness on the cheeks. "I wanted a little natural redness to come through on the cheek for the whole windburned effect," he says. Next, he laid the groundwork for a warrior's glow by applying Maybelline Facestudio Master Strobing Stick to the cheekbones. "I always highlight first, then put color on the cheek afterward," the pro says. "People may be wary of putting powder on top of a cream, but, as long as you apply little by little, it's blendable and you can work with it more afterward. All you have to do is tap a little bit off if it starts to look muddy or add a little bit more and blend it out." 
To create the windburned look without falling into clown territory, he applied a mixture of the boldest, straight-up orange lip color (Maybelline Vivid Matte Lipstick in Orange Obsession) and a soft dusty pink lip shade (Maybelline Inti-Matte Nudes Lipstick in Honey Pink) from cheekbones to temples and lightly across the nose and forehead. He topped cheekbones with a dusting of coral blush swiped from the Maybelline FaceStudio Master Contour Palette in 20.  
The key to creating a flush that looks stung by arid air? Stick with softly shaded products that don't build in color or coverage. "I think, initially, people are going to want to go with some really theatrical products because they give the most payoff. But you'll end up looking more bruise-y than you'd like," Yadim says. Instead, reach for a product that gives a light sheen. "So no matter how much you put on, it's not going to get darker, which is a saving grace in a way," he says.
Secondly, keep the rest of the face ultra-clean. For the show, the pro went with black liner on the waterline only, no smudging; curled lashes, no mascara; brows left natural and a bit wild; metallic gold eyeshadow applied wet for intensified color effect and painted onto lids to resemble jagged pieces of gold foil.  
The models didn't just look the part of high plains drifters—they became emblazoned warriors during the show's finale when a faux fight broke out and escalated into an astounding show of mixed martial arts and aerial acrobatics. Choreographed by Zoë Bell (the force behind Kill Bill, Death Proof, and Xena: Warrior Princess) and executed alongside Hollywood's greatest female stunt doubles (who also walked in the show), the battle cry seemed to pick up energy from women's marches and human rights advocacy that has risen in the wake of the election. 
Between seeing models with strong (not just lanky) physiques storm the runway—and break out into a cinematic street brawl—and watching Wonder Woman train with a cohort of Amazonian women in the DC film Wonder Woman this week, we can't help but fantasize about strengthening our core, along with our resolve to stand up for what's right. Okay, so maybe we aren't going to ascend to a mountaintop to train with actual women warriors. But seeing the power of strength in numbers and blazing examples of women warriors does psych us up to continue fighting for what we believe in. And if this tough flush helps us feel—and look—all the more badass? Then pass the reddish lipstick and highlighter—we've got some draping to do.