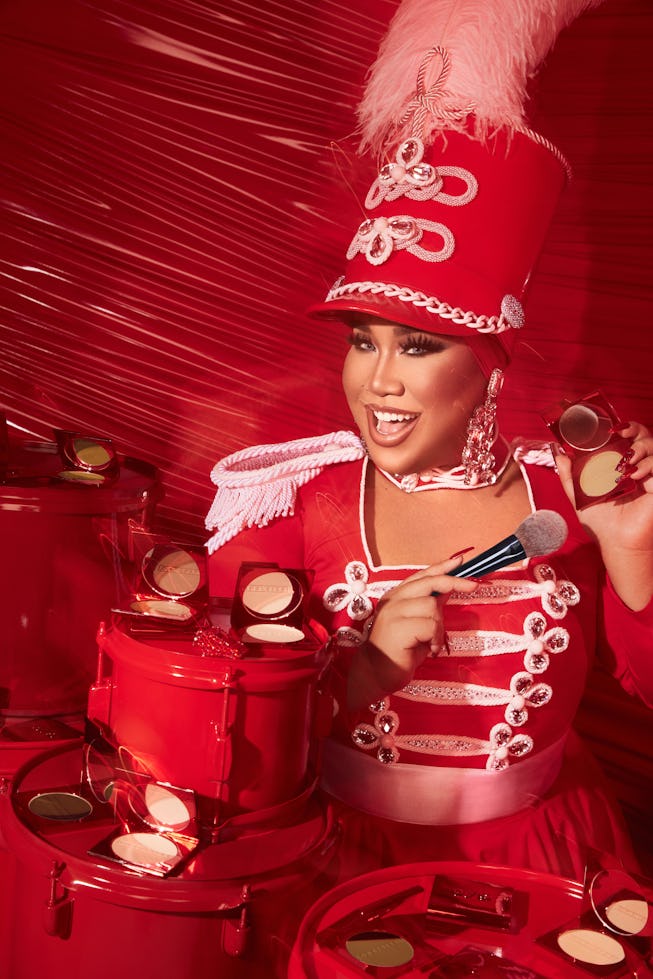 Courtesy of One/Size
Patrick Starrr Debuted The First One/Size Complexion Product
It's a foundation inspired by his high school marching band days.
Complexion products are currently all the rage in the makeup world. Following in the beauty footsteps of KVD Beauty's viral skin-perfecting balm and Fenty Beauty's new skin tint is the first-ever foundation from Patrick Starrr's One/Size.
Released on Friday, the makeup brand's complexion product, Turn Up The Base Versatile Powder Foundation, is a powdered matte foundation outfitted in a stunning ruby-red compact.
As One/Size's first foundation, Starrr wanted to completely change the game with this new product — from its acrylic-nail friendly packaging to its unique formula. Made with rice silk powder for a soft-focus appearance, the buttery texture features extra creaminess that you can customize for your look. With its buildable properties, the product is meant to go from natural to full on "turn-up" mode with 32 shades in six different ranges.
Starrr — a master of both baked and all-over beat foundation — wanted users to seamlessly transition to a new foundation product, without experiencing a daunting learning curve. "I wanted to make sure that young people could still aspire to beauty but it's not so intimidating," the makeup guru tells NYLON. "Powder isn't that intimidating. It's more foolproof than liquid. With liquid you swipe, you wipe, you blend — but with powder you're able to build a versatile relationship. I want people to have an approachable relationship with powder."
As his brand continues to grow, Starrr is looking to connect with his audience in ways that are true to his personality. "When I think of my brand and my team, it's kind of like a drum major to a marching band," Starrr says. "I'm conducting everyone, I'm telling them where to go, what to do, how loud to be, how quiet to be, how to express themselves in the right way. When we think of Patrick Starrr and [One/Size], I think a marching band is the perfect analogy to represent who we are, but also how we are as a brand." Starrr, who was a clarinet player and later section leader at Timber Creek High School back in the day, is ready for his team and audience to fall in step, and express themselves the best way they can.
Patrick Starrr's One/Size Turn Up The Base Versatile Powder Foundation retails for $33 and is now available on OneSizeBeauty.com and Sephora.com.
Below, take a closer look at the latest foundation and campaign.