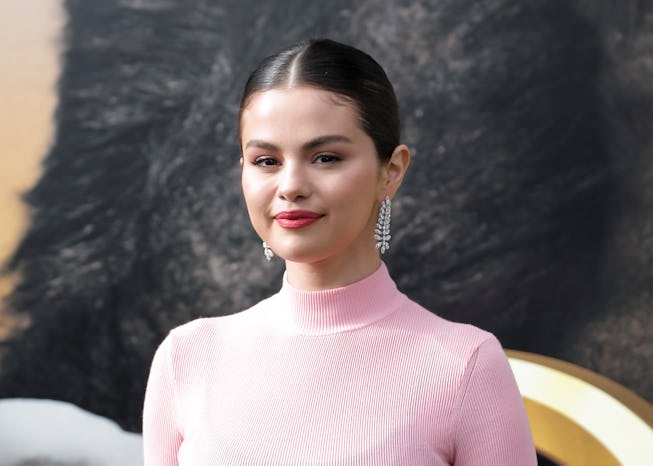 Photo by Tibrina Hobson/FilmMagic
Selena Gomez Finally Shared New Details About Her Forthcoming Beauty Brand
Rare Beauty is set to launch in September at Sephora.
Updated on August 4, 2020:
A confirmed launch date for Rare Beauty has arrived. After dropping a number of social media makeup teasers, and announcing that the line would debut with 48 shades of concealer, Selena Gomez announced that Rare Beauty arrives on September 3.
Along with sharing a selfie, in which she's presumably wearing Rare Beauty product, the star shared a video announcement detailing her intentions for the brand. "This is makeup made to feel good in, without hiding what makes you unique," the brand captioned an Instagram video of its founder.
Previously:
After filing trademarks for a beauty line, Selena Gomez has officially confirmed launch of Rare Beauty, a new cosmetics brand set to launch summer 2020. Sharing the news on Instagram, the singer revealed that she named the line after her recently released album.Although we'll have to wait a few months before the collection is available for purchase, Gomez shared one more bit of good news and confirmed that Sephora stores across North America would carry her products.
On Tuesday, Feb. 4, Gomez shared a behind the scenes video of her makeup creation process, writing, "Guys, I've been working on this special project for two years and can officially say Rare Beauty is launching in @sephora stores in North America this summer! Follow @rarebeauty and become part of our beautiful community. Here's a tiny sneak. There's more to share AND I can't wait."
The Instagram clip showcases Gomez working out the details of her line, and she later explains the intentions behind Rare Beauty in a voiceover, saying, "Being rare is about being comfortable with yourself. I've stopped trying to be perfect. I just want to be me." She notes in the clip that Rare Beauty "can be more than a beauty brand" and goes on to express her desire for the line to foster a sense of community. "I want us all to stop comparing ourselves to each other," she says.
Along with an Instagram announcement posted to her official account, an Instagram page for Rare Beauty was also launched. The account doesn't yet contain any photos or details on possible products, but quotes from the introduction video are posted, with one reading, "Our founder @selenagomez believes everyone is unique and rare. But today, too many people feel trapped by unrealistic expectations that are impossible to achieve. @rarebeauty is about accepting who you are – and finding the beauty in your imperfections."
Based on the patents filed with the U.S. Patent and Trademark Office back in July, Gomez had sought to create a line that included "fragrances, cosmetics, skin-care preparations, hair-care preparations, soaps, moisturizers, and essential oils," among other items. It's unclear whether any of those products might be included in the Rare Beauty launch, but the singer previously worked in fragrance, releasing a perfume named after herself in 2011.