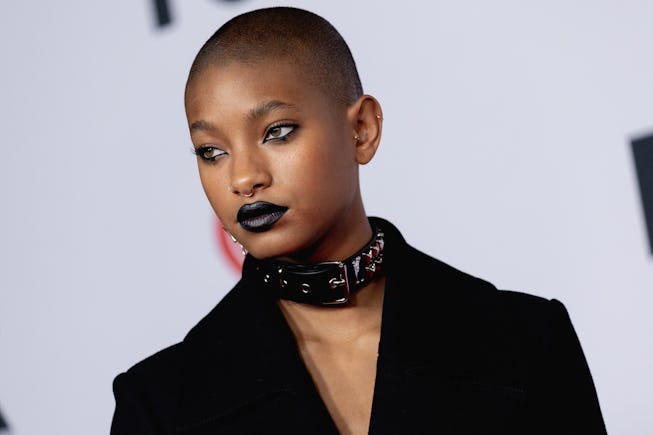 Emma McIntyre/WireImage/Getty Images
Willow Smith's New Hair Is A Major Change From Her Signature Crop
At this point, Willow Smith has pretty much made the buzzcut her signature hairstyle. She's even shaved her head while performing and sported matching buzzcuts with mom, Jada Pinkett Smith in 2021. But the musician currently seems to be growing out her hair and switching up her hairstyles. She recently showed up to the Los Angeles premiere of the Apple Original Film, Emancipation at the end of last year with a wavy side-sweeping bob. Now, Willow has debuted fresh cornrows for spring on her Instagram, finished with brown, gold, tan, and white beads.
Willow tagged Los Angeles-based hairstylist Erinn Courtney in the Instagram selfie. In the photo she wears a brown t-shirt to match the color palette of the beads and minimal, if any makeup. The singer also wears a silver chain necklace with red and black beads, complimenting the beads in her hair. Courtney also posted the look on her Instagram in photos and a video of Willow outside with the caption, "Verified fresh air. fresh hair". Courtney has previously worked with the likes of Trevor Noah, Rickey Thompson, and Jasmine Mathews.
Willow's new collarbone-grazing cornrows are the longest we've seen her hair in a long time, after years of tightly cropped cuts. She also chose the classic straight-back style, with six beads at the end of each small braid, with colors of the beads randomized at the tail of the braids for a carefree look.
If there's anything Willow has proven time and time again when it comes to her hair, it's that she's unafraid of shaving it all off at any given moment. She's also more than proven that she can pull off any style and any length. So we'll just have to wait and see if Willow's new longer cornrows will also be her go-to summer look, or if her beaded moment will be beautiful but fleeting.