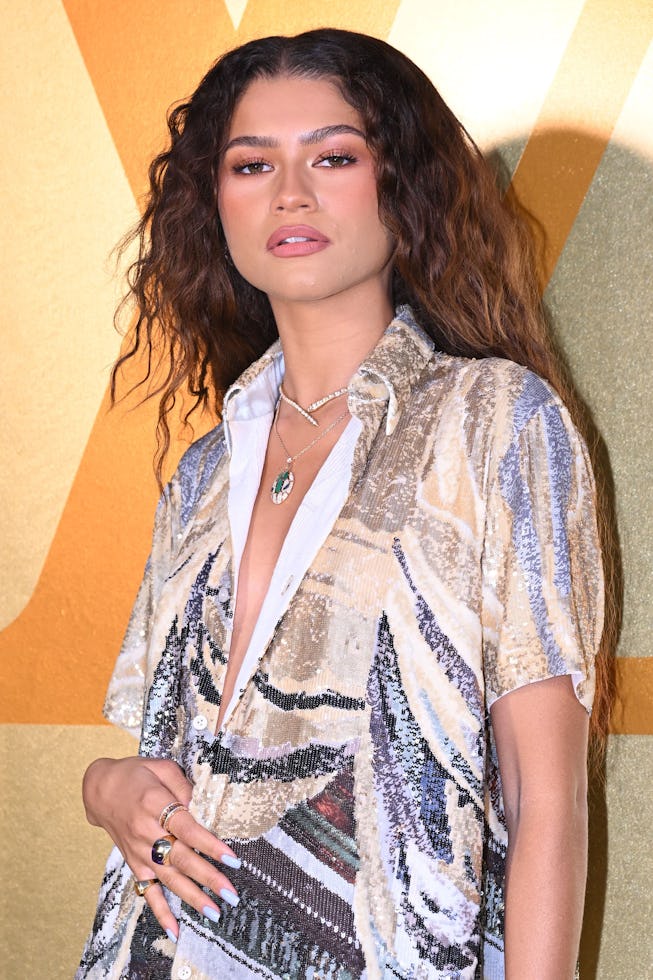 STEFANO RELLANDINI/AFP/Getty Images
Zendaya Just Debuted A New '90s-Inspired Haircut For Fall
She says she "needed a little refresh".
In June, Zendaya attended the Louis Vuitton Menswear Spring/Summer 2024 show with potentially the longest hair she's ever had — butt-length hair styled in crimped mermaid waves. But it seems the actress is veering more towards shorter styles for Fall, as she posted a brand new haircut on her Instagram story. In the mirror selfie showing off her new 'do, Zendaya looks like she's just on her way walking out of the salon, with her phone covering her face, wearing a short sleeve white tee, jeans, and aa brown leather belt.
Zendaya's new hair is cropped back to the length she wore her hair earlier this year in June for the Bulgari Hotel Roma opening event. It's clearly one of her favorite recent hairstyles, as she's returned to it a few times over the years. The shoulder-length style has long layers for volume and sweeping side bangs. This most recent image shows her cut styled with flicked-up ends, giving it a feel reminiscent to "The Rachel" haircut from Friends fame or Cindy Crawford's iconic '90s swooping blowout.
Zendaya tagged hair artist Sarah Shears in the post and also gave credit to Kizzmet Jewelry for her crystal necklace. Alongside her new chop, her hair color also looks a shade or two darker than the red-ish tone she's been rocking in recent months (though we need to see another selfie or two to be sure).
As summer 2023 draws to a close, we're slowly waving goodbye to warmer hairstyles and welcoming in the cozy fall hair trends that we know and love. Zenday's short and bouncy style is perfect for cold-weather fashion trends (and for showing off her crystal necklace). "Needed a little refresh," she wrote on the story selfie. Us too, Zendaya.