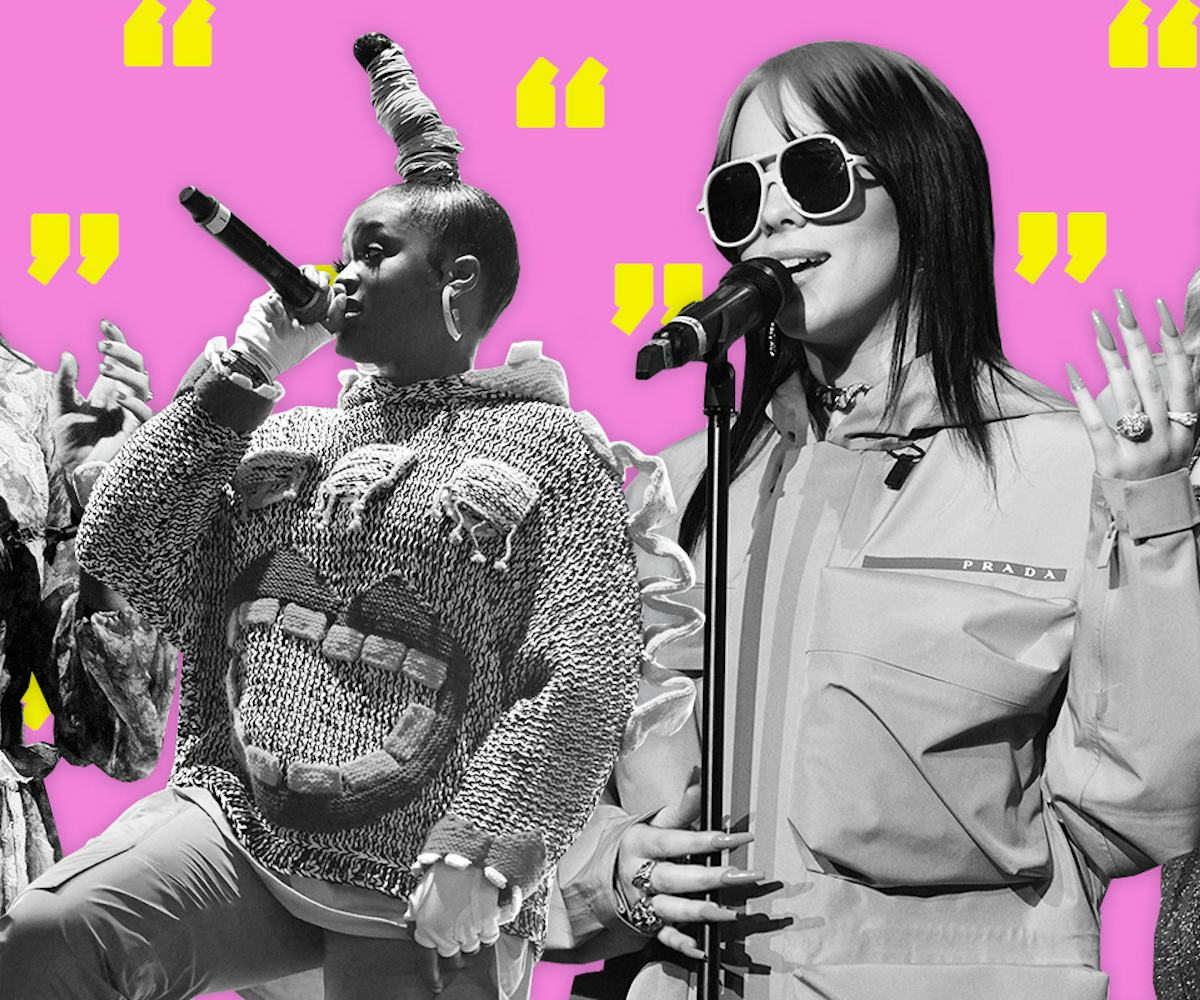 Photos from Getty Images
14 Musicians On What Lyrics F*cked Them Up In 2019
For crying, screaming, and everything in between
Sometimes, lyrics hit so close to home that we can't help but feel directly seen. The past 365 days were one hell of a ride, and plenty of the best lyrics of the year perfectly encapsulated all the love and pain and chaos that ensued. Taylor Swift found the just-right words for feeling horny and in love; when she said "My heart's been borrowed/ And yours has been blue/ All's well that ends well to end up with you," I melted into a puddle and haven't been the same since. And how could we pretend that the re-release of Lizzo's "Truth Hurts" didn't encourage the self-love of an entire nation by reminding them they're 100 percent that b*tch?
Last year, Ariana Grande sent both fans and artists into a frenzy with the name-dropping lyrics of "thank u next" and all the subsequent breakup bangers to follow. As the year comes to a close, NYLON talked with some of our favorite musicians about the lyrics that f*cked them up in 2019, and their answers did not disappoint. Hear what brought Aly & AJ, Mariah The Scientist, and more to their knees, below, and maybe find a new song or two to add to your most emotional playlists.
Mahalia was f*cked up by Umi's "Remember Me":
"This song killed me this year. The lyrics, her vocal, the guitar, everything. We all have someone who we want to remember us. Sure, we move on eventually. But that feeling never really goes away. Umi painted the picture perfectly."
Aly Michalka (of Aly & AJ) was f*cked up by The National's "Not In Kansas":
"The last line is just so f*cking good. It's exactly how I feel whenever I say sorry for something. I know it's my fault but it's also somehow yours too."
AJ Michalka (of Aly & AJ) was f*cked up by The Japanese House's "Lilo":
"For me, this verse is so poignant. Right now, emoticons are one of the biggest forms of self expression. It's quite sad, to be represented by a 'character.' I think the songwriter is expressing an emotional clarity here that's current and powerful."
Ezra Furman was f*cked up by Purple Mountains' "That's Just The Way I Feel":
"Syllable for syllable, this guy wrote the best lyrics of the year. This shit just stuns me, and you don't even notice what a perfect jewel it is because it achieves the unpretentious sound of everyday speech. How do you write a line like this? Does it take years of polishing it, or does it just come out of you when you're a brilliant and seasoned writer? I need to know."
Mariah The Scientist was f*cked up by Brent Faiyaz's "Fuck The World (Summer In London)"
"We're young, we're attractive, we're successful... the world is ours. And we don't have to settle for anything or anyone, anymore."
Dodie was f*cked up by Rex Orange County's "Pluto Projector":
"It's a simple, heartbreaking way of showing such vulnerability and trust in a relationship."
Noël Wells was f*cked up by Billie Eilish's "Xanny":
"This was the year for punch-to-the-gut lyrics for me. First up is Julia Jacklin's 'Don't Know How to Keep Loving You…' A perfect song about heartbreak from beginning to end, but the lyrics 'what if I cleaned up, what if I worked on my skin' and 'I want your mother to stay friends with mine' bring me to my knees. Keeping it real was Billie Eilish's 'Xanny' which I interpret to be about LA party people and users, and the line 'They're late to every party/ Nobody's ever sorry/ Too inebriated now to dance' could practically be the recap of my pain of 2019. And looking ahead to 2020, I pull a new mantra from my favorite song of the year, Karen O's 'Ministry' with the chorus refrain 'Day by day/ I'll turn my dreams/ Into a ministry, a ministry, a ministry/Of her love.'"
AJ Haynes (Seratones) was f*cked up by Jamila Woods' "Baldwin":
"On particularly tough days, I find myself needing the words of James Baldwin for sustenance. I can only witness how systemic inequities displace, devalue, and desecrate our safe spaces for so long before I start to feel a spiritual void, a nauseating uncertainty. Jamila Woods pays homage to Baldwin in such a beautiful way in this song by both naming the problem so perfectly and celebrating our survival."
Frances Quinlan (Hop Along) was f*cked up by (Sandy) Alex G's "House Of Sugar"
"These lyrics from 'House of Sugar' by (Sandy) Alex G hit me pretty hard — especially as they're the opening lines to the whole record. A line like that, it's brutal and desolate — such a matter-of-fact form of resignation, and yet it's without resolution. It's even more sad because it's so distant, almost devoid of emotion. I thought it was bold to start a record off with that sentiment, it's really strong and still hits me now."
Carlotta Cosials (Hinds) was f*cked up by Carolina Durante's "Joder, No Sé"
"Translated to English it would be something like 'I'm not 30 years old yet, and I already feel like shit.' I feel like there's a shared weariness in youth these days. Kids feel angry but exhausted at the same time. The hook of this song goes like, 'my answer to everything is: f*ck, i don't know,' and in here in Spain it has become like a generational anthem. Not at all as an ode to ignorance, but like a desperation response to — I guess — too many or too trivial questions."
Eva Hendricks (Charly Bliss) was f*cked up by Taylor Swift's "Cruel Summer":
"Every new T-Swift album shows us a different side to the reigning queen of emotive pop, and the messy, honest, down-to-earth, hopeless romantic that we meet on Lover is my favorite of all her reincarnations. 'Cruel Summer' is Taylor at her best, you feel like she read your diary entries about that awful relationship you had with that intoxicating jerk who you were so infatuated with, and articulated it all back to you better than you ever could have hoped to."
Yuna was f*cked up by Lana Del Rey's "Mariners Apartment Complex":
"I really think Lana Del Rey really is one of the best writers of our time... she's able to describe her pain in words that is so her, that could be from another era that I wasn't even born yet but at the same time so current. I feel her pain, her longing and her asking to her love, 'Hey, remember me? Your biggest fan? Who would stand by you no matter what?'"
Sasami was f*cked up by Tierra Whack's "Only Child":
"What's there to say? I feel like this Whack line sums up all of the energy of 2019 and speaks for itself."
Junglepussy was f*cked up by Rayana Jay's "Do Betta":
"Timeless lyrics I know I'll carry with me forever as I evolve unapologetically, reminding myself I don't care who people think I was or am."