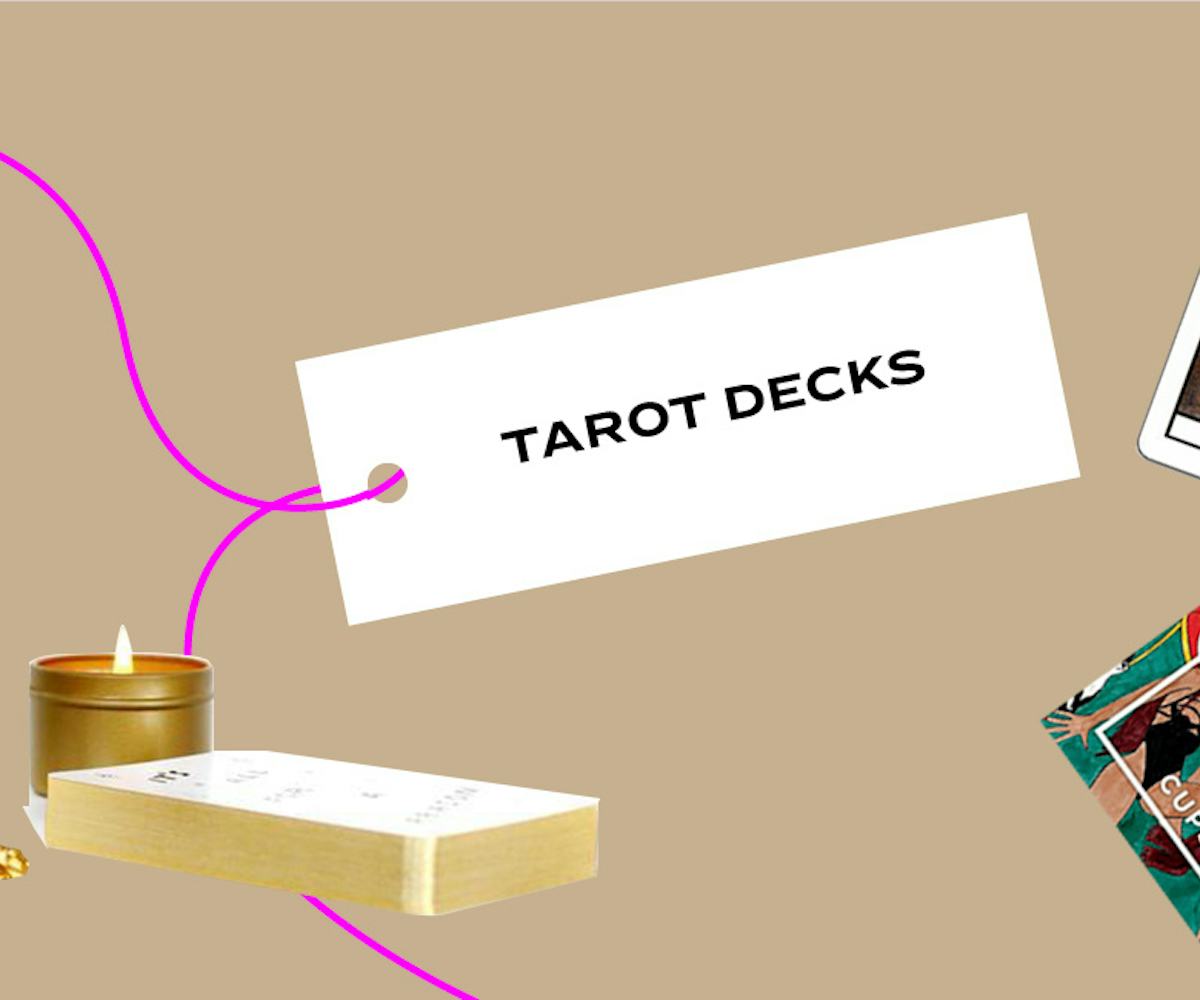 The Most Beautiful Tarot Decks To Buy Online
Amongst other witchy offerings
'Tis officially the season for gift-giving. For us, that's a full month in which we'll be providing gift ideas for everyone on your list with our Unwrapped holiday gift guides. So make your holiday shopping a breeze this season, and let us help you find gifts for all the people in your life.
Looking to find that *perfect* deck of tarot cards to give to a friend, but not quite sure where to begin? We get it—if you don't consider yourself a New Age type, it's not like you'd instinctively know where to shop. That's why we're here to help.
Because not all of us have access to a local metaphysical or occult shop, and, this time of year especially, many of us don't have time to shop IRL at all, we put together the guide of all guides for finding the perfect tarot gift, all from the comfort of your laptop. Whether you're looking for some of the more classic decks, such as The Rider Deck or an independently published masterpiece, we scoured the internet to find the very best places to shop for tarot decks online.
Bonus? Many of these shops carry much more than tarot and oracle decks, including other witchy wares such as spell candles, crystals, and more, making it easy to put together a complete holiday gift. Our magical list awaits, below.
Labyrinthos
If you're looking for some truly unique decks and accessories, head to Labyrinthos, where you'll find the gorgeously pastel-drenched Seventh Sphere Tarot de Marseille Deck or the striking foiled Golden Thread Tarot Deck. Even better? They offer online tarot classes and apps for every level.
Seventh Sphere Tarot de Marseille, $50, available at Labyrinthos.
Everyday Magic
Everyday Magic supplies all of your magical needs, from ritual objects to home goods and jewelry. Its tarot selection offers some of the most visually stunning decks out there today.
The Anima Mundi Tarot, $50, available at Everyday Magic.
Catland
Brooklyn-based occult shop Catland not only hosts in-store full moon rituals and witchcraft study groups, as well as an online book club, but all of its witchy wares are available to shop online, including its huge offering of modern and classic tarot and oracle decks.
Slutist Tarot, $60, available at Catland.
Ritual Shoppe
Philadelphia-based Ritual Shoppe is our go-to for occult-inspired jewelry, from everyday to fine, but we love that the shop also offers a ton of witchy home goods and gifts, including some of our favorite tarot and oracle decks.
OK Tarot: The Simple Deck For Everyone, $36, available at Ritual Shoppe.
HausWitch
Not only will you find a number of modern tarot and oracle decks at HausWitch, but you'll also find everything you need to witchify your living space. From spell kits and candles to wall art and bath products, the Salem, Massachusetts-based shop has you covered.
Spolia Tarot Deck, $55, available at HausWitch.
Amazon
Sure, Amazon may not be your go-to for all things spiritual, but it carries tons of classic and modern decks, from The Rider Tarot Deck to The Wild Unknown. Bonus? You can Prime most of 'em, making a deck the perfect last-minute gift when you find yourself in a pinch.
The Rider Tarot Deck, $15.68, available at Amazon.
Modern Mystic Shop
The Atlanta-based Modern Mystic Shop offers a number of in-person readings and tarot, but its online shop carries a ton of traditional decks like Motherpeace and some of the coolest indie decks in addition to crystals, candles, and more witchy wares.
Minimalist Tarot, $50, available at Modern Mystic Shop.
Hoodwitch
Bri Luna's blog Hoodwitch has a cult-favorite following for a reason, and her shop is a must if you're looking for unique tarot decks, smudge wands, crystals, and more.
Serpentfire Tarot Deck, $60, available at Hoodwitch.
Two Sides Tarot
Sydney, Australia-based Two Sides Tarot stocks some of the most beautiful independently published tarot and oracle decks from across the world.
She Wolfe Tarot, $65, available at Two Sides Tarot.
Namaste Bookshop
Namaste Bookshop is a New York City go-to for everything from ritual tools and crystals to tons and tons on books of witchcraft, spirituality, and more. Lucky for the rest of the country, you can shop its huge variety of tarot and oracle decks online.
Aquarian Tarot Deck, $21.95, available at Namaste Bookshop.
NYLON uses affiliate links and may earn a commission if you purchase something through those links, but every product chosen is selected independently.