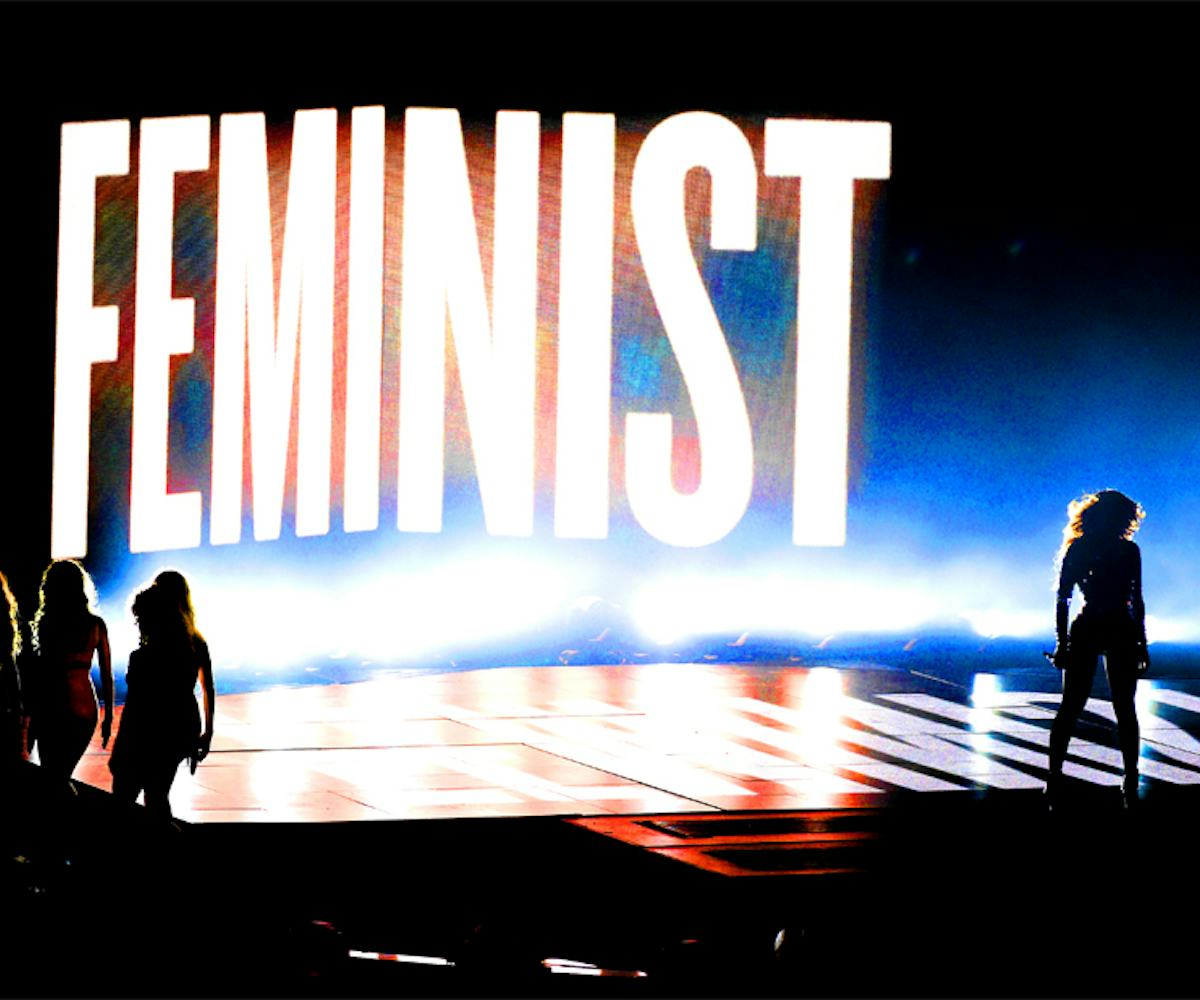 photo via getty images
the year in pop culture feminist victories
who run 2014? girls. and women.
2014 has been an important year for feminism. From President Obama saying that "when women succeed, America succeeds," in his January State of the Union address, to Malala Yousafzai winning the Nobel Peace Prize, the political sphere has been rife with victories—and some setbacks— for women in the past 12 months. In the entertainment world, more and more celebrities started identifying as feminists, and the Top 40 music hits started reflecting a growing desire for female empowerment. Roxane Gay, Amy Poehler, and Lena Dunham gave us more female-focused narratives to add to our bookshelf, and Olivia Pope uttered the words "as a feminist" on a super tense episode of Scandal. Despite the turbulence of this year in politics and social issues, pop culture showed one thing: We need feminism. And we want it, too.
From a feminist VMA performance the world will never forget to an important push forward in the transgender movement, these are the moments in 2014 that helped all women to  gain power, acceptance, and representation. We're glad to reflect on a year that was filled with so much female empowerment, and we can't wait for an even more feminist 2015.
Emma Watson Initiates the #HeForShe Campaign 
photo via Getty Images
With an Ivy League degree fresh under her belt along with a slew of incredibly feminist movie roles, it's no surprise that Emma Watson stepped up to the UN to make a difference in how women are perceived globally. HeForShe stresses the importance of solidarity in the movement towards gender equality so that everyone feels inclined to get involved in the effort.
Laverne Cox Explains the Transgender Movement to TIME
photo via TIME
This Orange is the New Black star has become one of the faces of transgender awareness by opening up about her own life and speaking out for trans people everywhere. With a high suicide rate amongst trans individuals and a general lack of awareness about their struggles, representation in media remains extremely important. Cox has become a key figure in the movement for rights and acceptance. 
Beyoncé Makes a Feminist Statement at the VMAS 
photo via Getty Images
After getting some flack for calling her fifth concert tour "The Mrs. Carter Show World Tour," and ambiguously labeling herself a "modern day feminist," Yoncé made her stance on feminism perfectly clear in her now-iconic VMAS performance, standing in front of a giant "FEMINIST" sign as Chimamanda Ngozi Adichie's voice echos in the background: "Feminist: a person who believes in the social, political and economic equality of the sexes."
Chanel Stages a Feminist Protest on the Runway
photo via Getty Images
The catwalk may not be a common place for making a political statement, but leave it to Karl Lagerfeld to shake things up. By staging a feminist protest in the finale of Chanel's Spring/Summer 2015 show—picket signs and megaphones included—Lagerfeld transformed one of the most-watched fashions shows into an iconic and empowering moment.
Ruth Bader Ginsberg Becomes the Internet's Latest Fascination 
photo by notoriousrbg.tumblr.com
Ruth Bader Ginsberg celebrated her 21st year on the Supreme Court this year, and she's still killing it—most recently with her dissent on the Hobby Lobby case (which was even turned into a song). With her feminist, liberal values, she's won the hearts of the young adults who appropriately celebrated her awesomeness by turning her into a meme, Notorious RBG. While the politics of 2014 may not have always been the most supportive of women, the Internet's newfound love of this Supreme Court justice gives us hope for 2015.
Taylor Swift Comes Out as a Feminist
photo via Getty Images
While she's remained mum on the topic for a long time, Taylor Swift finally asserted her stance as a feminist—though we can't say we're surprised, given she's rounded up quite the crew of girl-power-geared pals. She told The Guardian that friend Lena Dunham made her realize that she had been a feminist all along, but didn't realize it. Regardless of how you may feel about Dunham, you've got to admit that this celeb friendship has done some good—could this awakening be what inspired the awesomely feminist "Blank Space" video?
Shonda Rhimes Takes Over Thursdays on ABC 
photo via Getty Images
From Grey's Anatomy, to Scandal, to How to Get Away with Murder, Thursday nights became the perfect time slot for strong female characters written by strong female writers. Focusing on diverse characters, especially women of color, Shonda Rhimes brings some much-needed representation (and so much drama) to your screen.
Gone Girl Destroys the Cool Girl Trope  
image via Twentieth Century Fox
While the novel came out in 2012, Gone Girl tackled one of the most pervasive female tropes when it came to cinemas this fall: the "cool girl." With Rosamund Pike playing the role of the amazing Amy Dunne, mainstream moviegoers were able to see a female stereotype convoluted and destroyed, resulting in one of the most complex female roles that film has seen in recent years.
Celebs Fight For Body Equality With #FreeTheNipple 
photo via Getty Images
While it may have also been one of the most NSFW moments of 2014, the #FreeTheNipple campaign also brought celebrities out to fight against the stigmas that affect how women can display their bodies in public. The movement shows that women's nipples are sensationalized in our society, making it difficult or even impossible for women to breastfeed in public, much less to simply walk around topless (despite it being legal). And, as director Lina Esco told us, nipples are also a metaphor for equality. If we can learn to view all nipples as equal, surely we can tackle issues like the gendered pay gap, right?
Dan Radcliffe Reveals the Double Standard Behind Male and Female Child Stars 
photo via Getty Images
The Harry Potter star has been busy taking on new and exciting films, from his rom-com part in What If to his sexy-scary role in Horns. While the Associated Press commented to the actor that some people have a hard time seeing him as a sex symbol since he's been in the limelight since he was a child, Radcliffe retorted, saying that people don't have a problem doing the same for his Potter co-star, Emma Watson. D-Rad, thank you for realizing and pointing out the double standards facing women in the film industry.
#YesAllWomen Takes the Internet By Storm 
In response to the #NotAllMen trend of men ignorantly asserting their supposed superiority over their misogynistic counterparts, women took to Twitter using the hashtag #YesAllWomen to document the sexism that all women have indeed faced in their lives, capturing their universal experiences in a patriarchal world. This is one hashtag that raised some much-needed awareness.
Lorde Is a Badass Feminist in General
photo via Getty Images
Never worried about fitting into any pre-established boxes or societal expectations, the Kiwi singer's head-banging music and pro-feminist statements have made her a role model for young girls everywhere. Not to mention her achievements (first female to win the VMA for Best Rock Video, Grammy for Song of the Year, the list goes on) have proven that this 18-year-old is one to look out for.