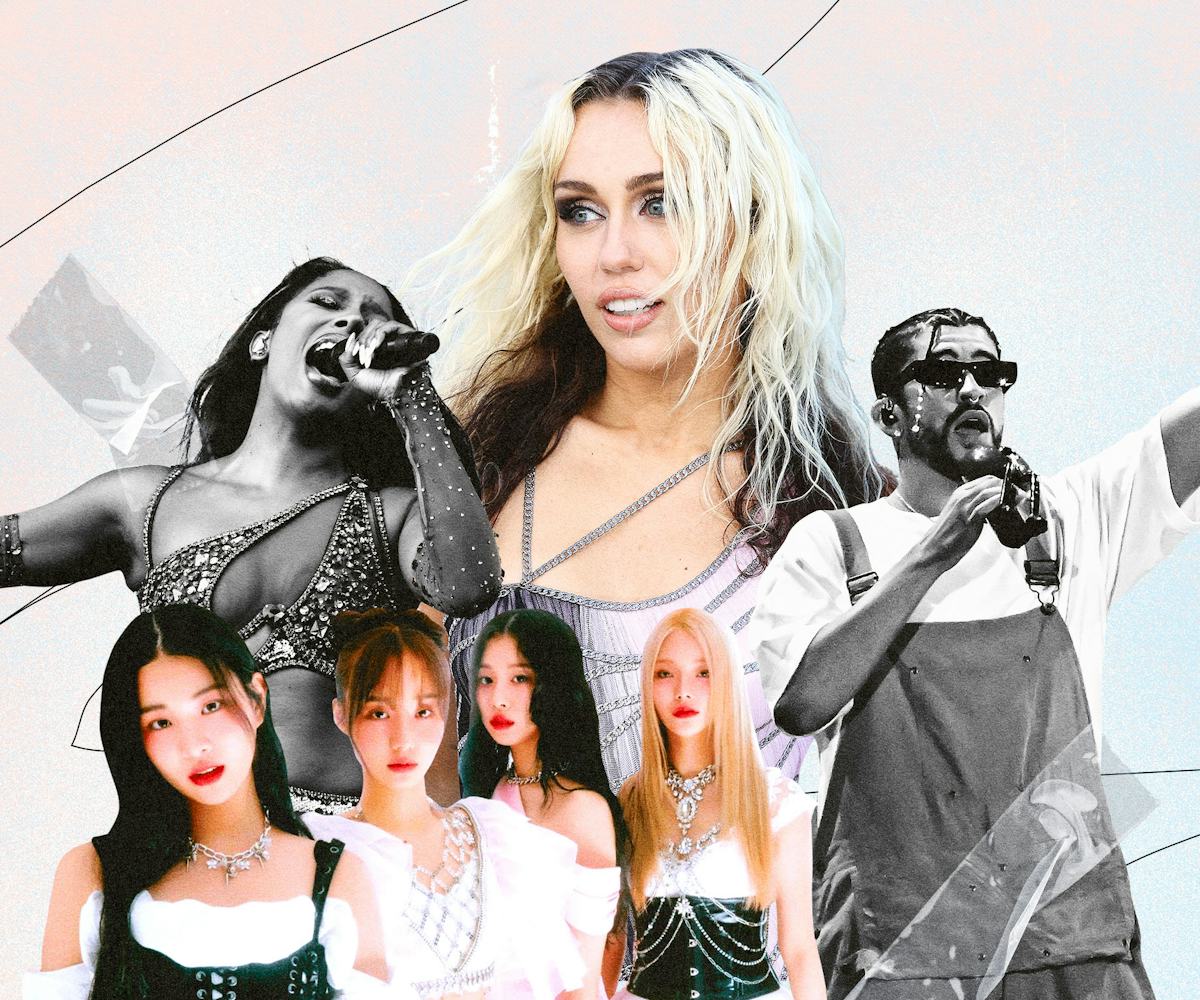 Ariela Basson/NYLON; ATTRAKT Creative Content Group, Getty Images
15 Songs You'll Be Hearing All Summer Long
From Miley to Bad Bunny to Taylor Swift — and yes, Drake.
What does a song of the summer mean in 2023? Not much really; at this point it's an individual's game and less and less reliant on what's reigning on the charts. But some overarching trends still manage to prevail each year, and it's a fun exercise to try and predict the track that'll get rinsed clean on the radio, BBQs, and ragers across the country.
This year's playing field revealed itself particularly slowly, with nothing really standing out until the last few weeks (artists are probably holding their biggest bangers for the months to come). But we here at NYLON still managed to corral a list of songs that we think have the legs to do the trick even when those later contenders come in to play, like Miley Cyrus' "Flowers," which has exhibited powerful chart-staying power, Bad Bunny's jersey club latest, a dark-horse Drake track that still might make it, and many, many more. Even if we end up wrong, well, at least here are some new songs to add to your playlists.
"Flowers" - Miley Cyrus
The CVSes and Walmarts have already been rinsing this on repeat which is always my first barometer for measuring a song's summer longevity. And who's to blame them? Self-love is evergreen and Miley's hit-making skills are instinctual at this point. —Steffanee Wang, music editor
"WHERE SHE GOES" - Bad Bunny
Bad Bunny's mandatory summer release has arrived and this time he's trying out jersey club. And he knows what want: horny, desperate lyrics over a melancholic beat we can still shake ass to. —SW
"Search and Rescue" - Drake
A lot of people might not be happy to hear this but I'm just here to report the data: I've heard this blasting out of no less than three cars in Brooklyn so far in the last month and it's not even past Memorial Day. Once the summer heartbreak hits (late July, August) I predict this number will be far higher. —SW
"Sparks Fly" (Taylor's Version) - Taylor Swift
Yes, this song has not technically been released yet, but you know its gonna be a banger. The girlies will be dropping it low as they drop everything now well past Labor Day. —Lauren McCarthy, executive editor
"Cupid" - Fifty Fifty
Who needs a summer fling when a song can make your heart flutter? Fifty Fifty are relatively new to the K-pop scene, but they're already making history with their dreamy February single "Cupid." Few modern K-pop songs can be described as "easy-listening," but that's what makes "Cupid" so addictive. Its simple charm hits you like an arrow to the chest. —Crystal Bell, contributor
"Princess Diana" - Ice Spice with Nicki Minaj
For the girls who start their day with a bowl of oats and finish their evening with a side of spinach, it's an Ice Spice ft Nicki Minaj summer. —Laura Pitcher, staff writer
"Sex" - The Dare
Eye roll-inducing lyrics aside, this is a very fun song for your workout playlists, aimless warm weather walks, and sweaty, late-night dance parties. It's finally summer! Why not embrace the silliness? —Alyssa Vingan, editor-in-chief
"4EVA" - KAYTRAMINÉ, Amine, KAYTRANADA, Pharrell Williams
The KAYTRAMINÉ album just dropped and now summer has officially begun. "4EVA" is on constant rotation until at least September. —Lindsay Hattrick, senior designer
"Party Girls" (feat. Buju Banton) - Victoria Monét
I said it once already and I'll say it again: Victoria Monet's "Party Girls" is this season's sweatiest banger. Something about dancehall makes me automatically associate it with the hot months and Monet's slinky take on the genre (coupled with a rowdy Buju Banton verse) is irrisistable. Brooklyn, I better hear this song at every block party! —SW
"Say Yes To Heaven (Sped Up)" - Lana Del Rey
Lana heads may have had her new single burning a hole in our iTunes playlists for the last decade, but "Say Yes To Heaven - Sped Up" takes her lullaby of devotion to an alien-like pitch, making it equally fit for the party. —SJ
"Red Flags" - Mimi Webb
A song for everyone self-aware enough to know they'll be in a self-destructive summer fling this season! This song is just so upbeat and addictive, it demands to be sung along to— even if you would have trouble admitting that it's a little too relatable. —Sam Neibart, beauty editor
"Prescription" - Remi Wolf
This melancholic (yet optimistic? love-filled?) pop tune will have you nostalgic for summers when everything seemed so much simpler. The song's 7-minute version is my "All Too Well (10 Minute Version) [Taylor's Version (From The Vault)]" ... I said what I said. —Kelly Reed, senior social strategist
"Done (Let's Get It)" - Yaeji
Yaeji's "Done (Let's Get It)" is a marvel: she sing-chants about cycle-breaking and crying to let it out over a propsulsive bass. Healing the inner child doesn't have to stop because you're at the beach or whatever — in fact, it's never sounded so fun. —Sophia June, staff writer
"Happy Ending" - Kelela
I don't care that this song came out in February! Every time I listen to "Happy Ending" I'm transported to a humid summer night in the club, a place where Kelela's breathy vocals and LSDXOXO's jubliant breakbeats have me feeling extra tipsy and giggly after dancing all night long. —Layla Halabian, culture editor
"I Think I" - Anna Shoemaker
https://www.youtube.com/watch?v=55vGNbfJv4o
Anna Shoemaker is a master of songwriting when it comes to capturing the specific feeling of dancing through heartbreak, of celebrating being able to feel things at all — which makes her an evergreen summertime artist — because what feels more like summer than the simultaneous joy and heartbreak of basking in the sun all day, even if it means you get burned? —SJ