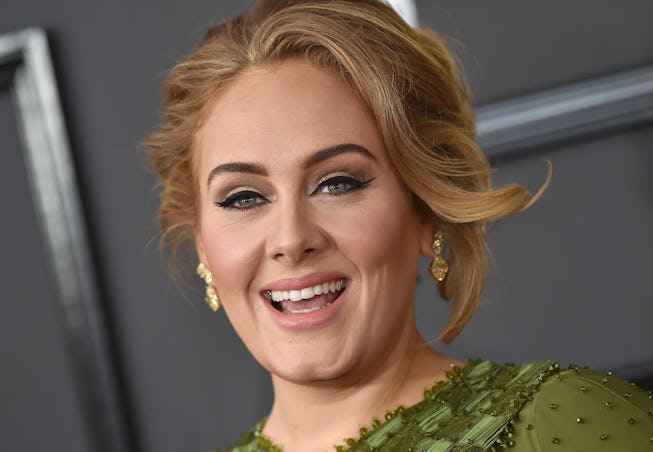 Photo by Axelle/Bauer-Griffin/FilmMagic
Adele Confirmed '30' Will Be Released On November 19th
"I'm ready to finally put this album out," Adele wrote in an Instagram post about her new album.
At this point, it's more than rumor — Adele's coming back with a new album. The 33-year-old "Hello" singer is expected to release her fourth studio album very soon and fans, like myself, are understandably excited.
Adele, who hasn't released an album in six years, first let fans know her next cry-along album was imminent with a global billboard campaign. Each one features a cloudy, dark-blue hue with the number "30" written across it in thin gold lettering. So far the billboards have appeared in London, New York City, and Paris. According to Buzzfeed, "30" has also been projected onto iconic landmarks like the Louvre, the Colosseum, and the Empire State Building, furthering suspicions world-wide.
Though she's been fairly tight-lipped about her next release, Adele also shared a teaser trailer, and is reportedly shopping around a TV special. We've rounded up some clues to string things together. Keep reading for everything we know about the highly-anticipated album thus far.
Adele's new album will be titled 30.
All of Adele's albums have been named after her age when she wrote them. If the billboard campaign is any indication of what's to come, this up-coming release will follow suit. Fans of the singer may recall that her thirtieth year was particularly cumbersome. At that age, she separated from her husband, Simon Konecki. The couple were married for five years and share one child together.
Adele has revealed the tracklist for 30, and it's short and sweet.
In an Instagram post on November 1st, Adele shared the tracklist for 30, revealing just 12 tracks on the album (and 15 on the deluxe edition).
The 30 tracklist, below:
"Strangers By Nature"
"My Little Love"
"Cry Your Heart Out"
"Oh My God"
"Can I Get It"
"I Drink Wine"
"All Night Parking" (with Erroll Garner)
"Woman Like Me"
"Hold On"
"To Be Loved"
"Love is a Game"
"Wild Wild West" (deluxe edition)
"Can't Be Together" (deluxe edition)
"Easy on Me" (with Chris Stapleton) (deluxe edition)
30 will partially be about Adele's divorce from her ex-husband, Simon Konecki.
In a new interview with British Vogue, Adele shared several songs from 30 with the writer, who noted that many continue to address her past themes of heartbreak, relationships and dealing with men. On one song, she implores her partner to give her more respect. "Can you imagine couples listening to it in the car? It'd be so awkward," Adele said to British Vogue. I think a lot of women are going to be like, 'I'm done.'"
But 30 is also Adele's way of explaining her breakup to her son.
In the same interview, Adele noted that some of the songs were inspired by her desire to explain the unexplainable to her nine-year-old son: why his parents can't be together. From British Vogue:
"My son has had a lot of questions. Really good questions, really innocent questions, that I just don't have an answer for." Like? "'Why can't you still live together?'" She sighs. Gone are players and cads as song fodder (mostly). This is the deep sea of motherhood. "I just felt like I wanted to explain to him, through this record, when he's in his twenties or thirties, who I am and why I voluntarily chose to dismantle his entire life in the pursuit of my own happiness. It made him really unhappy sometimes. And that's a real wound for me that I don't know if I'll ever be able to heal."
Adele shared a nostalgic teaser trailer for the first single from 30, "Easy On Me."
What's a great Adele record without a few heartbreaking sing-alongs? In her trailer for the "Easy On Me," which is due out October 15th ahead of the album, Adele pops a cassette tape into an old car she's driving down a country lane, before tossing her acrylic-tipped hand out the window to dance along with the wind. A piano plays softly in the background as pages of sheet music fly out the back windows.
30 will officially have a November 19th release date.
On September 30th, Taylor Swift announced that she's bumping up the release of her-own project, Red (Taylor's Version), which was originally set to drop on November 19th — in a move fans suspected was meant to give some breathing room to the two projects.
Now, it's been made official, as Adele shared a lengthy Instagram post confirming the release date of her next album with "30 - November 19" as the caption.
"I was certainly nowhere near where I'd hoped to be when I first started it nearly 3 years ago. Quite the opposite actually. I rely on routine and consistency to feel safe, I always have. And yet there I was knowingly - willing, even, throwing myself into a maze of absolute mess and inner turmoil," Adele wrote on Instagram of her time writing 30.
"I've learned a lot of blistering home truths about myself along the way," she continued. "I've shed many layers but also wrapped myself in new ones. Discovered genuinely useful and wholesome mentalities to lead with, and I feel like I've finally found my feeling again. I'd go so far as to say that I've never felt more peaceful in my life. And so, I'm ready to finally put this album out."
She goes onto describe 30 as her "ride or die throughout the most turbulent period of my life," and references again her Saturn Return. "Home is where the heart is," she finished the post.