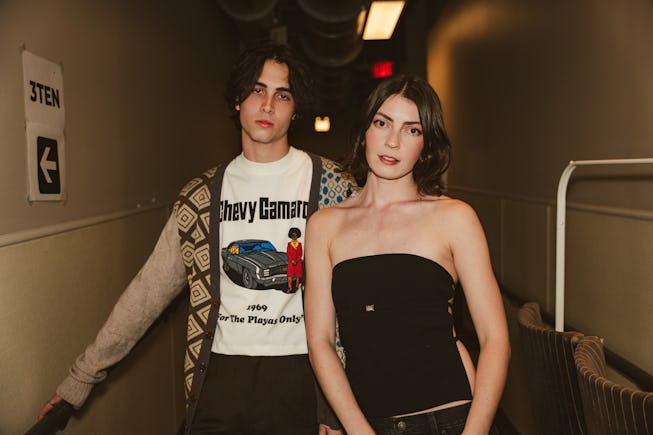 Aidan Bissett & Anna Shoemaker's Joint Tour Is 10/10 Vibes
From backstage shoots to getting gas, the rising pop singers give NYLON a peek into life on the road.
Aidan Bissett and Anna Shoemaker are both rising singer-songwriters making intimate pop songs that sing to the matters of the heart. Bissett, through bright synths and chords like on "Bloom," and Shoemaker through unnerving guitar songs like "I Think I" which have a tendency to erupt like an emotional flare-up of the soul. So it makes sense then that these genre peers would eventually go on tour together.
At the top of October, they hit the road to kick off Bissett's Supernova fall 2023 tour which features Shoemaker as his opening act, playing major cities from coast-to-coast across dozens of shows. For the first leg of the tour, where they played Dallas, Tampa, FL, Atlanta, and more, the two musicians documented their daily lives on the move for NYLON.
"This fan had come to a show previously this year when we were opening for Valley and asked me to draw her a tattoo with lyrics," Bissett tells NYLON about one memorable fan interaction. "I did not think she would actually get it, so when she showed up with my handwriting on her arm I freaked out."
From soundchecks and backstage photo shoots to the more mundane minutiae of tour life — getting gas and packing up vans — check out their all-access joint tour diary, below.
Photos by Shayden Schoonover.