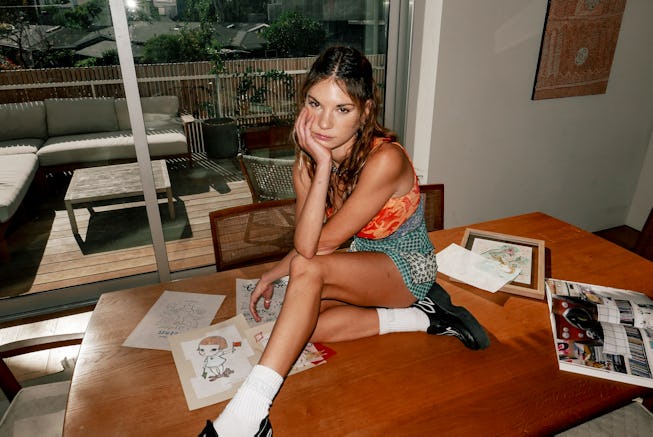 Caity Krone
Meet Amy Allen, The Grammy-Nominated Songwriter Behind Pop's Most Honest Hits
The Maine native is pop's emotional backbone.
When Amy Allen found out she'd been nominated for a Grammy, she thought she was being pranked. It was the early morning of Nov. 15, and her manager was the first to call her with the news. "Stop, stop, stop, stop. It's so mean. I don't want to hear it. That's so mean," she recalls saying into the phone, unable to believe what she'd just heard. It wasn't until the flood of congratulatory text messages from her family and friends came rushing in that the achievement finally clicked. "I was obviously so excited," she says.
Allen is nominated in the Songwriter of the Year, Non-Classical category, and it's her first-ever solo Grammy nomination. But the accomplishment is made extra special as she's one of the first five nominees to be named in the brand new Grammy category — the first-ever to directly recognize non-classical songwriters — which will bestow its inaugural award at the 2023 Grammys ceremony on Sunday. For Allen, who is being recognized for her work writing on behalf of artists like Harry Styles, King Princess, Lizzo, Charli XCX, Sabrina Carpenter, and more, this distinction is the icing on the cake — and one that's been a long time coming.
"I know it means so much to all songwriters," she tells NYLON over the phone during a rainy afternoon in Venice, California. "I just feel very humbled and honored to be one of the first five nominees."
If you're unfamiliar with Allen's name, you surely aren't with her work. The 31-year-old Maine native has penned countless hits — not only for the artists mentioned above, but for Selena Gomez, Halsey, Blackpink's Rosé, Camila Cabello, Shawn Mendes, and many others. For more proof of her prolificity, two albums Allen worked on (and is Grammy-nominated for) are up for Album of the Year: Harry Styles' Harry's House, and Lizzo's Special. Her deft, empathetic pen can be heard on the fan-favorite Styles hit "Matilda," and the emotionally open Lizzo ballad, "If You Love Me." Read through Allen's list of credits and one will find that the colossal, soul-baring pop song is the major connecting strand of all her works (Halsey's "Without Me," Rosé's "On The Ground," Harry Styles' "Adore You," to name a few more), one that stretches all the way back to the first song she ever placed: Selena Gomez' 2018 hit "Back To You."
"I'd be walking down the street in New York and I'd hear [the song] coming out of a coffee shop or I'd be in a cab and I'd hear it," she recalls. "That gave me the bug big time. I wanted to go full force with this."
Despite Allen's reputation as a songwriting tour de force, she got into the industry relatively late. Growing up in the small town of Windham, Maine, she didn't even clock songwriting as a viable career. Still, living with parents who listened to a lot of Carole King, and an older sister who played in a band, the musical bug bit her early. She wrote her first song when she was 10 years old, and eventually took up piano, bass, and guitar. As a teenager, she and her sister would play random gigs — mainly bluegrass and folk — at bars in her hometown.
When it came to university, however, she signed up to major in biochemistry at Boston College. Two years into the program, Allen felt in her gut that something was wrong. "I was following a career path that wasn't supposed to be," she says. She was barely playing music, and her only artistic outlet was being a part of an a capella group at school.
Allen eventually transferred to the Berklee College of Music — "and then everything changed," she says. She made friends with other students pursuing the songwriting major, and it "all started clicking very clearly in my brain."
From there, Allen moved to New York City and briefly helmed her own band, Amy & The Engine — which garnered early press coverage from Teen Vogue and produced three EPs — but ultimately ended the project in 2017. "It got to a point where I just wanted to write better songs, and I just knew that I was never going to get to the level I wanted to get at as an artist if I didn't put the time in to understand how to write a song that was more honest to myself," she says. "So that's when I started putting the work in."
She moved to L.A. and signed with the independent record and publishing group APG. A year later, in 2018, her first song for Gomez was released.
"Honestly, whoever wins, it's just a huge win for songwriting in general."
For Allen, a song that withstands the test of time is one "written from the heart." That may sound obvious (even cliche) but achieving an uncorny, unfiltered honesty is hard to do and not always intuitive. Working with Gomez on her mental health-centered 2022 track "My Mind & Me" required being comfortable enough with Gomez to have the difficult conversation about the topic, as well as finding a throughline to her own life and experiences so that the writing could flow naturally. "Obviously my life is vastly different from Selena's, but it's not so dissimilar in the fact that we've all gone through young adulthood and we've had so many shared experiences," Allen says.
Her strength as a songwriter distills down to her ability to hone in on that one "really honest lyric, a really heartfelt lyric." On "My Mind & Me," you hear that in lines like, "Sometimes I feel like an accident, people look when they're passin'/ And never check on the passenger, they just want the free show," that are simultaneously hyper-specific and, at their basest level, universal. The top comment under the "My Mind & Me" YouTube video exemplifies this: "This song puts my thoughts into words and it's so emotional to hear."
"I think the thing that has gotten me into the rooms I've gotten into today writing for other people is that I've always written for myself," Allen explains. "I know how it feels to try to tap into some part of your soul to write something really honest and vulnerable, and then to additionally put that out into the world and to get responses from that."
To be able to so broadly elicit such emotional responses points to a certain level of mastery of the craft Allen has reached. It's this type of staggering industry impact the Recording Academy will recognize come Sunday: a songwriter who has shown "meaningful contribution and breadth of diversity of [their] songwriting across all genres," per Evan Bogart, Chair of the Songwriters & Composers Wing of the Recording Academy.
But, for Allen, the ripples of this award that's arguably 65 years late flows beyond herself, and her fellow nominees. The songwriting community is small and tight-knit. Out of the 65 names up for nomination on the category's initial shortlist, Allen says she'd worked with three-quarters of them. The recognition is as much for the community, her peers, and the craft, as it is for the nominees.
"The most exciting thing for me is that as people start to pull back the layers of how music is made in the music industry in general, to start to understand how big of a part songwriters play," she says. "Honestly, whoever wins, it's just a huge win for songwriting in general."