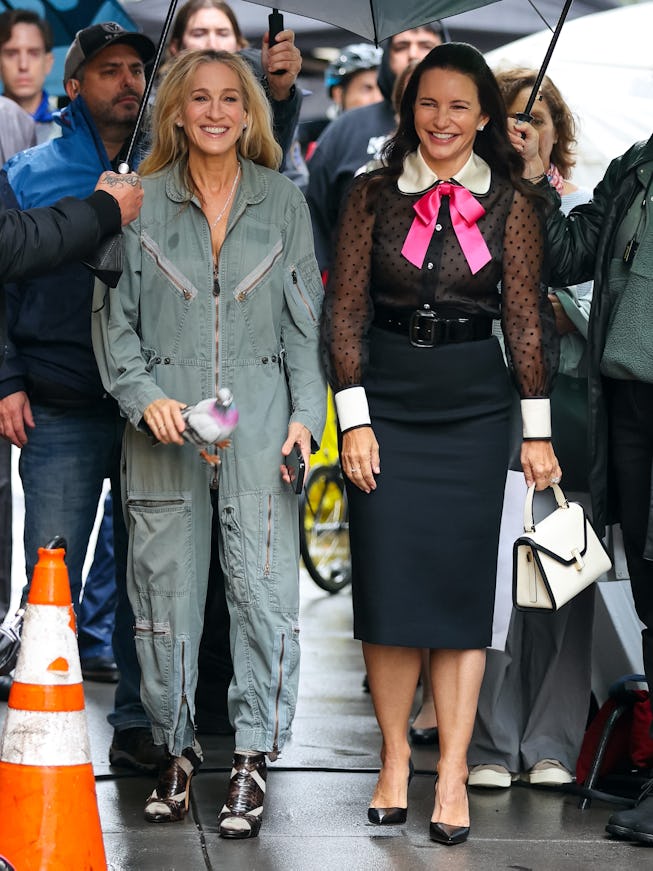 'And Just Like That' Designers Share A First Look At Season 2's Fashion
Here's everything we know about season two of the 'Sex and the City' reboot so far.
And just like that, we're in for more Sex and the City. The Sarah Jessica Parker-starring reboot, And Just Like That, has been officially renewed for a second season.
The first season of And Just Like That debuted in December 2021, launching a thousand hot takes to keep us warm through the bleak winter and introducing the world to the comedy of Che Diaz. From the first episode's Peloton stock-plunging scandal to the February 3rd finale's inclusion of Samantha Jones, the series provided endless fodder for the internet to gleefully pick apart, and was also HBO Max's most successful original series to date.
"We did something that was hard to do, which is we took something familiar and did make it new — for better and for worse," showrunner Michael Patrick King told Variety when season one ended. Parker also confirmed she wanted the series to continue.
Here's everything we know about about season 2 of And Just Like That so far:
A key Carrie ex will return:
While Carrie's husband, Mr. Big (Christopher Noth), unceremoniously died in the first episode of season one after an ill-fated Peloton ride, a new ghost from the past will return in season two. On September 27th, SJP confirmed that ex-boyfriend Aidan Shaw (John Corbett) will be making a return.
Speaking to ET at the Hocus Pocus 2 premiere, Parker was asked about the furniture-making character, whom Carrie cheats on with Mr. Big. "Could be, could be," Parker said, adding, "Well, you know, I can't be like, cryptic about it anymore."
Season two will focus on "resilience."
Parker added that while season one was about grief, season two is about bouncing back.
"Season 2 is about resilience and rebound and laughter, and finding laughter more easily for people who might have experienced grief," Parker said. "More of our new cast members who we love."
In season one, each of the characters dealt with grief or major life changes in some way, with Carrie losing Big, Miranda leaving Steve and embarking on a new relationship, Charlotte going through the adolescent changes her children are experiencing, and all four of the characters dealing with the loss of the fiercest of their foursome, Samantha Jones. The season ended with Miranda taking off to follow Che to California, and Carrie hooking up with her podcast producer (Ivan Hernandez).
Che Diaz will definitely return for season two.
Hey, it's more Che Diaz! Sara Ramirez confirmed the return of Miranda's love interest, non-binary comic (and internet meme) Che.
There's no release date for And Just Like That, yet.
Stay tuned for updates on the likely 2023 return of the series.
AJLT's costume designers gave a sneak peek at season two's fashion.
Costume designers Molly Rogers and Danny Santiago shared behind-the-scenes images of cast fittings on October 5th, giving a glimpse into what this season's fashion will look like. The team teased a series of first-looks, including a fitting with Parker in heels with the caption: "Carrie does Dior extreme heel JW Anderson jean francoise pigeon purse fabien constant fendi 😘😘 convertedcloset." The JW Anderson FW22 pigeon clutch is a callback to her swan-shaped Judith Leiber clutch from season 2 of Sex and The City.
They also shared an image of Kristin Davis in a fitting session wearing a green jumpsuit and sneakers, with the caption: "@iamkristindavis x 4 in fitting room today ANY GUESSES where Charlotte could be wearing this? SEASON 2 @andjustlikethathbo."
Paparazzi also captured SJP and Davis filming in New York City on Wednesday, October 5th.
Photo by Jose Perez/Bauer-Griffin/GC Images