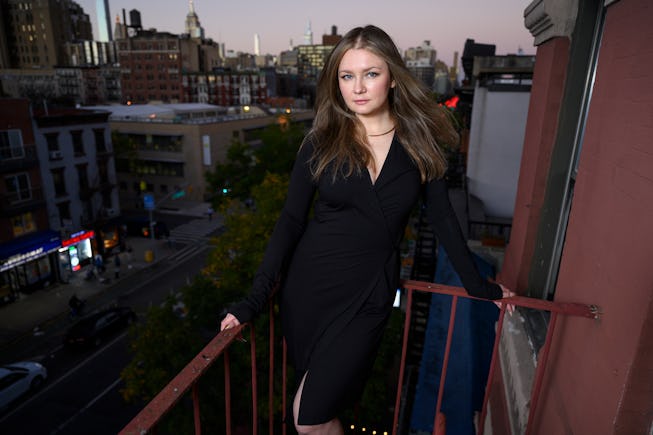 Variety/Variety/Getty Images
Anna Delvey Is Getting A Reality TV Show
The unscripted series will follow Delvey's lavish dinner parties she's hosting while on house arrest.
Anna Sorokin AKA Anna Delvey is ready for her next act: reality television. After being released from an ICE detention facility in October 2022, the grifter-turned-artist has been in the pages of many a magazine with the hottest accessory of the season, an ankle monitor. Being stuck on house arrest hasn't stopped her from being Anna Delvey, which lately has meant hosting lavish dinner parties and co-mingling with the elite. And now, we can all be a part of it.
Delvey has signed on to star in an unscripted series titled Delvey's Dinner Club, which will consist of her throwing dinner parties with "celebrities, moguls and glitterati" in her East Village apartment — all while still under house arrest.
"She'll do it through what's already become one of the hottest tables in town — invitation-only, intimate dinners at her home," according to a press release. "There, a Delvey-invited group of actors, musicians, founders, socialites, journalists and other esteemed guests will join her each week around a private-chef catered table replete with candid conversations where no topic is off-limits – including Anna's experience within the criminal justice system, her strategy to rebuild her image and her plans for the future."
The show will also feature Sorokin herself interviewing guests. (Do we smell a talk show in the works?)
"There's nothing like the experience of bringing together a curated group of friends to share life stories and enjoy a great culinary experience," Sorokin said in a statement. "I'm grateful for the opportunity to work with Wheelhouse and Butternut to bring my vision to a wider audience and share a glimpse of the real Anna Delvey."
Back in May, Delvey made her pseudo-debut in the media since going to prison, when she hosted "Allegedly," an elaborate art show at the Public Hotel in New York City, which consisted of models in Versace sunglasses walking a makeshift runway carrying Delvey's framed drawings she created in lockup, as well as a live video call from her detention facility.
Delvey's Dinner Club will, of course, not be the first or even the last piece of Anna Delvey media. Netflix's campy by way of Shonda Rimes series Inventing Anna premiered in 2022, leading to a Golden Globe nomination for Julia Garner's portrayal of Delvey. It was also reported last year that there was an Anna Delvey docuseries in the works, helmed by the production company behind the messiest and most influential reality TV shows, including The Real World and Keeping Up With the Kardashians. It's unclear where that is in development, or if Delvey's Dinner Club is the replacement.
It's difficult to tell how much appetite people have for a grifter story, even in our era of Eat of Rich prestige media. But Sorokin's new reality show appears to want to move the conversation beyond her grifter days, focusing on what's next.