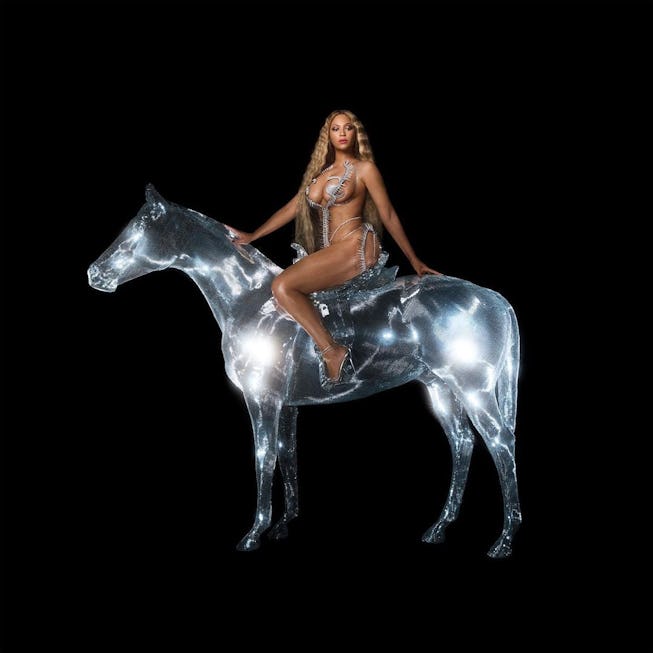 Beyoncé
Beyoncé Confirms 'Renaissance' Is A Three-Part Project
That means even more Beyoncé is on the way.
Beyoncé, the original master of the surprise overnight album drop, is taking us back to the days of luxuriating in a full month project rollout. The singer's forthcoming seventh studio album, Renaissance, drops at midnight on Friday, July 29th, and is currently available for preorder on her website.
We know very little about the new album so far, except that it includes 16 tracks and an 'act i,' per social posts from Tidal and her website. The first single from Renaissance, the House-inflected "Break My Soul," is the sixth track on the album and features New Orleans bounce queen Big Freedia with production by The Dream. (The Dream has had some major Beyoncé collaborations in the past, including: "Single Ladies (Put a Ring on It)," "Smash Into You," "1+1," "Run the World (Girls)," "Love On Top," "End of Time," "Yoncé" / "Partition," "XO," "Flawless" and "6 Inch.")
Ahead of the album's release, Beyoncé updated her website with a message thanking everyone who helped pull the record together, and confirming that Renaissance is only part one of a three-part project. "This three-act project was recorded over three years during the pandemic. A time to be still but also a time I found to be the most creative," she wrote. "Creating this album allowed me a place to dream and to find escape during a scary time for the world. It allowed me to feel free and adventurous in a time when little else was moving. My intention was to create a safe place. A place without judgment. A place to be free of perfectionism and overthinking. A place to scream, release, feel freedom. It was a beautiful journey of exploration."
On Thursday, June 30th, Beyoncé also posted on Twitter for the first time in two years to share the album cover for Renaissance. The image features a mostly-nude Beyoncé sitting atop of celestial horse, perhaps a nod to the famous photos of Bianca Jagger sitting on a white horse at Studio 54 in 1977, and/or Lady Godiva.
If the British Vogue spread is any indication of this new Beyoncé era, the music of Renaissance will be dancefloor-ready (given her posing with a giant disco ball) or even the Prince vibes of her 4/"I Care" era, given her posing on a motorcycle, Purple Rain-style. But these are all just clues and guesses, as the reigning queen of pop music is famous for throwing her audience curveballs.
Sources told Variety that the album will feature both dance and country-tinged tracks, with contributions from songwriter Ryan Tedder, who co-wrote 2008's "Halo" (he's also written hits for Adele, Taylor Swift, the Jonas Brothers and his own band, OneRepublic).
It turns out the singer had already teased the album name during an August interview with Harper's Bazaar, when she said, "With all the isolation and injustice over the past year, I think we are all ready to escape, travel, love, and laugh again. I feel a renaissance emerging, and I want to be part of nurturing that escape in any way possible. Yes, the music is coming!"
Beyoncé's website now include options to pre-save the new music and shop four different kinds of "Renaissance" merch drops, including a T-shirt, CD and collectible "Renaissance" box.
It's been six years since Bey released her last full studio album, Lemonade, in February of 2016. Since then, she's released Everything Is Love with Jay-Z, The Lion King soundtrack, Black Is King, and her legendary Homecoming documentary and accompanying live album.
Keep reading for everything we know about Renaissance, from the accidental album leak, to its dance-hall inspiration, collaborators, and tracklist.
How was Renaissance leaked?
Beyoncé's album was leaked two days ahead of schedule when copies of the record were made available to purchase overseas. A fan in France revealed that the CD version was being sold in stores, and three tracks from the album spread online. The tracks "Alien Superstar," "Church Girl," and "Cuff it" leaked before the singer's team was able to contact the stores and request the album be pulled from the shelves.
Beyoncé's Renaissance Tracklist
On July 20, Beyoncé revealed the tracklist for Renaissance on her Instagram stories. As mentioned above the project will contain 16 songs and include tracks with titles like, "Alien Superstar," "Virgo Groove," and more. See it below.
I'm That Girl
Cozy
Alien Superstar
Cuff It
Energy
Break My Soul
Church Girl
Plastic Off The Sofa
Virgo's Groove
Move
Heated
Thique
All Up In Your Mind
America Has A Problem
Pure/Honey
Summer Renaissance
Drake, Skrillex & More Are Credited On The Album
On July 21, composer credits for Renaissance were released on Apple Music. They reveal a host of artists that worked on the album including Drake, Skrillex, Honey Dijon, Labrinth, Sabrina Claudio, Mike Dean, Bloodpop, Raphael Saadiq, Syd, and many more. Most of the artists are credited under their real names (i.e. Timothy McKenzie for Labrinth). Sharp-eyed fans also noticed that the album's last track, "Summer Renaissance," credits Donna Summer and Giorgio Morodor, leading them to believe that the track will sample one of the disco legend's songs.
Peruse the full credit list for Renaissance below.
This article was originally published on