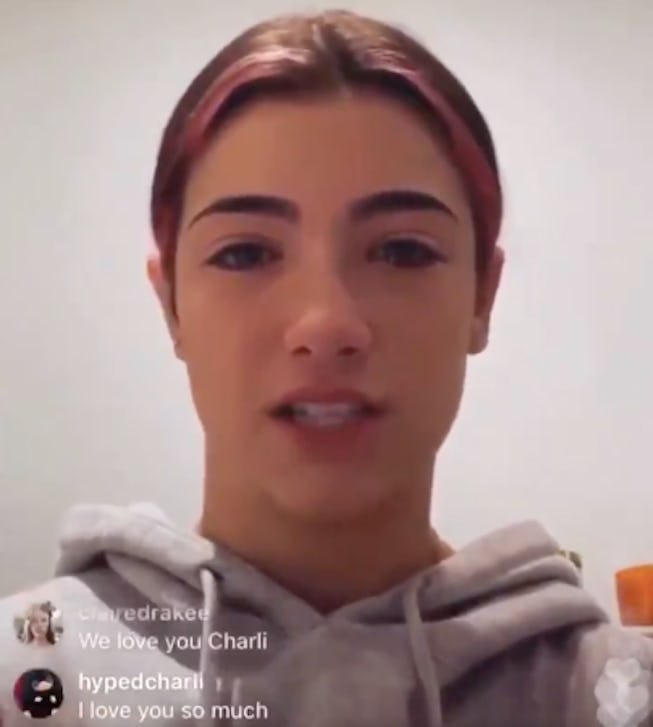 Screengrab via Instagram Live
Here's The Deal With Charli D'Amelio's Family Dinner Disaster
She's lost over 1 million followers because of her comments on her family's YouTube video.
Being in the public eye means that you are going to be cancelled at least once, and now Charli D'Amelio is feeling what it's like to be in hot water. The 16-year-old TikTok star famous for being the most followed person on the app is being bombarded with vicious backlash by her fans, over comments she made on her family's YouTube video series.
On November 16, the D'Amelio family posted what seems to be a new franchise in the family's growing fame: "Dinner With The D'Amelios." The series invites a mystery guest to dine with the family in every episode, which seems fine. The first guest was naturally beauty YouTuber and friend of the family James Charles, which again, seems fine. YouTuber and chef Aaron May, who has been working as a private chef for the D'Amelios, prepared the food, which included a plant-based paella and a classic Valencia paella with shrimp, chicken, and snails.
The alleged problems began once the food was served. Charli and her sister Dixie D'Amelio were not fans of the snails; Dixie ran off camera to throw up after trying the mollusk, and Charli asked, "Do we have any dino nuggets?" as she munched on bread. Later on, Charli lamented that she wasn't going to hit 100 million TikTok followers on the anniversary of hitting 1 million followers. "Ugh, I wish I had more time," she sighed. "Because imagine if I hit 100 mil a year after hitting a mil." Charles pokes fun at her: "Was the 95 [million] not enough for you?"
The video is innocent, and could be even categorized as boring! Charli's comments, however, drew the ire of her fans, which found them to be "snobby" and "ungrateful." She began losing followers in droves, over 1 million as of writing, as well as receiving the standard death threats that have somehow become normalized in "cancellations."
Dixie tried to clear things up on TikTok, citing that the entire situation was "ridiculously blown out of proportion." The older D'Amelio sister explained that May had been working with the family for the past few months, and knew that she would have a bad reaction to the snails and her sensitive stomach issues: "Basically my team knows I throw up a lot," she said. May also noted that he has no hard feelings about what went down.
Charli addressed the controversy on Instagram Live on November 19, calling it a "misunderstanding." She explained how her team knows she's a picky eater, and that including snails in the dish was meant to be a fun prank. "People just, like, blatantly disrespecting the fact that I'm still a human being is not okay at all," she said between tears. "You can hate on me for whatever I've done, but the fact that all of this is happening because of a misunderstanding, I just feel like that's not okay. And if this is the community that I'm in and the community that I put myself in, I don't know if I want to do that anymore." Charli said that she was excited to hit 100 million because of a surprise she had in store for fans, which we may now never know due to rampant moral hysteria toward a teenager.
James Charles weighed in too, sharing a tweet that hinted at similar backlash he's received during his time as a famous YouTuber: