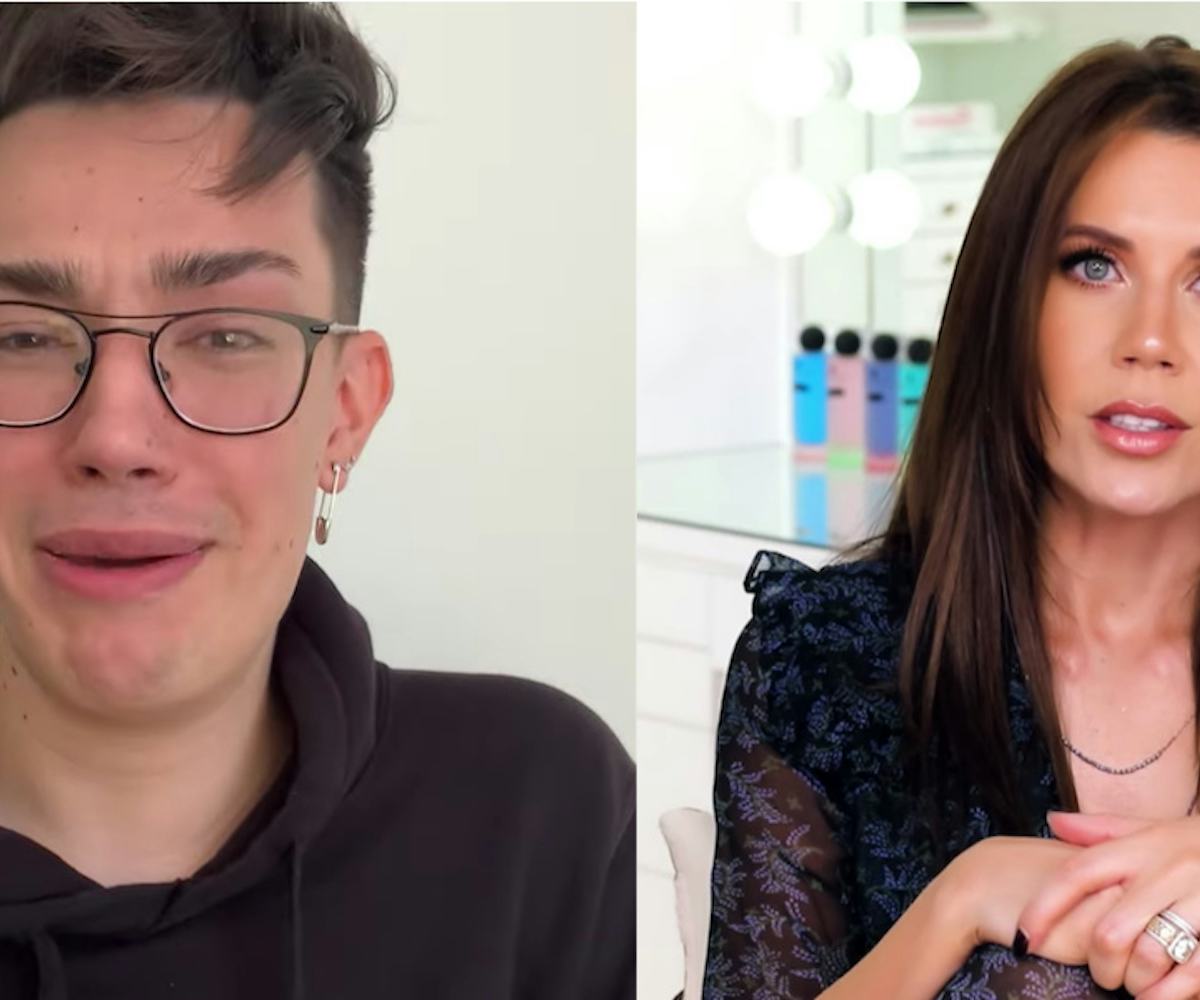 Screenshots via YouTube
Everything You Need To Know About The James Charles & Tati Westbrook Drama
YouTube blogger James Charles has found himself in some very… dramatic drama recently. What started out as a bad choice to advertise some hair supplements, has since turned into a 45-minute YouTube video by OG beauty influencer and Halo Beauty founder Tati Westbrook. For those of you who have no idea who either of those two people are, or simply can't bring yourself to do the internet sleuthing, you're in luck.
For a bit of context, Westbrook has acted as Charles' mentor since long before he gained traction online. There's a clear link, both personal and professional, between the two and sort of explains why everything was dragged out to such extremes in the public eye. So, let's get started...
It all began in the haze of Coachella, when Charles posted a video recommending Sugar Bear Hair sleep supplements, a company that is directly in competition with Westbrook's own vitamin brand, Halo Beauty. Immediately following the post, Westbrook shared a hastily-filmed video in which she expressed feeling betrayed, but did not name Charles as the reason. Charles then posted a public apology to his Instagram story, reposted by Buzzfeed, in which he tried to explain his reasoning for advertising Sugar Bear Hair. After referring to Westbrook as "like a mother to me," Charles said he only made his recent post "because the brand helped me with security when the crowd around me at Coachella became unsafe," adding that he did not accept money in exchange for posting. "As most of you know, Tati has a vitamin brand which I take on a daily basis, but in the moment, I did not think about the competition, which was a major oversight," he wrote.
He apologized, they made up, it's all done, right? Wrong. Vlogger Gabriel Zamora then decided to give his opinion on the matter. Zamora—who last August tried to call out Jeffree Star's racism, only to have the internet unearth racist tweets from himself, as well as Nikita Dragun, Laura Lee, and Manny MUA—came to Charles' defense in a video, claiming that he did nothing wrong and that Westbrook is "fraudulent."
Zamora's input, it seems, proved to be the final straw for Westbrook. She laid out every single receipt she had on Charles in a 43 minute video on her YouTube channel titled "BYE SISTER..." Westbrook broke down all of his wrongdoings one by one, taking care of the vitamin nonsense first before getting into the nitty gritty details. Apparently, Charles had previously declined advertising Halo Beauty because he felt uncomfortable promoting supplements to a majority teenage audience.
"Fame, power, and a fat bank account will change almost anyone. And if you don't have people that will tell you to your face that you're doing the wrong things, you will change. And I tried to be that person for you James, I really tried," Westbrook states in her video. "I don't think there's any getting through to you and I don't want to be friends with you. I don't want to be associated with you. And I need to say that very publicly so that this chapter can just be closed." Woof!
She alleges that she originally planned to simply drive over to Charles' house and talk to him in person, but once she realized he'd been running to multiple drama channels (YouTube channels dedicated to YouTube gossip) giving his side of the story before even talking to her, she realized it was more about damage control and less about her feelings. Afterward, Westbrook spoke to two drama channels of her own to clear things up, but decided to lay it all on the table in the video, saying, "If that's the playing field that we're on and I have to go there, just know my receipts are stacked thick."
Westbrook turned the clock all the way back to where her and Charles' relationship started, detailing his initial DMs to her years ago, and how she grew to be his mentor. She combats an allegation that Zamora made in his own video, which is that her relationship with Charles was purely transactional. She cites specific instances in which she and her husband helped Charles acquire millions through beauty deals, while she has not once even been featured on Charles' Instagram.
The biggest revelation, however, is when Westbrook calls out Charles' alleged behavior manipulating straight men into performing sexual favors for him, which she apparently called Charles out for in person when standing in a kitchen with him and Zamora. She mentioned in the video that Charles harassed a straight male waiter at her birthday party, and that he talked about explicit sexual acts at the table amongst her close family and friends. She states:
It's really disgusting to manipulate someone's sexuality especially when they are still emerging into adulthood and don't quite have everything figured out. You are using your fame, your power, your money to play with people's emotions. You're threatening to ruin them. You're threatening to embarrass them. And you're doing that to have them behave sexually in your favor even if they're straight. And you know what? That's not okay.
Hours after Westbrook's video went public, Charles shared another apology, this time in the form of a YouTube video titled "tati." In the video, he reiterated his claim that he told the truth about the Sugar Bear Hair deal, and skirted around his alleged harassment.
Of course, joining Zamora in the group of people we didn't need to hear from, but who felt the need to give their take, was Jeffree Star. On Sunday, Star quote tweeted Charles' brother asking, "Why is your brother a predator?? Why'd you really move back to NYC? Exactly. Shut the fuck up." He continued on in another tweet, sharing, "There is a reason that Nathan banned James Charles from ever coming to our home again. There's a reason why I haven't seen him since @GlamLifeGuru's birthday in February. He is a danger to society. Everything Tati said is 100% true." Both tweets have since been deleted.
As people on Twitter have dug up, Charles has spoken about his obsession with straight men publicly, tweeting about it as if it was funny. In 2014, he wrote, "Attractive straight boys will be the death of me," which user Jasmine Masters unearthed for the occasion.
In light of the video, some men have come forward stating that they were harassed by Charles. Singers Olivia O'Brien and Zara Larsson both shared that Charles had slipped into their boyfriend's DMs. Earlier in the week, it was revealed that Charles apparently used to catfish classmates in exchange for nudes.
Singer/songwriter Anthony Amorim added to the conversation, recalling a time at a YouTube convention when he observed Charles harassing one of his straight, intoxicated friends.
As one user points out, it should be stressed that the problem is not that these men are straight, but that Charles is manipulating and coercing individuals using his fame and money.
And as another user notes, Westbrook isn't exactly innocent, writing: "Did Tati Westbrook expose a predator or did she harbour a predator until she felt under appreciated by him?"
This isn't the only drama Charles has been involved in recently. Following the Met Gala, he acted as if influencers were an oppressed minority, and in May made an incredibly transphobic remark regarding his own sexuality, referring to himself as not "full gay" because he was into trans men. Per Cosmopolitan, many of Charles' most famous followers, including the Kardashian-Jenners, Ariana Grande, Miley Cyrus, Shawn Mendes and more have all unfollowed his Instagram and his YouTube subscriber count continues to rapidly drop. As of now, he's lost nearly 3 million followers after "the sister ship hit the iceberg," per a live video, and Westbrook has gained nearly 4 million. It's not totally clear whether or not this will result in the demise of Charles, or if his young fanbase will look past it and he'll manage to revive his plummeting numbers. Stay tuned.