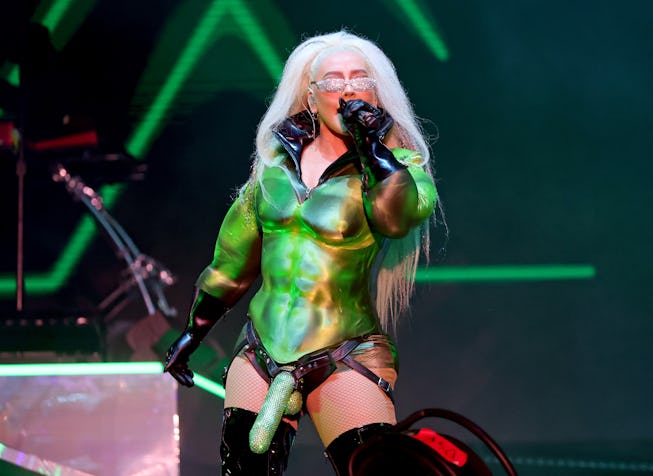 Emma McIntyre/Getty Images Entertainment/Getty Images
Christina Aguilera & Mya Reunited For "Lady Marmalade"
Xtina also wore a crystal green dildo for her epic LA Pride performance.
It's been over two decades since Christina Aguilera teamed up with Mya, P!nk, and Lil' Kim to record the Missy Elliott-produced number-one hit single "Lady Marmalade" for the Moulin Rouge! soundtrack. Not that anyone has forgotten about the song since then — it's still a surefire party-starter at any karaoke birthday, at least among my friend group. But hearing the song performed live is something else entirely, especially when multiple members of the original quartet are joining forces to help bring it to life. Just ask anyone who was lucky enough to be present this weekend when Christina Aguilera dusted off the throwback jam alongside Mya.
The pair performed the song as part of Aguilera's set for LA Pride's Pride in the Park concert on Saturday, June 11. After cycling through several bops from the singer's sprawling discography, including "Dirrty," "Fighter," and "Bionic," the multiple Grammy winner brought out Mya for a special reunion performance of their chart-topping classic. The pair sounded incredible, executing the song's trademark "Voulez-vous coucher avec moi" hook with practiced aplomb. They looked incredible, too, with both singers dressed in immaculate, bedazzled yellow bodysuits.
It was truly a sight to behold.
Even more noteworthy, however, was the singer's performance of another song — this one, which isn't even a part of her own extensive catalogue. Shortly before bringing Mya up, Aguilera invited rising pop star Kim Petras on stage to perform a selection of new songs from her unabashedly horny Slut Pop EP. During "XXX," Aguilera appeared dressed up as The Hulk because…well, who knows? And because dressing up like a famous superhero for a Pride event in one the gayest cities in the United States of America was apparently not enough of a gag already, the singer also revealed that she was wearing a matching green strap-on, which she excitedly "played with" as Petras got down on her knees to mimic…well, you get the point.
All that to say: Christina Aguilera is an LGBTQ+ ally. Happy Pride to us all, I guess?
Check out videos of Christina Aguilera performing "Lady Marmalade" and "XXX" below.