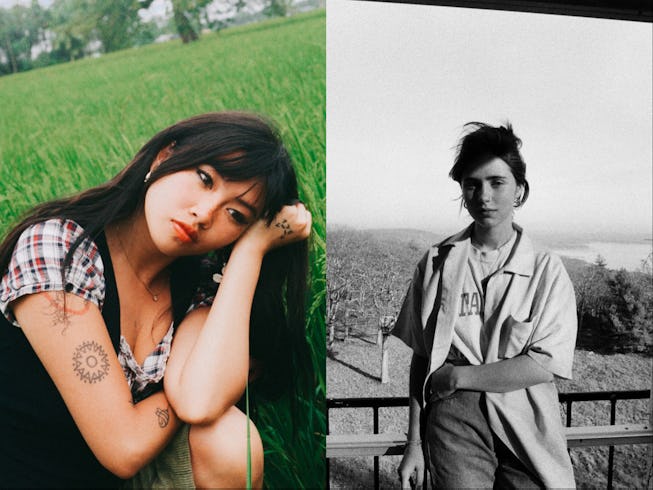 Jake Erland; Adrian Nieto
Clairo & Beabeadoobee's "Glue Song" Is A Breezy 4/20 Contender
Clairodoobee hive stand up.
What makes a stoner anthem? Something heady and psychedelic, like, say, a cut from Pink Floyd's classic Dark Side Of The Moon? Something existential and sonically lightheaded, like Lorde's "Stoned At The Nail Salon?" Something quite literally about the act of rolling and blazing up, like any song from Snoop Dogg's catalog? There isn't really a formula for what makes your brain tick when you're sparking up on the people's holiday of 4/20, which means Beabadoobee and Clairo's latest remix of "Glue Song" might be as good a contender as any.
The two pop singers' new collaboration isn't exactly being marketed as a 4/20 anthem, but since it's coming out on 4/20, there was clearly some sort of intention behind its release. While the track initially dropped on Valentine's Day as the U.K. singer-songwriter's fuzzy love anthem, the new version of the song — now a duet with Clairo — washes over like a warm spring breeze, perhaps one you'd experience laying outside during a sunny afternoon, passing a toke with friends, perhaps a moment you might find yourself in today.
Music-wise, it's almost odd that Clairo and beabadoobee haven't collaborated before, considering how much syncronicity their voices have with one another and that they've toured together. On "Glue Song," they sound like two halves of the same coin: warm, nostalgic voices commingling like a loose braid. Clairo's new verse adds a scratchy, vinyl-like element to the track, as she echoes Beabeadoobee's sweet confessions: "To be here is worth the wait too, I'm not lying." Perhaps our only complaint is that it barely hits the two-and-a-half minute mark.
"Claire's a good friend since she brought me on her tour around the release of her first album," Beabadoobee writes of the collaboration in a statement. "That was super fun, she tried a part on a verse for 'Glue Song' and it sounds so sweet. I've always been inspired by her melodies and to finally have both our voices together on a track makes me real happy. This song's special to me, a heartfelt love song and think we related to the honesty in that."
Beabadoobee has been riding an ever-growing wave since the release of her excellent debut record, beatopia, in 2023. "Glue Song" is her first proper solo release since the project's arrival, and it's already emerged as yet another hit in her catalog. The song debuted on the U.K. singles chart, and has already crossed the 100 million stream mark in the two months it's been out.
Its arrival also coincides with Bea's opening stint on Taylor Swift's Eras Tour, where she's set to play twelve shows largely scattered throughout April. Catch her on tour here.