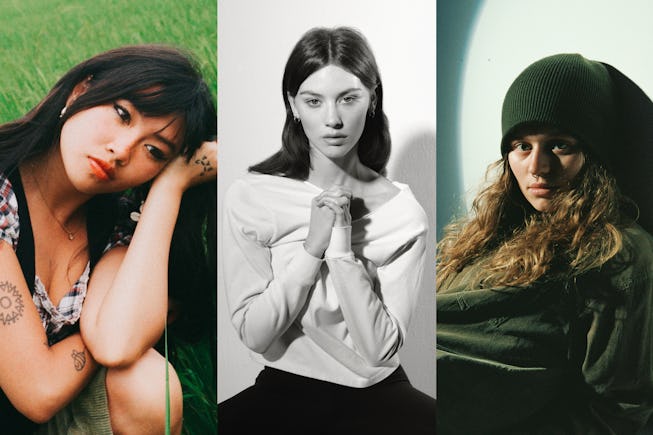 A Guide To The Openers Of Taylor Swift's 'Eras Tour'
Brush up on the budding superstars Swift is giving her co-sign.
Taylor Swift loves a surprise guest. On her 1989 tour, she famously toted out a different surprise artist for virtually every night of the tour. Any given night, fans would be treated to an appearance from Charli XCX, or Tove Lo, or Fifth Harmony, or even Ricky Martin (so they could deliver their iconic duet to "Livin La Vida Loca").
For her upcoming Eras Tour, the guests this time won't be surprises — but she is bringing a lot of them. Nine different artists were tapped to open for the superstar in various combinations, on various nights during the nearly five-month run: Paramore, Haim, Phoebe Bridgers, MUNA, Gayle, Gracie Abrams, beabadoobee, girl in red, and OWENN — all spectacular artists in their own right, many of whom Swift collaborated with in the past.
While it's highly unlikely you don't already know Paramore or Phoebe Bridgers, we still suggest that you read on to brush up on the budding superstars Swift is giving her co-sign on the Eras Tour.
Owenn
Dates opening: 5/28, 6/02, 6/03, 6/10, 6/17, 6/24, 8/4
Who: You might not immediately recognize Owenn, but you definitely know him. He starred as the dashing love interest in Taylor Swift's "Lover" music video, and performed as a back-up dancer on Taylor's 1989 and Reputation tours. Now, the New Jersey native and dancer has embarked on his own musical career pairing his deep, resonant vocals with pleasant radio-friendly melodies. And he's got a major fan in Swift: she apparently wrote to the head of Republic herself to get him a meeting.
What: Owenn's latest release, an 3-track EP titled Luv, is of the acoustic pop singer-songwriter sort, but he's also dabbled in dark, clubby EDM, streaked-out synth mall anthems, and delicate folk as sonic palettes for his swoony songs.
Where to start:
Gayle
Dates opening: 3/17, 3/18, 3/24, 3/25, 3/31, 4/13, 4/30, 5/06, 5/12, 5/13, 5/19, 5/20, 5/26, 8/5, 8/9
Who: The Plano, Texas native and NYLON It Girl experienced a monumental 2021 when her cheeky track wishing ill will to an ex, "abcdefu," suddenly surged to the top of the Billboard Global 200 chart and peaked at no. 3 on the Hot 100. "It's being unapologetically angry about something," she told NYLON about the hit in 2022. Since then, you might've spotted her signature split-dyed hair at the 2023 Grammys, where "abcedfu" was nominated for Song of the Year.
What: The 18-year-old's soulful voice is the center of her songs, which span frizzled pop to grimy, bass-busted punk, and lo-fi pop-punk. You can expect the teen themes of heartbreak, feeling like an outsider, and acerbic cynicism, but they're always explored with a heartfelt, generous tenderness.
Where to start:
Gracie Abrams
Dates playing: 4/1, 4/2, 4/14, 4/15, 4/21, 4/22, 4/23, 4/28, 4/29, 5/5, 5/7, 5/14, 5/21, 5/27, 6/4, 6/9, 6/16, 6/23, 6/30, 7/1, 7/7, 7/8, 7/14, 7/15, 7/22, 7/23, 7/28, 7/29, 8/3, 8/8
Who: 23-year-old Gracie Abrams is the biggest rising star of the moment. The daughter of J. J. Abrams and Katie McGrath, Gracie got her start posting clips of her singing on Instagram. After skyrocketing in popularity, she opened for Olivia Rodrigo on her Sour tour — as the story goes, it was Abrams who inspired Rodrigo to write "Driver's License" the way she did.
What: Gracie's known for her smoked out, evocative vocals which she pairs with frank songwriting and minimal pop soundscapes. Her debut album, Good Riddance, shows a level up in her craft and features production by The National's Aaron Dessner.
Where to start:
MUNA
Dates opening: 3/31, 4/30, 6/4, 6/30, 7/1, 7/07, 7/8, 7/14, 7/15
Who: Katie Gavin, Naomi McPhearson, and Josette Maskin are trio that make up Muna — the real-life version of Freaky Friday's Pink Slip (and NYLON's It Band). The band came up making upbeat, happy-sad pop songs and exploded in popularity last year with the release of their self-titled album that turned the dial up on their sound. Muna is signed to Phoebe Bridgers' label Saddest Factory Records, and has found a fervent fanbase in the queer community.
What: There are no misses on Muna's self-titled, which touches on everything from Frou Frou to Drake, '00s singer-songwriter, synth-pop and more.
Where to start:
beabadoobee
Dates opening: 3/24, 3/25, 4/1, 4/2, 4/13, 4/14, 4/15, 4/21, 4/22, 4/23, 4/28, 4/29
Who: Beabadoobee is the project of U.K. musician Beatrice Kristi Laus, whose sweet voice you might recognize from one of the first viral TikTok songs: Powfu's "death bed (coffee for your head)." It heavily sampled "coffee," Laus' first-ever song release, a crackly bedroom pop song. It's an ocean away from the stuff the Dirty Hit signee is making now, full and alive guitar tracks that rip and rumble.
What: Her 2023 record, Beatopia, is a blast of fuzzy '00s-era rock polished for the modern age of love and dating.
Where to start:
girl in red
Dates opening: 6/2, 6/3, 6/9, 6/10, 6/16, 6/17, 6/23, 6/24
Who: If you're at all a part of or an ally to the queer community, then you'll know girl in red (real name Marie Ulven), whose lovesick songs have become the unofficial anthems for queer girls everywhere — to the tune of 12 million followers on Spotify.
What: Beyond her love songs, girl in red has gained leaned into her honest lyricism and continues to write songs about mental health, death, and more. Her 2021 debut album, if i could make it go quiet, was a tremendous effort in breaking apart her own inner demons with a more glossy, mature sound.
Where to start:
Phoebe Bridgers
Dates opening: 5/5, 5/6, 5/7, 5/12, 5/13, 5/14, 5/19, 5/20, 5/21, 5/26, 5/27, 5/28
Who: It's hard to imagine anyone at this tour not knowing Phoebe Bridgers. But if you've been without internet for the past three years, then you should really get to know the Grammy-nominated singer-songwriter who has performed on SNL, owns her own record label, toured with Bright Eyes' Connor Oberst, and is one-third of the beloved rock supergroup, boygenius.
What: Bridgers, arguably, is the prototype of the "depressed songwriter singing about family, love, and life" renaissance we've been living through. Her songs often breach hard and dark topics with a touch of acerbic wit and self-awareness. "You said when you met me you were bored, and you, you were in a band when I was born," goes one iconic lyric.
Where to start:
Haim
Dates opening: 7/22, 7/23, 7/28, 7/29, 8/3, 8/4, 8/5, 8/8, 8/9
Who: In the past few years, the Haim sisters overcame meme status to become bonafide rock stars. They're starring in movies, working on The White Lotus, and collaborating frequently with Taylor Swift herself, with cameos in the "Bejeweled" music video and features on evermore's "no body, no crime."
What: If you haven't heard Haim's very excellent 2021 record, Women In Music Pt. III, you're missing out on a 10/10 collection of breezy, West Coast rock made for strutting on sun-dappled sidewalks and getting loose to at a party.
Where to start:
Paramore
Dates opening: 3/17, 3/18
Who: Do they need an introduction? The iconic band, helmed by Hayley Williams, Taylor York and Josh Farro, defined early-aughts pop-punk and still boasts a massively active fanbase even today.
What: Paramore's sound has evolved over the years treading into synth-pop, and exuberant post-punk on its latest album, This Is Why.
Where to start: