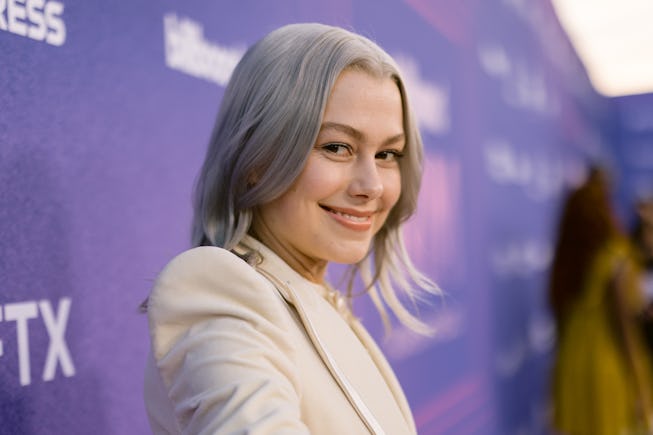 Emma McIntyre/Getty Images Entertainment/Getty Images
Hear Phoebe Bridgers' New Sad Song For Conversations With Friends Now
For fans of Sally Rooney's 'Normal People,' it's the Irish writer's other bestselling novel about horny millennials.
After the breakout success of BBC Three and Hulu's adaptation of Sally Rooney's Normal People in 2020, it's no surprise that the platforms are adapting the Irish writer's other bestselling novel about millennials sleeping together, Conversations With Friends.
The project was announced last year, and a new trailer for the series is finally here. The TV show follows the story of a young college student navigating relationships and her place in the world, as she confronts her own history and vulnerabilities. The cast features Alison Oliver, Sasha Lane, Jemima Kirke, and Joe Alwyn (aka Taylor Swift's boyfriend). Filmmaker Lenny Abrahamson and co-writer Alice Birch return from Normal People to take on this latest Rooney project.
Oliver will star as lead Frances, the 21-year-old college student who is "observant, cerebral, and sharp." American Honey star Lane plays her "self-assured, outspoken, and compelling" best friend, Bobbi. The pair used to date, but broke up three years ago and are now "virtually inseparable and perform spoken word poetry together in Dublin."
Kirke (who you may remember as the Girls scene-stealer or from Sex Education's Season 3) plays Melissa, "an older writer, who is fascinated by [Frances and Bobbi]," and Alwyn, who recently starred in The Favourite, plays a "handsome but reserved actor."
Per a press release, Conversations with Friends follows Frances "as she navigates a series of relationships that force her to confront her own vulnerabilities for the first time." While performing at one of their spoken word poetry shows, Frances and Bobbi meet Melissa, and eventually, start to spend time with the writer and her husband. "While Melissa and Bobbi flirt with each other openly, Nick and Frances embark on an intense secret affair that is surprising to them both. Soon the affair begins to test the bond between Frances and Bobbi, forcing Frances to reconsider her sense of self, and the friendship she holds so dear."
Conversations With Friends will debut on Hulu and BBC Three in May, with all 12 episodes dropping that month. Read on for everything we know about the series.
Phoebe Bridgers sings a song for the series
Hulu's Conversations With Friends will feature an original song from none other than Phoebe Bridgers. The songwriter has exclusively written "Sidelines," out now on streaming platforms, for the series. The track will be Bridgers' only original song release of 2022.
The softly undulating song has all the hallmarks of a Bridgers song: wistful, subtly searing lyrics, a dynamic, indie rock-minded melody, and Bridgers' own inimitable ghostly vocals. It's simultaneously strong-minded and vulnerable as Bridgers muses about being unafraid of anything until "you came into my life, gave me something to lose," she sings on its chorus. If you ask us, there was no better match for Rooney's horny, and love-tormented story. Hear the song below.
Conversations With Friends will feature a new original song from Phoebe Bridgers called "Sidelines." The track, which can be heard in the background of the series' latest trailer, seems to be a swelling, piano-backed song that will undeniably amp up whatever drama's coming our way. "Sidelines" will be released on streaming services in full on April 15, though you can hear a sneak peek of the song, now, below.
The series will be released in May
Conversations With Friends lands on Hulu and BBC Three on May 15, 2022.
The first trailer for the series is out now
Watch the first trailer for Hulu's Conversations With Friends below.
This article was originally published on