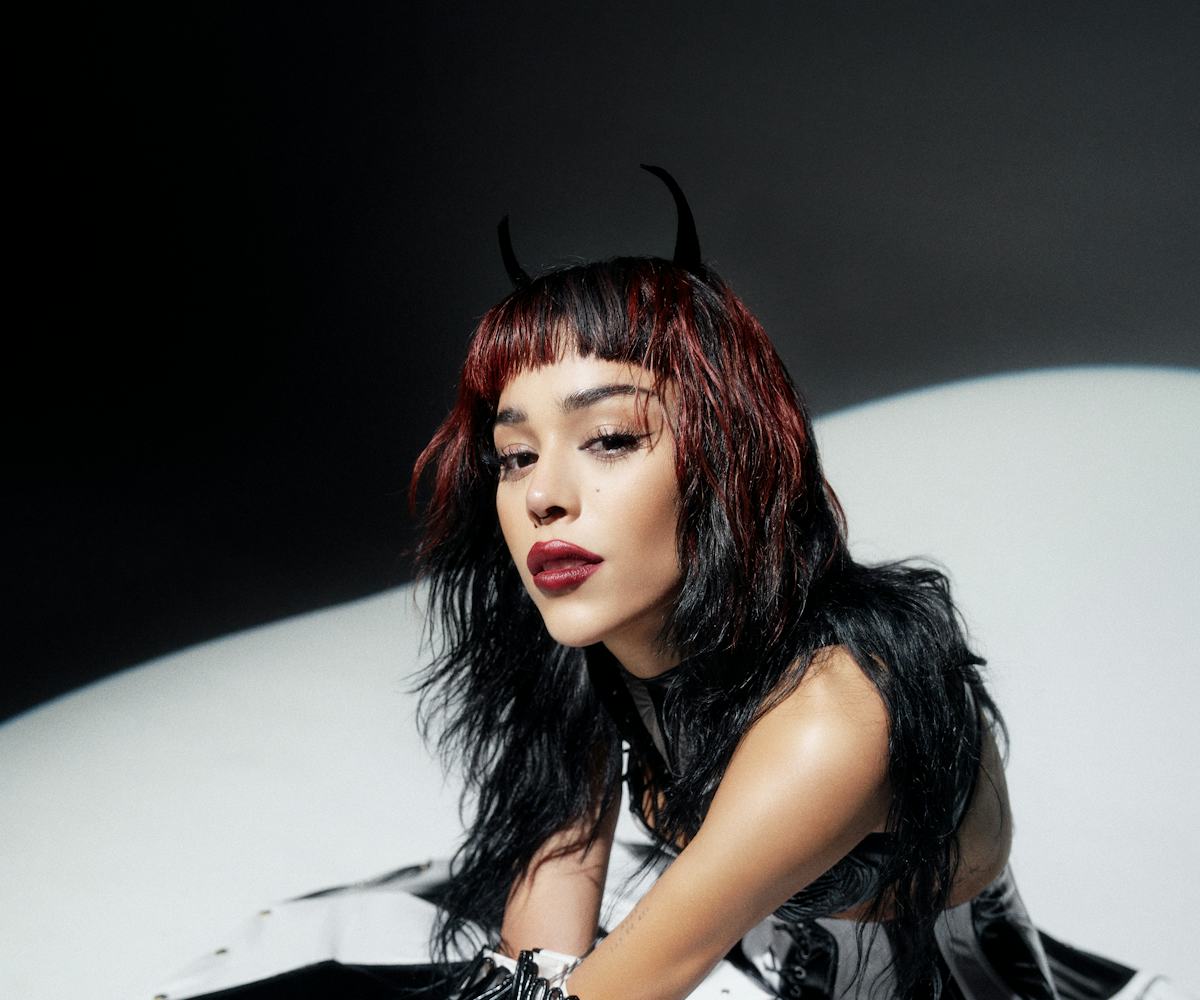 We Need To Talk About Danna Paola, The Mexican Pop Star Going Global
The singer and former child star chats exclusively with NYLON about the premiere of her "Tenemos Que Hablar" video and her first U.S. tour.
Danna Paola is ready to reintroduce herself. After turning heads at awards shows and music festivals in recent months, the Mexican pop star is in the midst of her first ever U.S. tour and working on a new album.
But if you're a millennial living in Latin America, the 28-year-old multihyphenate needs no introduction — and her global ascent probably comes as no surprise. Paola's been a fixture on TV screens and stages since she was 6 years old, playing the titular character on the beloved children's telenovela María Belén. Across the early 2000s, she juggled starring roles on hit TV shows like Amy, La Niña De La Mochila Azul while recording children's songs and entire studio albums before she was even a teenager. (You can still see her adorably smiling on the covers of her first few albums on streaming services.)
By 18, she was playing Elphaba in Mexico City's production of Wicked in 2013, becoming the youngest actress to play the role in a professional staging of the iconic musical, with composer Stephen Schwartz praising her as "destined to be a big star." She'd quickly prove him right, playing the love-her-or-hate-her mean girl Lucrecia ("Lu") across three seasons of Netflix's Elite from 2018 to 2020.
Towards the end of her run on the series, though, Paola decided to focus on music over acting. Her recent albums, like 2020's SIE7E + and 2021's K.O., have been packed with catchy pop rhythms and rich vocal performances, and she's racked up hundreds of millions of streams with Mexican chart-toppers like "Sodio" and "Calla Tú." But in the last few months, she's also made a splash on the internet with a handful of hair-flipping live performances and charismatic TV appearances. In early July, she was a guest judge on the first season of Drag Race Mexico. "I was raised in the [LGBTQ+] community since I was 8 years old and they embraced me and made me understand that it's OK to be different," she told the contestants before watching two queens deliver a Lip Sync For Your Life to her 2022 hit "XTAS1S."
At the end of that month, Paola delivered two headline-making performances at Univision's 2023 Premios Juventud, which had Camila Cabello visibly declaring "yes, b*tch!" from her seat. "I put so much of myself into any of my performances, and that was no different for Premios Juventud," Paola tells NYLON over email. "My crew and I went through a lot of rehearsal to make sure our vision was executed to the best of our abilities. I loved performing with Sofía [Reyes on our song "tqum"], and the reaction was so positive that we could really feel the love."
And just a few days later, she was halfway around the world, thrashing on Steve Aoki's DJ table on the main stage of Tomorrowland in Belgium, performing their still-unreleased EDM collaboration, "Paranoia." "It was such an honor to represent Mexico at Tomorrowland," Paola says. "Steve has been involved in Latin music before it boomed like it has, and we've collaborated multiple times. Working with him is always an honor. I really respect and admire Aoki. He's a great human being." (While there, she also ran into Paris Hilton, an interaction she describes as "iconic": "She's someone we all grew up following, so meeting her and realizing how sweet and down to earth she is was surreal," Paola says.)
Paola is a prolific collaborator, having teamed up in recent years with Spanish music icon David Bisbal, Swedish EMD star Alesso and Colombian heartthrob Sebastián Yatra. Most recently, "tqum," her collab with Reyes, got a remix from "Unholy" diva Kim Petras. "I still can't believe it," Paola says. "So far, these collaborations have flourished organically, and I want it to stay that way. I don't like to force anything, but there are definitely collaborations that I'm always manifesting."
All of these moments have led to "Tenemos Que Hablar" (or "We Need to Talk"), her latest single, which dropped earlier this month. The shadowy synth-pop anthem marks a bold new chapter in her career, and finds her penning a letter to her younger self as she embraces adulthood: "No puedo responderte a cosas que ni yo sé / Me estoy encontrando y al fin se siente bien," she sings. ("I can't answer things that I don't even know / I'm finding myself and it feels good at last.")
The track, along with its intense music video directed by Edgar Esteves, are high drama at its finest, as Paola goes racing towards an uncertain future, maniacally laughing through tears and sprouting wings. For a pop queen with a resume full of telenovelas and musical theater, it all makes perfect sense. But when it comes to her artistry, Paola says some of her influences might surprise people. "I'm an emo girl," she says. "I grew up on My Chemical Romance, Evanescence and Paramore. But I've also been inspired by Whitney Houston, Beyoncé, Britney Spears. There truly are no limits with music."
Or borders. "My first tour in U.S.A. — my eyes fill with tears, and my heart swells," Paola says of the Xt4s1s Tour Usa trek, which kicked off last week. "I am still processing what we are about to live, something I've been dreaming about for so long."
For an artist who spent her childhood telling other people's stories, Paola's ready to tell her own. "This [live] show has changed the lives of each one of the people who are part of it. It has given me back my breath. It has healed me," Paola says. "It has made me believe more in myself and in life itself. We are going to write a new story. I am sure it will be memorable."